Pat McAfee talks about his WrestleMania experience and having to face former WWF and ECW World Champion Vince McMahon in the ring.
McAfee already had a very good career in the NFL and was recognized for his talent as the punter and kickoff specialist for the Indianapolis Colts from 2009 until his retirement in 2016. While with the team he won multiple weekly and monthly NFL awards and was selected for two Pro Bowls.  
However, despite having opportunities as a sports analyst, radio host and wrestling commentator Pat McAfee decided to add another job to his resume, pro wrestler.
RELATED: SAMOA JOE'S THOUGHTS ON NXT 2.0 STARS AND THE DISAPPOINT OF NOT WORKING WITH A STANDOUT
Pat McAfee had a WrestleMania match against Austin Theory and then McMahon. He surprised everyone watching by putting on a solid and entertaining match.  During Monday's episode of The Pat McAfee Show he talked about his WrestleMania experience.
"The f-cking Cowboy's cheerleaders were out there," McAfee said. "Didn't know that was happening. That's awesome. So then I go out and I'm like, by the way, thank you, Jack White, man. Shout out to The White Stripes kind of letting that one play. You know, I guess that's not an easy task for, so shout out to WWE also making that happen.

But I walked out there. As soon as I walked out there, I like, looked around. I'm like, 'holy f-ck'. What, because in your mind, I've done that, right? In my mind, I've done my wrestling entrance in my head. I've come through the curtain in my head like, literally, I said it yesterday, probably 10,000,000 times.

There was a time in my life where every time I walked through a door, I acted as if I was walking into an arena full of people or whatever. So you think about this entire moment forever and ever and as you're walking out there it's like, 'well what the f-ck am I supposed to do with my hands.'"

H/T To Wrestling Inc. For Transcription
WWE Just May Have A Diamond In The Rough With Pat McAfee
Pat McAfee had a very good match with Theory. Most celebrity matches are very short with the wrestler doing all the work. However, his match was a full length match with him doing very solid moves like Hurricanranas and Superplexes. He showcased some unexpected athleticism. It was not his first WWE match as he had a match against Adam Cole in NXT which was also very good, but his WrestleMania match was far beyond that.
RELATED: PAT MCAFEE WRITTEN OFF NXT AND ACCUSED OF SPRAY TANNING
McAfee showed that WWE just may have the hottest babyface in wrestling on their hands. Hopefully WWE sees that and uses him more and in smart ways. However, McAfee's biggest test came in the way of a jacked 76-year-old ex-world champion named Vincent Kennedy McMahon.
McAfee talked about wrestling McMahon and how the crowd reacted to McMahon taking off his jacket and shirt at the start of their match.
"You should've heard the stadium whenever he was thinking about it," McAfee said. "Whenever he had that jacket on and he started tempting taking it off, man, there was like a, like a buzz raising in there and I was like, 'is this, is this, is this?' So people need to know, like, the wrestling business. People understand what the wrestling business is, but there's things that happen out there on a very regular occasion that are not like, you know, 'hey, this is not how this is supposed to go.'

And you just are, like, there's people around that are like, 'uh, hey, yeah. This is happening now,' basically. You know, and I'm just like, 'what the, alright.' I sat up on the ropes, you know? I sat up there for a second and I looked around and I saw 76-year-old Vince McMahon taking his shirt off. I'm like, 'is this a movie right now? Like, this has to be a simulation.' And then obviously, Austin Theory attacked me from behind, Vince abuses his power, and that ref. What the f-ck was he doing?"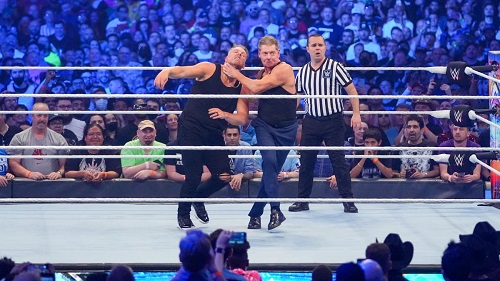 McMahon ended up winning the match with the help of Theory. Pat McAfee tried his best, but it was two-on-one and one was a former WWF champion. Maybe McAfee will get a rematch in the future to avenge his loss. However, it isn't all bad because Stone Cold Steve Austin came out to help McAfee and the two had a few beers before Austin stunned him. Sounds like a pretty good night to me.
What did you think of Pat McAfee's WrestleMania match? Do you think he has what it takes to become a semi-regular wrestler? Would you like to see a rematch between him and Theory? Leave a comment on our social media and let us know who you would like to see him face next. 
KEEP READING: TRIPLE H ANNOUNCES RETIREMENT
Sources: The Pat McAfee Show, Wrestling Inc.