Seth Rollins talks about RAW being three hours and why he thinks WrestleMania being two nights is a good idea.
Seth Rollins recently sat down with the SI Media Podcast to talked about WWE's new decision to make WrestleMania a two night event from now on.
"Well, the longer it got, the worse it was," Seth Rollins said. "And the one in question is the New York WrestleMania which literally, from the pre-show to the finale was like seven straight hours and that is obnoxious, that is way too much wrestling. And mind you, my wife [Becky Lynch] won the main event that night. They didn't go to the ring until after midnight. It's just asinine and the crowd was tired. It caused such a catastrophe because the subways had shut down and no one could get back to where they were going. It was such chaos because we were out of MetLife in the Meadowlands.

That is a whole bag of worms that opened up from that so yeah, man it's no fun. And that main event which was awesome and super historic suffered from just the crowd being drained. They wanted to be there for everything but you only have so much energy. You know what I mean? You can only put so much caffeine into your body before your heart explodes."

Seth Rollins went on to say, "I think seven hours is just too long. You know, I think WrestleMania four hours is solid. That's a solid number once a year four hours, I can live with that. Seven hours? I don't know, pick your poison."

H/T To Wrestling News For Transcription
Double The Nights, Double Fun With WrestleMania
I had no idea that WrestleMania 35 ended after midnight on the East Coast. Plus the subways shut down. That would be chaos and very scary trying to get back to your home or hotel after the show when 82,265 people attending the show are all trying to get back home.
RELATED: HAPPY CORBIN SPEAKS ABOUT WHY HE THINKS MADCAP MOSS HAS A BRIGHT FUTURE
WWE first decided to break up WrestleMania 36 in 2020 because the pandemic had just started in it limited the people who had to be in one place at the same time.  WWE saw the benefit in the split after the fact and probably had no intention in continuing it. The two nights means twice the sales because fans could buy tickets for night one and tickets for night two.  Also two nights for merch sales.
I think breaking up the PPV into two nights is a good idea. It frees up some time to add a match or two per night. As much as I love wrestling seven hours of wrestling is just way too much in one go.  
Speaking of going way too long, Seth Rollins also talked about what he thought of RAW being three hours long when asked if he preferred being on RAW or SmackDown.
"I think a three hour show is just obnoxiously long every week," Seth Rollins said.  "Everything gets stretched out, you know and you've got to cram, you got to fill three hours of television, there's just nothing to be done. You know, that's just how it is. So I think two hours is a beautiful kind of number for a pro wrestling show. And I think it's easier to make everything mean a little bit more.

You know, on SmackDown when I was there last year, I hardly ever wrestle on television and so it was kind of a big deal. You look at Roman, he hardly ever wrestles on television, I think maybe a handful of times in the last year.

So when he has matches at these pay-per-views, they feel like big deals and on RAW I've wrestled in like 26 five-star matches in the last two months. It's just been wild the amount of actual wrestling that I have to do and I'd love to avoid that, but it is what it is. I like the fact that I get a lot more screen time on Mondays because you have the extra hour but yeah it's an apples to oranges type thing. I do think three hours is just a lot to ask every week of a viewer."
RAW Is Still Three Hours Even Though Everyone Hates It
RAW has gone back-and-forth from two hours to three hours over the years since its first episode in 1993. RAW was originally only 60 minutes which seems like way too short for what RAW became. Over the years RAW would switch from three hours to two and fans loved it and thought the show overall was paced better and the show improved from its shorter runtime. However, WWE would always decide to make it three hours again and fans would groan.
RELATED: CODY RHODES DOESN'T THINK HE IS MATURE ENOUGH FOR A MANAGEMENT POSITION AGAIN
Fans always questioned why WWE kept making RAW three hours when fans and apparently Superstars hate the extra hour. The answer is money. WWE gets paid a lot of money by USA Network to fill three hours of TV.
Even Triple H talked about how much he hates the three hour format on the The Bill Simmons Podcast.
"As much as people complain about it and wish it was two hours, it is exponentially harder to write a third hour of television," Triple H said.  "I can't even explain to you how difficult it is. I don't even like three hour movies, to be perfectly honest with you."

H/T To Wrestling Inc. For Transcription
I hope WWE decides to remove the third hour again. Maybe they can put RAW Talk or something similar after the show or something to take up the third hour.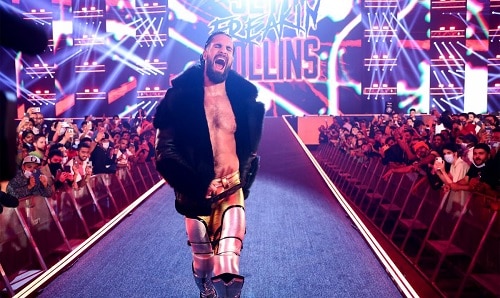 Do you prefer WrestleMania being one or two nights? What do you think of what Seth Rollins had to say? Would you rather have it be two nights back-to-back or back-to-back Sundays? What do you think about RAW being three hours? Do you think SmackDown will ever go to three hours? Leave a comment below and on social media to let us know what the number one thing you would change about RAW and WrestleMania.
KEEP READING: PAT MCAFEE TALKS ABOUT HIS AMAZING WRESTLEMANIA MOMENT AND BATTLING VINCE MCMAHON
Sources: SI Media Podcast, Wrestling News, The Bill Simmons Podcast, Wrestling Inc.