I might have been out of pocket for this in my Woke interview, but I had to know what it was like Blake Anderson and Anthony King what's it like to be token white people.
Last weekend at WonderCon 2022, we got the opportunity to have an exclusive interview with the cast and creatives of Woke! After their WonderCon panel promoting Season 2, now streaming on Hulu, we got the opportunity to sit down for an exclusive interview. I started the interview a little heavy by asking the cast and creatives, "What was your woke moment?" They gave us incredibly profound answers from their personal experiences. Show creator and executive producer, Keith Knight, said,
"I would say one of my woke moments was when I was a junior in college. I had a teacher – and it was my first black teacher ever. He was an American Literature teacher and he gave us for assignments to read: Ralph Ellison, Richard Wright, Maya Angelou, James Baldwin.

And when someone said, 'Why are you giving us all Black writers?'

He said, 'I'm giving you all American writers.'

That was the moment where my comics went from being about keg parties to being about something more.

Keith Knight, Woke Creator & Executive Producer
RELATED: Woke Exclusive: The Cast and Creatives Reveal When They Got Woke at WonderCon 2022
While the answers were incredible, like Mr. Knight's above, it was admittedly heavy, especially for a fun Sunday at convention. So I wanted to lighten up the mood a bit and saw an opportunity of, not just a rare situation, but something I feel many of us melanin-producing folk wonder about. And after asking a hiring manager if I would be the only minority on the team if hired (which obviously I wasn't after asking that question), this question seemed apt to ask.
I Ask the Blake Anderson & Anthony King What It's Like to be the Token white People on Woke
Anthony King: "In our writer's room, I was the only white person in the writer's room. What was really exciting about it to me, it's one thing we talked about, even on television shows that try to explore some of these issues the Black point-of-view is made into this monolith of the Black point-of-view. And I would just sit and listen to these debates about a lot of these issues coming from so many different points of view. And getting to talk about it, we should have that television. Not this: this is the Latina point of view, this is the Black point of view. It's so reductive.

When you don't actually have white people controlling all of it, you get more nuance. And it is much more interesting.

Anthony King, Woke Showrunner & Executive Producer
RELATED: Bob's Burgers Creators Tease Favorite Returning Guest Stars
Marshall Todd: "The great thing about him though, is that in the credits his name, Anthony King, You assume it's a Black guy. Oh, Anthony King? That's a brother."

Marshall Todd, Woke Co-Creator & Executive Producer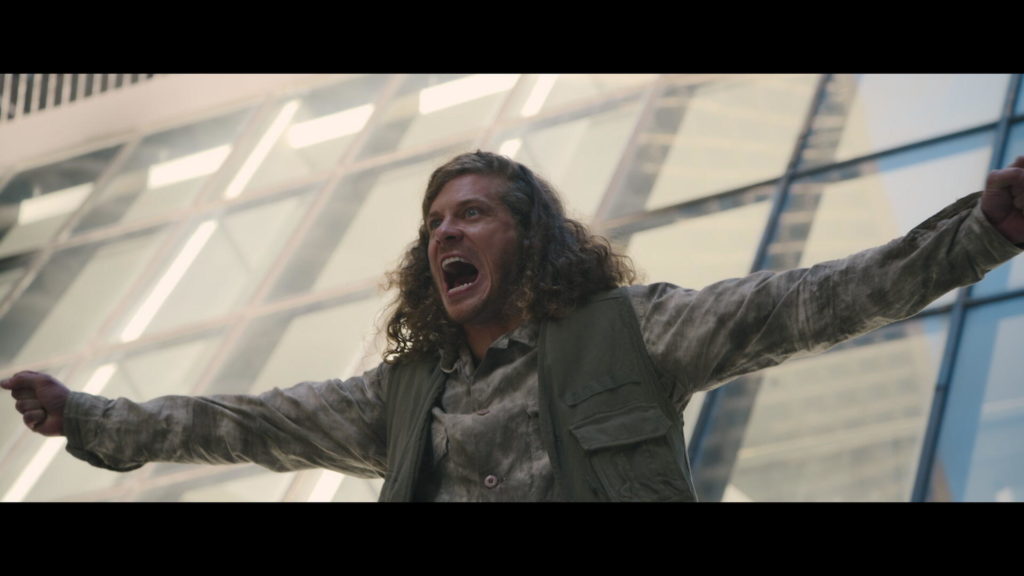 Blake Anderson: "I love being a part of this show and being the role that I am. Going to Canada, we all roll as a pack because we're a show. And you know, you're going out in Vancouver and everywhere you go… one-third of the Black population are my friends!

You walk into a restaurant and you see a bunch of Vancouver Canadians like, 'Woah! What the hell is this?'

It's cool. It's I don't know. It's just everything. It's a very educational thing for me at least. It's just been an awesome experience all around.

Blake Anderson, Gunther in Woke
RELATED: Expedition Bigfoot Exclusive Interview – Team Discuss Favorite Filming Location And If Bigfoot Is The Last Remaining Survivor Of A Species
T. Murph: "Tell him about the time we had you do Black face."

T. Murph – Clovis in Woke
I am so thankful for the thoughtful responses from Blake Anderson and Anthony King. I didn't know if I was being out of pocket, but I'm personally in the camp that it's healthy to ask these questions of each other. I would probably still be working certain places if my co-workers asked me about my experience being the token team member instead of telling me I'm not like other Asians or that they don't see my point of view so it's not really happening like that.
Anyway, Woke Season 2 is now streaming on Hulu, and is the perfect weekend binge. For all of the questions and answers, or to put it simply, the entire interview with the cast and creatives of the series. Continue scrolling down.
Woke Season 2 Exclusive Interview at WonderCon 2022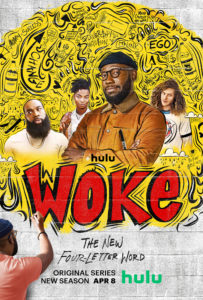 ABOUT WOKE
Created by: Keith Knight; Marshall Todd
Production Companies: Cloud Nine Productions; Olive Bridge Entertainment; ABC Studios; Sony Pictures Television
Genre: Comedy
Original network: Hulu
Cast: Keef (Lamorne Morris), Gunther (Blake Anderson), Ayana (Sasheer Zamata) and Clovis (T. Murph), shown
Synopsis
Cartoonist Keef Knight is now a popular activist on the rise, but he's facing a world where "woke" has become big business. Can Keef and his friends bring about real change, or is it just about the dollar$? And can Keef navigate this new world without destroying what he's become? Inspired by the life and work of artist Keith Knight, Woke continues to upend Black nerd and activist culture, deftly satirizing with a wink and a smile. (Courtesy of Hulu)
Have you ever been the token member of your work team? Do you notice when you have a token team member? Do you need a link to start watching Woke? Let us know in the comments below and let us know when you start your binge on Twitter.
KEEP READING: Woke Season 2 Review – Doing Right and Doing Good is Messy AF