Over the course of eleven seasons Bob's Burgers has had some truly impressive guest stars including Patton Oswald, Henry Winkler, Wanda Sykes, Tiffany Haddish, Bill Hader, Jon Hamm, and so many more. And with the Belchers heading to the big screen it is the perfect opportunity for the return of fan favorites as well as some new potential guest stars to make their debut.
During WonderCon 2022 we at The Illuminerdi had the opportunity to speak with Loren Bouchard, creator of Bob's Burgers as well as co-writer, co-producer, and co-director of The Bob's Burgers Movie, Nora Smith, co-writer of The Bob's Burgers Movie, and Bernard Derriman, co-director of The Bob's Burgers Movie.
When asked about not only their favorite guest stars in the series, but who we could be seeing in the upcoming Belcher big screen debut Loren Bouchard was fairly tight lipped about details, but did tease, "favorite returning guest stars" for The Bob's Burgers Movie.
LOREN BOUCHARD TEASES "A LOT OF OUR FAVORITE RETURNING GUEST STARS" IN THE BOB'S BURGERS MOVIE
RELATED: DC SHOWCASE CREATORS EAGERLY ENDORSE ZACH BRAFF AS BLUE BEETLE IN THE ARROWVERSE AT WONDERCON 2022: EXCLUSIVE
"We love our guest stars. We have had people come and do the show out of the sheer goodness of their hearts especially when we just early on. They just trusted us and trusted us with their voices and that's such a pleasure. And I never would pick a favorite. I can't because we just feel so appreciative to every single one of them who've either come for a one time or who have come back.

That's always so fun to build up a little bit of a relationship with kind of a troop, a larger ensemble of people. And some of these folks, their careers are so big in a lot of ways asking them to do the movie was like asking them to hurt their career cause they're working on other stuff. And it's like we don't want to take away time from your busy career and as a result we said, 'Hey we're not gonna use your name. We're not trying to do a movie that has a bunch of cameos that's gonna be some promotable thing.'

So, a lot of our favorite returning guest stars we can't tell you about. You'll have to see. But we do love that there's a community of people out there who've lent us their voices and we just hope to be able to keep making a home for those folks."
RELATED: DC SHOWCASE'S CONSTANTINE CREATORS SHARE EXCITEMENT FOR MATT RYAN'S RETURN TO ICONIC ROLE: EXCLUSIVE
Although Loren Bouchard wouldn't reveal who will be in the movie, or who his favorite guest star has been, he did at least tease that we will be seeing some familiar faces. The first two trailers for The Bob's Burgers Movie show some of the Belchers usual crew making an appearance including Zeke, Jimmy Jr., Mr. Fischoder, and Sergeant Bosco. However, it will be exciting to see if some of the guest stars who aren't regularly on the series return for the big screen adventure. There will also likely be some exciting new guest stars joining the Bob's Burgers family for the film, but who that could be remains a mystery for now.
THE BOB'S BURGERS MOVIE OFFICIAL SYNOPSIS
This animated, big-screen, musical comedy-mystery-adventure is based on the longrunning Emmy®-winning series. The story begins when a ruptured water main creates an enormous sinkhole right in front of Bob's Burgers, blocking the entrance indefinitely and ruining the Belchers' plans for a successful summer. While Bob and Linda struggle to keep the business afloat, the kids try to solve a mystery that could save their family's restaurant. As the dangers mount, these underdogs help each other find hope and fight to get back behind the counter, where they belong.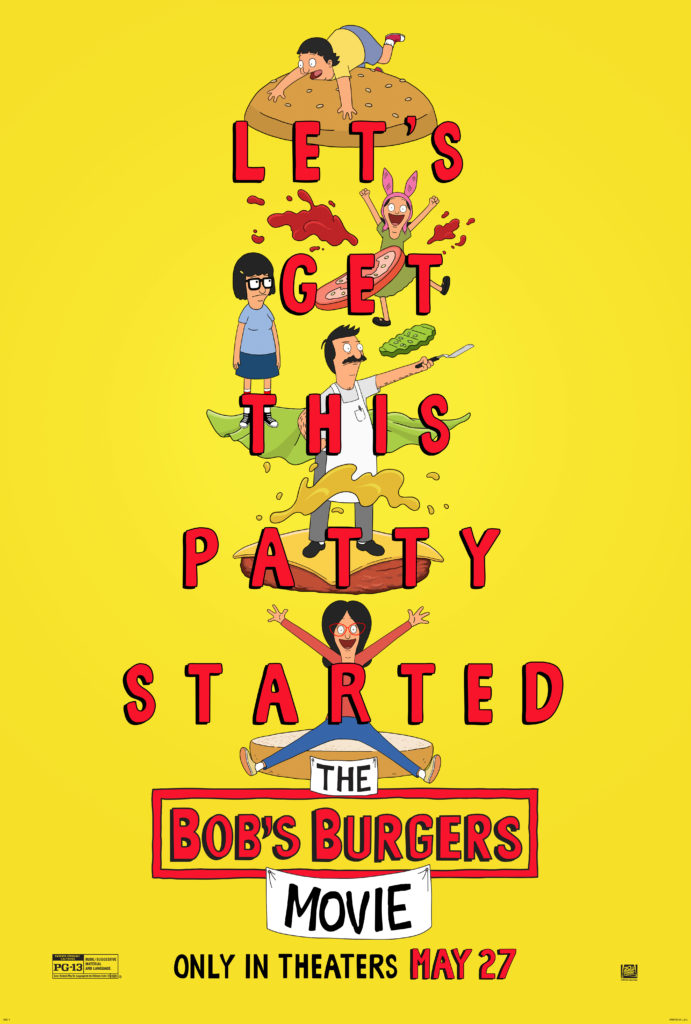 The Bob's Burgers Movie is in theaters May 27, 2022. Are you excited for The Bob's Burgers Movie? Who has been your favorite guest star on Bob's Burgers? Which returning guest stars do you hope to see in the movie? Leave your thoughts on our social media and check back with The Illuminerdi for more The Bob's Burgers Movie.
KEEP READING: THE BOB'S BURGERS MOVIE CREATOR EXPLAINS THE BENEFITS OF NEW MOVIE BEING 2D: EXCLUSIVE