The Boys Presents: Diabolical is an anthology series that gives fans of The Boys a chance to see more of the world explored through short animated adventures. With the same raunchy, gore-filled tone the series utilizes, with not only different characters and stories in each episode, but different animation styles as well.
At WonderCon 2022 The Illuminerdi had the opportunity to participate in roundtable interviews with Supervising Director, Giancarlo Volpe, and Executive Producer, Simon Racioppa, about this animated series, which was conceived as a way to hold over fans while waiting for the highly anticipated third season. When we asked them which character from the animated series, The Boys Presents: Diabolical they would like to see make the jump to the live-action series Simon Racioppa had two great possibilities, although one is much more disturbing to consider in live-action.  
"Well, the jokey answer is I want to see Areola in the live action Boys. Awkwfina's little, you know, poop. I mean I would love it, if they cross. I think it would be great if John and Sun-Hee showed up in the back of some Vought episode, like she's escaped. Even if it is just a reference somewhere. That would be wonderful."
Awkwafina's episode is adorable in animation, but the disgustingness of the concept would be on full display in live-action. The thought of experiencing Areola in live-action is horrifying which for a series that began with a woman essentially being turned into bones and mist is saying something. However, John and Sun-Hee had such an intense story that the prospect of seeing them appear in live-action is thrilling. Giancarlo Volpe also had an interesting answer especially given one of the characters did appear in the pilot of The Boys.
RELATED: EXCLUSIVE INTERVIEW: THE BOYS SHOWRUNNER ERIC KRIPKE DECLARES HOMELANDER WOULD BEAT SUPERMAN IN A FIGHT
"I mean it would be cool, so Nubian Prince did appear in the pilot episode. But he's just sort of on the news for like a second. And I think now that I've sat with those characters for so long, it'd be cool to see him and Nubia in an episode for sure. I think that one pops to my mind pretty quickly. Some of the other ones are harder to picture. Like Boobie-face, it would be so weird but, actually there's the love sausage character that's in the show. So, I suppose anything is possible. "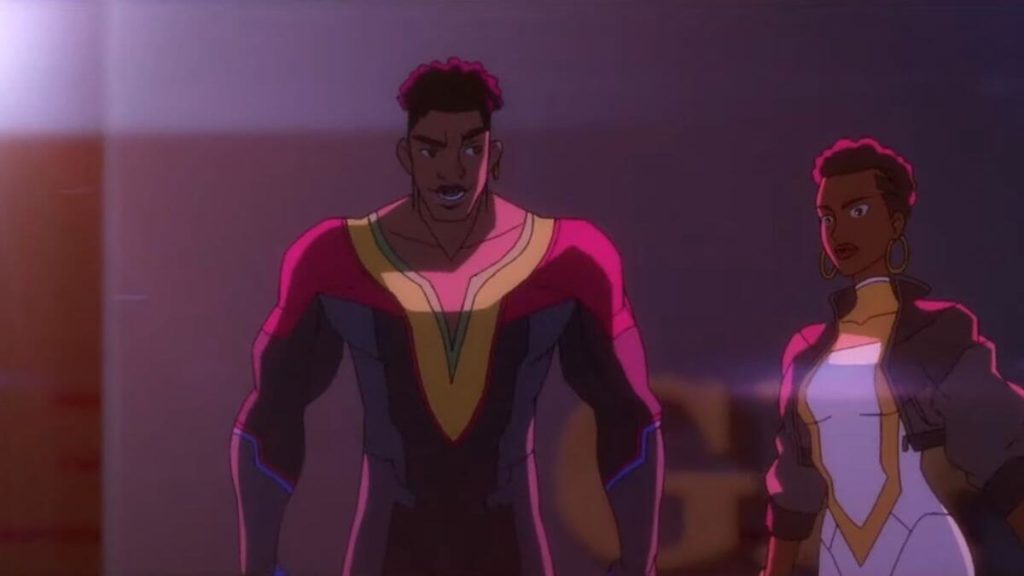 During WonderCon 2022 The Boys Presents: Diabolical panel Giancarlo Volpe and Simon Racioppa also confirmed the news that two other episodes, besides the Homelander centric episode, are actually canon as well, "John and Sun-Hee" as well as "Nubian vs. Nubian". So, it seems the possibility of seeing these characters jump from animation to live action could actually be a possibility. That being said the episode that most fans are excited about given the implications of it being canon is the final episode of the first season, "One Plus One Equals Two".
RELATED: THE BOYS PRESENTS: DIABOLICAL REVIEW – 8 OF THE MOST F*%KED UP INSANE CARTOONS EVER
SIMON RACIOPPA BREAKS DOWN THE HOMELANDER EPISODE OF THE BOYS PRESENTS: DIABOLICAL
This episode reveals an important part of Homelander's backstory as he joins the ranks of The Seven, the corrupt team of supes he leads in The Boys. The episode also gives fans a better understanding of his relationship with Black Noir, another member of The Seven. Simon Racioppa revealed how the idea of Homelander's initial motivation as a do-gooder before going down the dark path to become the character fans know from The Boys came to be.
"That came out of two different things. One was just talking to Eric about the character, and just sort of like, because obviously there is a Homelander in the comics. And I've read all the comics. But, the Homelander the show is slightly different. It's his version of it. So, it was just about talking to him.

And then the other thing is my belief that nobody is born evil. You're built out of your environments and your experiences and how you are treated. I thought that would be interesting to explore with Homelander. So, even a character like that, but if you were raised by Vought, how would you come out? You would come out terrible, right? So, it was about having a little fun exploring that."
He also revealed why he chose to write this episode exploring Homelander's backstory and credited Eric Kripke for the inspiration.
"And I started talking to Eric about that. He was like, 'Aw man, I wish someone had really done an episode about like Homelanders' first mission, or like early on.' I was like, 'Then that's what I will do.' So, then I was just talking with Eric to make sure the canonicalness of it was correct. And kind of nerve wracking writing a script for Eric Kripke, in his universe, in his world, about his characters, and trying to get that right. So, I was really happy when he was pleased with it, that was a great day. I was very happy that he enjoyed it."
When audiences first meet Homelander in The Boys he has fully gone down the paths of corruption, power, and god-complex. However, this episode of The Boys Presents: Diabolical shows a different side of the supe. He did hope to be a good guy, helping people at one point, but his upbringing and psyche proved too broken. The portrayal of his struggle is fascinating and tragic, especially knowing how it will turn out.
RELATED: THE BOYS SEASON 3 OFFICIAL REDBAND TRAILER IS PROMISES PEACE AND JUSTICE IS A SODA AWAY
It will be interesting to see if this revelation about Homelander's past plays into the third season of The Boys at all. And should The Boys Presents: Diabolical be renewed for a second season it opens the door to potentially dig into the backstory of the other members of The Seven or any other characters from The Boys.
The Boys Presents: Diabolical is available now on Prime Video. Season three of The Boys is scheduled to debut on June 3, 2022, on Prime Video. What did you think of The Boys Presents: Diabolical? Do you think the Homelander episode will be a part of The Boys Season Three? Which characters from Diabolical would you want to see make the jump to live-action? Leave your thoughts in the comments below or on our social media and check back with The Illuminerdi for more on The Boys.
KEEP READING: THE BOYS PRESENTS: DIABOLICAL SUPERVISING DIRECTOR IMAGINES AWKWAFINA'S AREOLA SMELLS LIKE BABY POWDER AND GIVES SEASON 2 UPDATE: EXCLUSIVE