There's a lot to be said concerning the resurgence of retro games. Especially anything from the arcade era of team-based beat-em-up games full of fluid pixel art and 8-bit soundtracks pushes the nostalgia button. Thank god for Tribute Games' accepting the pitch from Jean-Francois Major and Cyrille Imbert from Dotemu. They gave us an inside-baseball view with a behind-the-scenes look at the creation of the upcoming game Teenage Mutant Ninja Turtles: Shredder's Revenge. In case you're wondering; yes it's a side-scrolling beat-em-up similar to Scott Pilgrim, Streets of Rage, or even the 1991 TMNT: Turtles in Time.
Since the game isn't complete to play yet, we will have to simply gush over the behind-the-scenes video. In it, Tribute Games co-founder Jean-Francois Major and Dotemu CEO Cyrille Imbert discuss their lifelong dreams of working on a Teenage Mutant Ninja Turtles game. The two sides teamed up to navigate the years of discussions to secure the rights to a new outing based on the Turtles' timeless 1987 designs. Fans can learn how Shredder's Revenge changed from a multi-decade-spanning vision to reality.
Contributing to a universe as legendary as Teenage Mutant Ninja Turtles is an incredible opportunity on every level, but even after wrapping up a TMNT project years ago, I still held out hope for creating an experience that takes place in the time that so amazed me as a child. We finally found a partner who shares Tribute Games' passion for Ninja Turtles. To have the opportunity to continue the legacy of classic TMNT beat 'em alls that fans around the world have grown up with is surreal.

Jean-François Major, Tribute Games Co-Founder
RELATED: TMNT: The Cowabunga Collection is Now Available for Pre-Order for Unknown 2022 Release
The reputation we've built through our exceptional partners, on modernizing great classics like Streets of Rage 4, has been crucial in starting this journey with Nickelodeon and Teenage Mutant Ninja Turtles: Shredder's Revenge. Tribute Games clearly shares our passion for the TMNT universe. Their deep understanding of the essence of beat 'em all and their unwavering devotion make them the perfect team to ensure Teenage Mutant Ninja Turtles: Shredder's Revenge is the evolution action fans deserve.

Cyrille Imbert, Dotemu CEO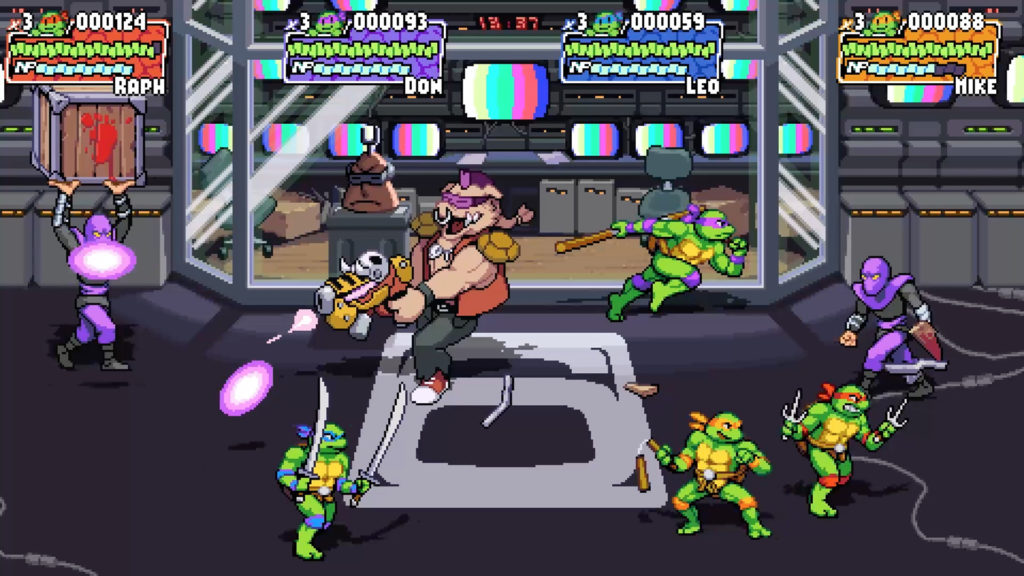 It turns out that both Tribute and DotEmu were working separately on pitches for a new TMNT brawler in the style of Konami's legendary entries in the genre. DotEmu (which is publishing Shredder's Revenge) is the driving force behind the revival of Streets of Rage and WindJammers, so this arcade comeback fit right into its wheelhouse. When Nickelodeon revealed that both companies were actively pitching a new retro revival, the two entities had a meeting and decided to team up to bring the game to life.
TMNT: Shredder's Revenge allows fans to bash their way through gorgeous pixel art environments and slay tons of hellacious enemies with your favorite Turtle, each with his own skills and moves – making each run unique! Choose a fighter, use radical combos to defeat your opponents and experience intense combats loaded with breathtaking action and outrageous ninja abilities. Stay sharp as you face off against Shredder and his faithful Foot Clan alone, or grab your best buds and play with up to four players simultaneously!
RELATED: Master Splinter Joins Teenage Mutant Ninja Turtles: Shredder's Revenge as the 6th Playable Character
As for why the game harkens back to the franchise's origins, Major said that it only made sense. Not only is this the version of the franchise that the developers grew up with, but it was the one that was associated with this type of arcade spectacle. "I feel like the TMNT games were really at their prime during the arcade era of the '90s, so it only made sense to go back to the roots," said Major.
The first episode of the developer diary speaks more to these '80s and '90s inspirations and even showcases an idle animation where Donatello pulls out a Game Boy and starts playing it.
TMNT: Shredder's Revenge – Behind the scenes #1: Once upon a shell
What do you think about the development of this ingenious approach to gaming and the invigoration of a classic medium? How excited are you for TMNT: Shredder's Revenge? Who is the first character you'll play as? Let us know your thoughts below in the comments. 
Source: Dotemu
KEEP READING: IDW's TMNT Adding a 6th Turtle to the Legendary Hamato Clan