Hello Neighbor! We finally know the name of the terrifying neighbor thanks to our friends at tinyBuild.
Our very own Brendan Rooney has learned the name of the terrifying neighbor whose house we explore in the hit stealth horror game, Hello Neighbor. With Hello Neighbor 2 now in Beta, and it also being PAX Eat 2022, tinyBuild has finally given us the name to this terrifying complex AI-controlled opponent who constantly learns and adapts making each play through more and more terrifying. After over 4 years of being haunted by this argyle vested menace, we can finally put a name to this truly vile creature.
Hello Neighbor, Theodore Masters Peterson of Raven Brooks
Our very own Brendan Rooney was taught the name of the famed horror that has haunted us on PC and across consoles since the end of 2017. While hanging out with our friends at tinyBuild at PAX East 2022, they shared that the menace that secretly plagues Raven Brooks is named, Theodore Masters Peterson. The admittedly sharply dressed strong chinned man with the dapper mustache that haunts the dreams of players around the world now has one less secret. However, other than knowing what name to curse as your ability to control your bladder is tested, we still know little to nothing else about him and his connection to the mysterious crimes of Raven Brooks.
RELATED: TMNT: Shredder's Revenge First Impression at PAX East 2022
You can watch Mr. Rooney's exclusive interview with tinyBuild's video producer, Adam Johnson, directly from PAX below. Johnson also shares a bit about Hello Neighbor as a franchise, including the animated series and toys. We also learn Hello Neighbor 2 will release on December 6, 2022, with three DLC content and how the game takes place after the original and expands on the gameplay and adds a little more guidance. We also get some exclusive information about new mystery characters, like the Librarian and the Pro. Watch the video for all the details.
tinyBuild Hello Neighbor 2 Exclusive Interview at PAX East 2022
Hello Neighbor 2 pre-orders are now live for Steam, Xbox, PlayStation, & EGS. There are two editions currently available for pre-order, Standard and Deluxe. Pre-order of the Standard Edition will allow for instant Beta access and the full game once it launches. The Deluxe Edition comes with the same benefits as well ass three brand new DLC (which will also be available at launch, and 4 days of Early Access to the game prior to its official release on December 6, 2022.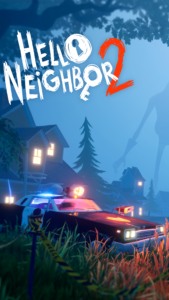 About Hello Neighbor 2
Release Date: December 6, 2022
Publisher: tinyBuild
Designer: Nikita Kolesnikov
Platforms: Steam, Xbox, PlayStation, & EGS
Developers: Dynamic Pixels, Eerie Guest Studios
Genres: Horror game, Adventure game, Indie game, Puzzle, Action game, Strategy video game
Description:
Hello Neighbor 2 is a sequel to a smash hit Hello Neighbor, where you sneak into your neighbor's house and figure out what he's hiding in the basement. In part 2 we have gone even further, and as a journalist, you investigate murders and mysterious disappearances in a seemingly quiet town of Raven Brooks.

Hello Neighbor 2 is a stealth horror game about digging up your creepy neighbor's secrets. Imagine that the entire town with all the houses and AI-driven inhabitants is your playground. Oh and there's something off about inhabitants in Raven Brooks, but you can't quite put your finger on it. So you think smart, plan your ingress, and look for clues behind the shut curtains of a suburban dystopia.
Are you currently playing the Hello Neighbor 2 Beta? Does knowing Theodore Masters Peterson is your neighbor make him less terrifying? Which version of the game did you pre-order? Let us know in the comments below and share your most terrifying memories of Teddy with us on Twitter.
KEEP READING: Paper Cut Mansion Unfolds the Mystery Behind Its Handcrafted Cardboard World at PAX East 2022