Disney Plus has a new Disney Nature documentary just in time for Earth Day. Polar Bear, narrated by Catherine Keener, follows a polar bear from her early days as a cub through her life until she herself becomes a mother. Polar Bear takes a unique approach to telling this story exploring her life and the impact of climate change through the bear's perspective.
RELATED: LIGHTYEAR: THE SURPRISING ANIME INFLUENCE ON THE DESIGN OF THE VILLAINOUS ZURG IN PIXAR'S NEW SCI-FI FILM
The Illuminerdi had the opportunity to speak with directors Alastair Forthergill and Jeff Wilson about their new Disney Nature documentary, Polar Bear. Polar bears are largely isolated creatures with Alastair Fothergill explaining, "The Inuit call them the great wanders." During the interview Alastair Fothergill revealed that some of the footage in the film is behavior that has not only never before been caught on camera, but "gobsmacked" scientists.
POLAR BEAR DIRECTOR TALKS ABOUT CATCHING NEVER BEFORE SEEN ACTIVITY IN NEW DOCUMENTARY
"Many bears will spend an awful lot of their life apart, particularly the males. And what did surprise us was, a really surprising thing for instance was when the young female met the young male bear. Our young star. That had never been filmed before. And when we showed it to the scientists, they said, "What on earth is going on here?" They said, "Well it's not courtship, it's not sex, it's just joy. It's joy of reuniting after so much loneliness." And they were gobsmacked by that. They'd never seen anything like it. And there was quite a lot of things in this film like that, that we hadn't expected at all to film."
RELATED: LIGHTYEAR: HOW CHRIS EVANS' CAPTAIN AMERICA PERFORMANCE MADE HIM PERFECT TO VOICE BUZZ LIGHTYEAR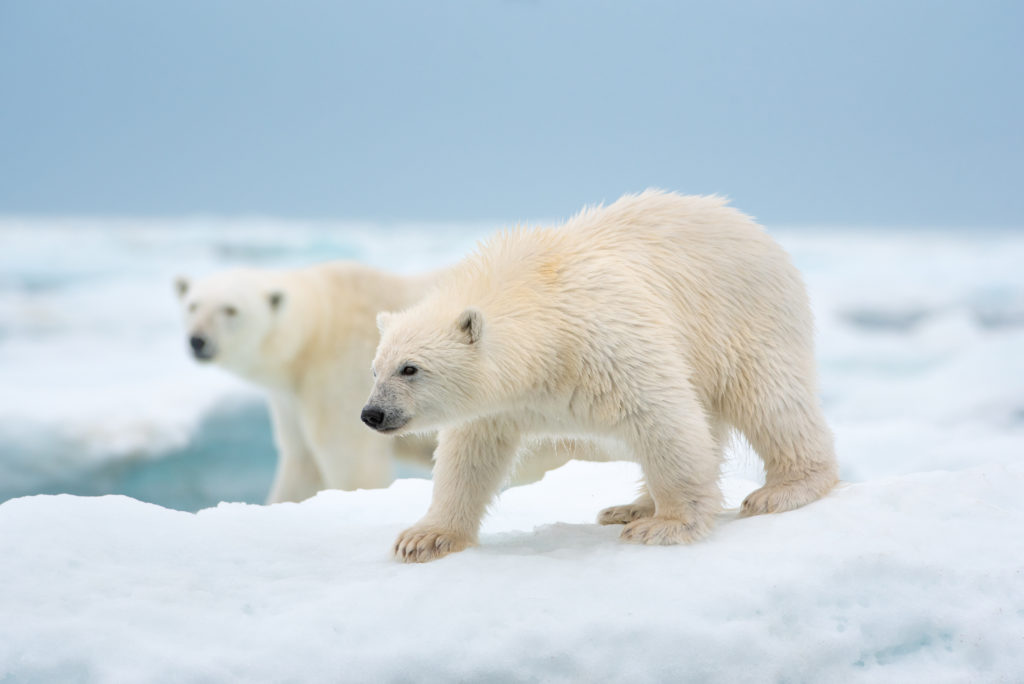 Catching never before seen not only footage, but behavior is truly remarkable and the scene that Alastair Fothergill is describing is full of wonder. Two young adult bears finding a moment of joy and friendship is beautiful to see. Part of what is so interesting about Polar Bear is the way this story is told. Polar Bear is told from the first person, or polar bear, perspective allowing audiences to experience the life and story through her perception of the world.
RELATED: LIGHTYEAR DIRECTOR EXPLAINS HOW "ANDY'S STAR WARS" WITHIN THE TOY STORY UNIVERSE IS PIXAR'S 1ST SCI-FI ACTION ADVENTURE MOVIE
One aspect of this that is so fascinating is the impact of climate change. The bear is understandably filled with confusion, fear, and distress at the world changing around her and how it continues to not only affect, but endanger her life. Jeff Wilson explained the decision to tell Polar Bear through the bear's perspective.
"Well, all Disney Natures have a central narrative, and always have done and have an essential character. And I think that Alastair and I, the real challenge of this film is to how to tell the experience of a female polar bear over the course of fifteen years. To help people connect with the experience of motherhood, which is obviously central to the storyline and to the bear's life.

And also, tell the story that helped communicate a climate change message which is very central to the entire purpose of the film, in a way that connected to the character that felt emotional, that felt real and felt experiential. And I think where we landed was in the first-person narration actually helps us do that. It really personalizes the experience and helps our audience understand the uncertainty that any bear experiencing this world that is changing beneath their feet, what that's actually like. And I think it connects you to the human experience as well. I think it just gives you that ability to really understand the perspective of the bear.

So, it's an incredibly powerful tool, however, it is also a very hard thing to pull off. We worried about it, a lot. And we worked on the narration a lot. And to be honest, we weren't quite sure it was going to work until it came out of Catherine Keener's mouth and she completely embodied the character and the tone that we wanted. So, it's been a long journey to try and make it successful. But I think, interestingly it is the one that people have come to us time and again said that has really made a difference, in terms of the way that we've told this story."
RELATED: THE BOB'S BURGERS MOVIE CAST REVEALS SURPRISE CHARACTERS FROM DISNEY'S VAULT THEY WANT TO CAMEO: EXCLUSIVE
Disney Nature is giving audiences an inside look into the life of a polar bear with a one of a kind understanding of living through climate change from one of the animals It is majorly endangers. With this exciting nature documentary storytelling style Polar Bear stands out in a crowd of nature documentaries especially with the once in life time footage they were able to capture.
Polar Bear is now available on Disney Plus. Are you going to watch the new Disney Nature documentary? Are you excited to see never before seen polar bear activity? What do you think about this documentary being told from a first person, or polar bear, point of view?  Leave your thoughts in the comments below or on our social media and check back with The Illuminerdi for more.
KEEP READING: POLAR BEAR DIRECTORS REVEAL WHICH WILD ANIMAL IS AT THE TOP OF THEIR LIST FOR NEXT NATURE DOCUMENTARY: EXCLUSIVE INTERVIEW