Thor: Love and Thunder is only a few short months away, and fans are clambering for more details on the film!
The fourth solo film for the God of Thunder is set to be bigger and crazier than anything we've ever seen before. But rather than focusing only on Thor Odinson, the movie will also introduce Jane Foster's Mighty Thor, played by Natalie Portman, and we are on the edge of our seats to see her become a superhero in her own right. The trailer and some promotional art have only offered us a brief glimpses of the character in her full armor, but a recent image from Empire just gave us our first full look at the character without her helmet…and we are FLOORED.
Natalie Portman as Jane Foster The Mighty Thor in Thor: Love & Thunder
The image depicts the two Thor's together, both decked out in their Asgardian armor, and she looks absolutely fantastic! Natalie Portman never fails to deliver on the big screen, and for whatever reason, that's particularly true when she's in space. The Star Wars prequels were filled to the brim with out-of-this-world Space Portman drip, and that ridiculously awesome fashion sense continues into this universe as well.
The character of Mighty Thor comes from Jason Aaron's popular Mighty Thor run. In that series, Jane Foster was suffering from cancer at the time that she lifted Thor's hammer. After she was granted the powers of the God of Thunder, whenever she transformed into her Thor form, she became healthy and strong, but the transformation also hastened the spread of the disease. It was quite the catch-22, and it provided a layer of depth to the newly-introduced hero.
RELATED: DOCTOR STRANGE IN THE MULTIVERSE OF MADNESS: MICHAEL WALDRON AND SAM RAIMI DISCUSS THE CRAZINESS OF FILMING DURING PRODUCTION CHANGES
When Natalie Portman first walked across that stage at Comicon in 2019, a lot of people assumed that her Mighty Thor would be a variant of Thor from the Multiverse. But after the trailer was released showing her wielding a re-forged version of the hammer, we realized that isn't the case. This will be the same version of Jane that we've known all along…the character who appeared in Thor, Thor: The Dark World, and very briefly in Avengers: Endgame. According to a recent description of the film, she will be visiting New Asgard when she is chosen by the magic of Mjolnir to wield the powers of Thor.
RELATED: THOR: LOVE AND THUNDER ACTION FIGURES REVEAL PROMO ART AND NEW STORY DETAILS
If you think that might come as a surprise to Chris Hemsworth's Thor, you'd be very correct. Having your ex-girlfriend drop by for an unexpected visit is always a surprise, but when she copies your look, picks up your old weapons, and starts summoning lightning from the sky? That's a whole other ball game. It's safe to say that there are going to be some very humorous reactions when the God of Thunder catches up with his old flame.
"It's been about eight years," Waititi said in an interview with Empire. "She's had a whole other life, and then the love of your life comes back on the scene, and is now dressed like you. It's a real mindfuck for Thor."
THE MIGHTY THOR
It's safe to say that Natalie Portman will certainly be given a lot more to do in this film than in the previous films in the franchise. According to Waititi, he wanted to show the audience a radically different side of Jane Foster than we'd seen in Thor and Thor: The Dark World.
"You don't want Natalie coming back and playing that same character who's walking around with science equipment," Waititi told Empire. "You know, while Thor's flying around, she's left on Earth, tapping her foot going, 'When's he going to be back?' That's boring. You want her to be part of the adventure. Natalie's really funny in real life. She's kind of goofy and has got a great sense of humour, and I don't think that was exploited enough in the first films."
We are incredibly excited to see Natalie Portman in this role, and July cannot come soon enough!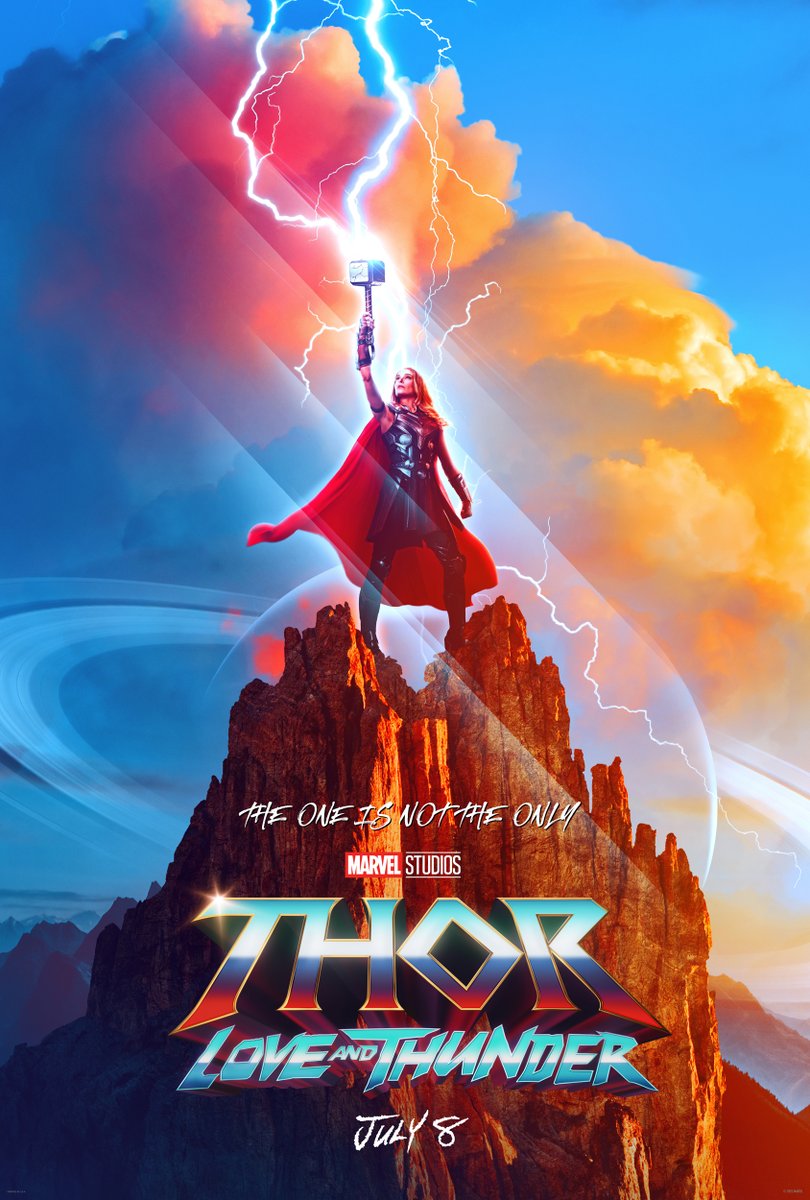 Thor: Love and Thunder releases in theaters July 8th, 2022. What do you think of Natalie Portman's look? Let us know over on Twitter!
KEEP READING: WHAT THE JANE FOSTER MERCH REVEAL COULD MEAN FOR HER THOR: LOVE AND THUNDER ORIGIN STORY
Source: Empire