It's time to watch a bunch of beloved characters get into an all-out brawl. Warner Bros. Games revealed a glorious new cinematic trailer today for the upcoming free-to-play, platform fighting game, MultiVersus. In addition, the game's Open Beta test was announced for July.
The new cinematic trailer features appearances by the likes of DC Universe's Batman and Harley Quinn, Shaggy from Scooby-Doo, Tasmanian Devil aka Taz from Looney Tunes, Arya Stark from Game of Thrones, and even The Iron Giant. The characters are all magically transported from their worlds to the world of MultiVersus, where they ultimately start fighting. The new trailer revealed Velma, Taz, and The Iron Giant as the newest characters for the upcoming game's roster. You can check out the new CG cinematic trailer for MultiVersus below:
MULTIVERSUS CINEMATIC TRAILER FEATURES LEGENDARY CHARACTERS COLLIDING IN FIGHTER PLATFORM SCENARIO
The new cinematic trailer for MultiVersus offers fans a taste of what's to come for the free-to-play platform fighter. Batman, voiced once again by the iconic Kevin Conroy, is investigating a strange energy signature in the Batcave, when he's mysteriously transported to another world, along with Shaggy. Bugs Bunny and Arya Stark of all people soon start fighting Batman and Shaggy in a two-on-two battle.
RELATED: WARNER BROS' NEMESIS SYSTEM PATENT LEADS TO INTENSE CRITICISM
Garnet of Steven Universe and Jake from Adventure Time with Finn and Jake are then transported into the world. They're drawn into a fight with Taz and Harley Quinn, who takes a liking to Taz. The iconic duo of Tom and Jerry even gets into the mix as the mayhem breaks out.
As all-out chaos ensues, a confused Superman shows up, and he's joined by the one and only Giant from The Iron Giant, who finally meets the comic book hero he idolized in the film. The trailer then ends with the characters all lining up together, along with revealing some of the new additions, including Scooby-Doo's Velma.
RELATED: Check Out This Amazing Footage of Spider-Man Web-Swinging on the Unreal Engine 5
Overall, MultiVersus appears to be a wild concept that exploits the endless amount of IP that Warner Bros. has at its disposal. It looks like Warner Bros. Games is making its own version of Super Smash Bros., except with characters of the DC Universe, Looney Tunes, and various other WarnerMedia properties at the media giant's fingertips. However, seeing Arya Stark of the rather dark, edgy, adult, and mature Game of Thrones in a game that's rated T for Teen is pretty crazy, especially since the game appears to be rather youth-oriented and aimed at younger players.
Also, while the Open Beta is happening for the game in July, fans can currently sign up for the Closed Alpha test on the game's official website. The Closed Alpha will start this week on Thursday, May 19, and it will run through May 27. The Closed Alpha will include 15 playable characters, including Taz and Velma, along with seven different maps, such as the Batcave, the Tree Fort from Adventure Time, Scooby's Haunted Mansion, along with a variety of different gameplay modes to test out.
The included gameplay modes for the Closed Alpha are 2 vs. 2 team-based cooperate mode, 1 vs. 1 matches, 4-player- free-for-all, and The Lab (practice mode.) Fans who register for the Closed Alpha should note that registration will not grant them entry into the test since space is limited.
RELATED: VELMA: JINKIES! MINDY KALING TO LEAD NEW ADULT ANIMATED SCOOBY-DOO SPIN-OFF PREQUEL FOR HBO MAX
MultIVersus is currently still in the works by Player First Games. It's scheduled for a worldwide release later this year for PlayStation 5, PlayStation 4, Xbox Series X/S, Xbox One, and Windows PC. The game will feature cross-play support and a dedicated server-based rollback netcode for robust online competition.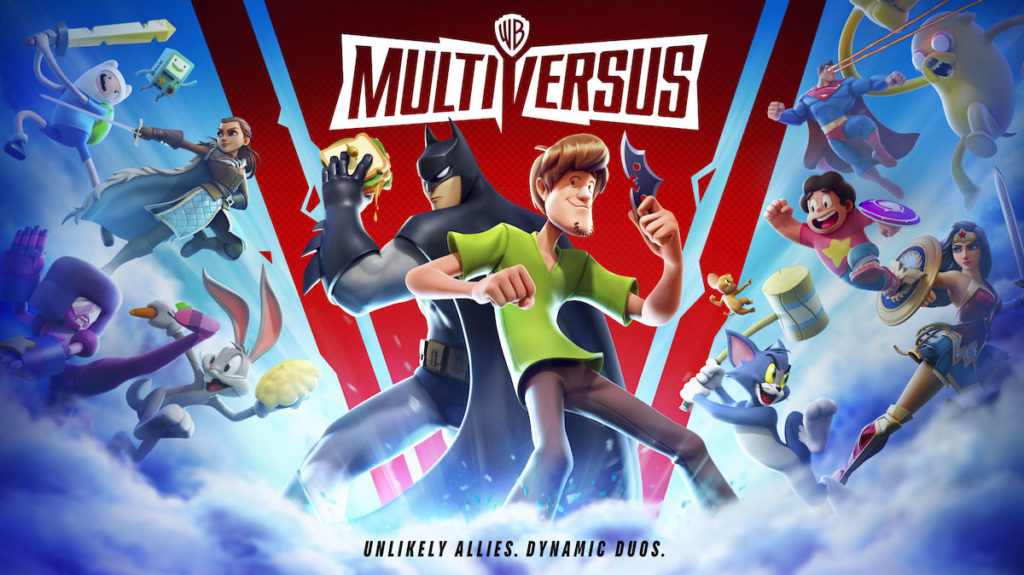 What do you think of the new MultiVersus cinematic trailer? Does it have you even more excited for the game's upcoming release? What iconic character battles do you want to see play out? Who would you like to be your mains? Let us know what you think over on Twitter.
SOURCE: Warner Bros. Games, YouTube
KEEP READING: SCOOB! REVIEW: THEY DON'T GET AWAY WITH IT (BECAUSE OF THOSE MEDDLING KIDS)