You'll like her when she's angry, Marvel drops the official She-Hulk: Attorney At Law trailer
Though she is claiming not to be a hero, Tatiana Maslaney's She-Hulk is obviously the next big hero of the MCU. Jennifer Walters, aka She-Hulk, is an attorney, single, and going through a lot of changes. If it's anything like the comics, after a blood transfusion from her cousin Bruce Banner, aka the Hulk, Jen also receives Hulk powers and transforms into her own big green superhero machine! Today, Marvel has released the official trailer giving us our first real look at Maslaney in the titular role set to premiere on August 17, 2022, exclusively on Disney+.
She Hulk: Attorney At Law Official Trailer
The trailer looks… SMASHING! Tatiana Maslaney is iconic for portraying multiple clones in the hit sci-fi series Orphan Black. She has proven she can do it all, and she looks to be rising to an entirely new level. It is exciting to see her take on the role of one of Marvel's most powerful heroes, and it is particularly intriguing to see her play a character that is substantially taller. Granted, it's not necessarily hard to make someone look taller with a few camera tricks, but she is baby-carrying men who are significantly larger than her actual stature. It's got to take a lot of of work and serious physical demands to pull that off.
RELATED: New Report Claims She-Hulk Disney+ Series Is A "Mess"
"Those are like the baseline of any woman just existing."

Jennifer Walters
Reports about the series have been all over the place. However, from the looks of the trailer, and seeing the work Maslaney has put out, in addition to having Mark Ruffalo as a co-star, the series looks to be a smashing good time. The one thing that I am picking up on, that I believe might not work for some fans, is that despite being known for their physical power, it looks like the majority of the issues will make their power irrelevant. Personally, I love when characters have to battle against their type in order to accomplish things, but I understand that the lack of smash from members of the Agents of S.M.A.S.H. can be disappointing.
RELATED: She-Hulk: Tim Roth Reveals Shocking New Information About Abomination's Future In The New Disney Plus Series
In addition to the trailer, Marvel has also shared a still from the series with Ruffalo as Smart Hulk and Maslany's Jen in a chamber being tested on. The image has been circulating as the first look at the series. The most striking aspect of the image is that Smart Hulk's arm appears to be healed. This potentially means more combat and action are in Hulk's future. Also, Jen's awesome Hawaiian floral print shorts that are perfect for the summer season. They have to play into the larger narrative, they're too cool not to.
She-Hulk: Attorney at Law premieres on August 17, 2022, exclusively on Disney+.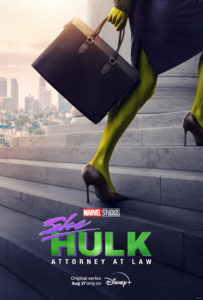 About She-Hulk: Attorney at Law
Directed by: Kat Coiro (Episodes 1, 2, 3, 4, 8, 9) and Anu Valia (Episodes 5, 6, 7)
Head Writer: Jessica Gao
Executive Producer: Kevin Feige, Louis D'Esposito, Victoria Alonso, Brad Winderbaum, Kat Coiro, Jessica Gao.
Co-executive producers: Wendy Jacobson, Jennifer Booth
Cast: Tatiana Maslaney, Mark Ruffalo, Tim Roth, Benedict Wong, Ginger Gonzaga, Josh Segarra, Jameela Jamil, Jon Bass and Renée Elise Goldsberry

Synopsis:
"She-Hulk: Attorney at Law" follows Jennifer Walters as she navigates the complicated life of a single, 30-something attorney who also happens to be a green 6-foot-7-inch superpowered hulk.
What do you think of the She-Hulk: Attorney at Law trailer? Do you think the series will feature another showdown with Abomination? Is it possible we could be getting the beginnings of Agents of S.M.A.S.H.? Let us know what you think in the comments below and share all your theories with us on Twitter.
Source: Marvel
KEEP READING: Doctor Strange in the Multiverse of Madness: Benedict Wong Discusses Wong's Evolution from the 1st Film