Episode 5 of Marvel's Squirrel Girl: The Unbeatable Radio Show is a hilarious, heartfelt penultimate featuring an unforgettable guest appearance from Busy Phillipps. 
Marvel's Squirrel Girl: The Unbeatable Radio Show is a 6- episode radio drama hosted by Doreen Green/Squirrel Girl and her friends Nancy Whitehead, Koi Boi, Chipmunk Hunk, Brain Train, and Toppy Toe, Doreen's best squirrel friend. The series is written by Ryan North (who also wrote The Unbeatable Squirrel Girl comic book) and directed by Giovanna Sardelli. Milana Vayntrub stars as Squirrel Girl, reprising her role from Marvel Rising and the canceled MCU TV series, New Warriors.
RELATED: DOCTOR STRANGE 2 STAR BENEDICT WONG CONFIRMED TO APPEAR IN SHE-HULK: ATTORNEY AT LAW
The series takes place in the Marvel comics universe, even referencing big crossover events like The War Of The Realms. Squirrel Girl/Doreen Green hosts the show, giving out superhero help and advice, "live" on the air. Nancy produces the show and adds in the impeccably timed sound effects, Brain Train provides thoughtful insight and nihilistic haiku, Koi Boi gives out delightful puns and Chipmunk Hunk…well he doesn't stand out as much as the rest.
MARVEL'S SQUIRREL GIRL: THE UNBEATABLE RADIO SHOW IS FUNNIER THAN ANYTHING IN THE MCU
Koi Boi and Chipmunk Hunk are roommates, and while Koi Boi's ability to talk to fish has been oft-mentioned, Chipmunk Hunk's relationship to Chipmunks is mysterious at best. We know that he has some as pets in his apartment, but other than that, we don't know much. Now, their hilariously ineffective search for a roommate has led to many a good chuckle, and I do enjoy chipmunk Hunk. But as a critic, I'm obligated to critique, and I need answers about this Hunky hero.
Tippy Toe speaks in the native squirrel language, and as I do not understand that language like Doreen does, I've never been able to understand Tippy. But context clues go a long way, so I've consistently enjoyed that squirrel's presence in a Groot or Chewbacca like fashion. Nancy has no powers to speak of, but she has a heart of gold, a sharp wit, and maybe, just maybe, something to do with boat communication. Only time will tell.
Celebrity Busy Phillipps (Freaks and Geeks, Cougar Town) called into the show this week to discuss her ability to talk to dogs, something she mistook for a superpower. You see, Busy Phillipps talks to dogs in the sense that she can tell them it's time for a walk, or time to go outside and relieve themselves. She can't talk to dogs like Doreen can talk to Squirrels, or Koi Boi to Fish. When the gang explained her misconception, she became quite irate, before abruptly leaving her call.
MARVEL'S SQUIRREL GIRL: MILANA VAYNTRUB IS TO DOREEN GREEN AS RDJ IS TO TONY STARK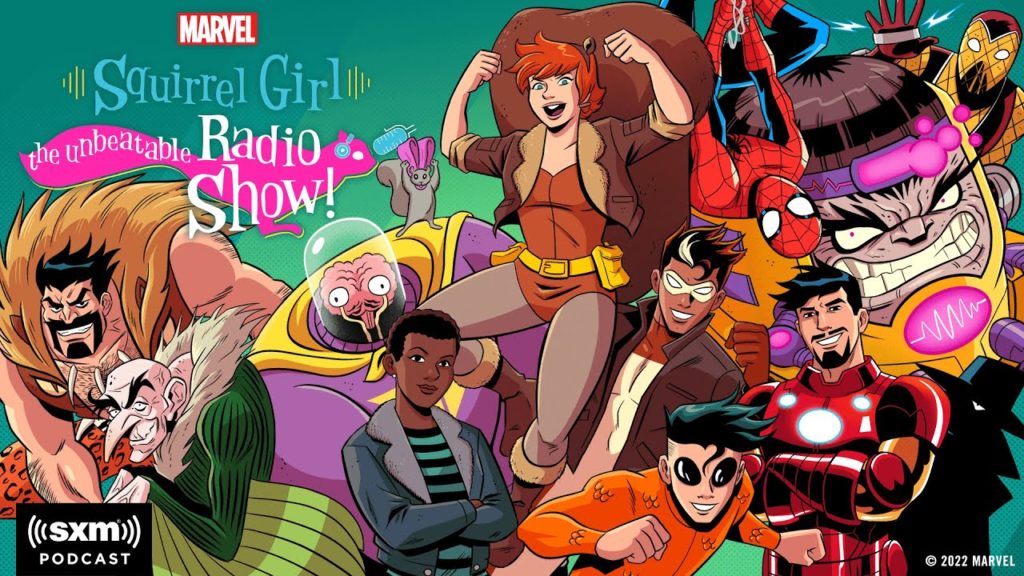 Aside from dishing out the savviest, most stylish and simultaneously heartwarming advice on the airwaves, The Unbeatable Squirrel Girl team has dealt with one primary threat throughout the run of this show (Two, if you count low-level criminals like Modok and The Regular-Sized Shocker calling in to "trick" our heroes into helping them with crime). Their name is Fine Art, and they are voiced by none of your business, as the show reminds us at the end of every episode. Hopefully Doreen's promise at the end of Episode 5 is made true, and the identity of this art-thief and radiowave/GPS Hacker is unveiled as his dastardly plot is foiled.
AFter all, who better to save the day than New York's finest furry friend who eats nuts and kick butts? Doreen's belief in her new merged-identity as public hero Doreen Green AKA Squirrel Girl (she used to maintain a secret identity, amazingly) is almost entirely dependent on the success of the mission to stop Fine Art, so we, as her friends, have to hope for the best.
Marvel's Squirrel Girl: The Unbeatable Radio Show is one of the funniest, most well-written, creative, wholesome and engaging stories being told within the Marvel Universe. It's a living testament to the fact that we as MCU fans were robbed when New Warriors, which would have starred Milana Vayntrub again as Squirrel Girl, was unceremoniously canceled. I'm pleased to say that this narrative podcast/radio drama is far more than a consolation prize.
MARVEL'S SQUIRREL GIRL: THE UNBEATABLE RADIO SHOW OFFICIAL SYNOPSIS
"In Episode 5, "The Second Best Animal After Squirrels", Doreen and friends close in on the criminal "Fine Art" on their chaotic crime spree; Koi Boi and Chipmunk Hunk continue to search for a roommate, and celebrity Busy Phillips talks to dogs.The six-episode podcast series is written by Ryan North, directed by Giovanna Sardelli, and has original music by Justin Huertas and Steven Tran. The series stars Milana Vayntrub as Squirrel Girl and features performances by Crystal Lucas Perry (Nancy Whitehead), Leo Sheng (Koi Boi), Davied Morales (Chipmunk Hunk), Peter Hermann (Brain Drain), Erica Schroeder (Tippy T. Squirrel), and Tina Benko (Rachel Oskar)."

What did you think of Marvel's Squirrel Girl: The Unbeatable Radio Show Episode 5: "The Second Best Animal After Squirrels"? Let us know your thoughts in the comments below or on our social media!
KEEP READING: THOR: LOVE AND THUNDER OFFERS FIRST LOOK AT NEW IMAGE WITH HIDDEN BLACK PANTHER BAST