A new image from Thor: Love And Thunder has the Internet buzzing about King Valkyrie (Tessa Thompson) and Mighty Thor (Natalie Portman)'s fabulous looks.
We don't have any idea what kind of meeting taking place, but a third character appears to be included in the photo. The three characters are sitting on thrones, with Valkyrie and Jane sitting next to each other.
RELATED: SHE-HULK TRAILER REVEALS STEALTHY TONY STARK CONNECTION
The Egyptian-inspired design and the cat ears on the helmet may be a first look at the Goddess Bast, whom MCU fans first met back in the opening of the iconic Black Panther as she is shown as a giant panther.
What Could Be Bast's Role In Thor 4?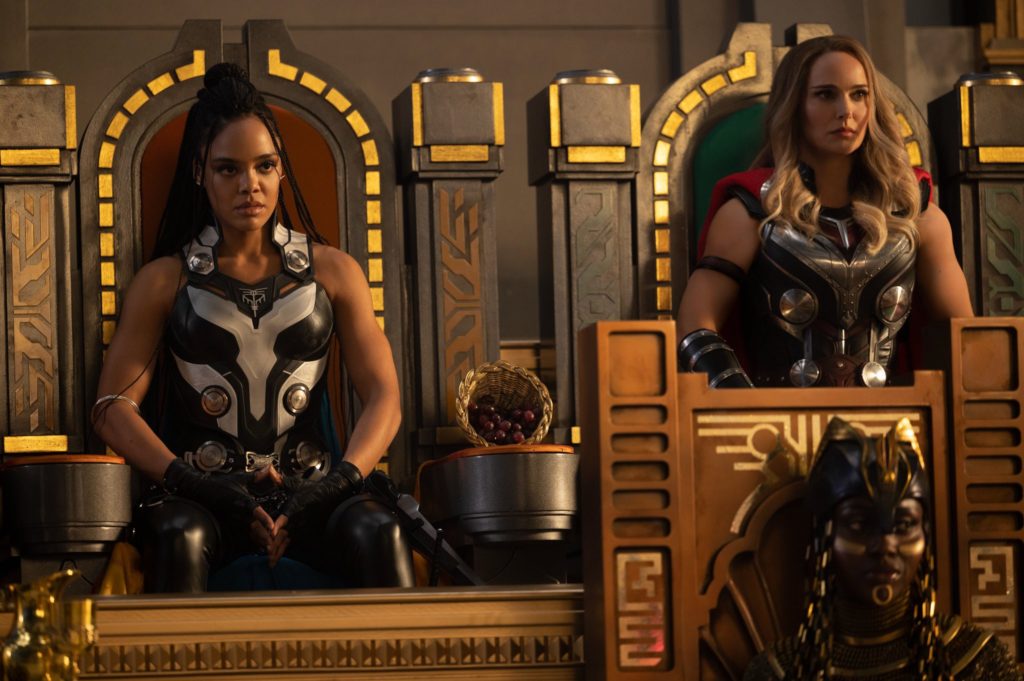 A report regarding the character of Bast explains that she will be played by an actress named Akosia Sabet on Showcase. A high chance that she might appear, especially if Gorr the God Butcher is making his grand tour. It's not a for sure confirmation but only the design is a good hint at who this character might be.
But it could also be someone completely different, but there is enough hunts to make the connection. Fans are already speculating that it's Bast herself. In the comics, she has a human form as well, it wouldn't be too surprising if she could change between her human form and her giant Panther form in the MCU as well.
The costume design in the Thor 4 still makes a lot of sense, seeing as Bast is actually a part of the Egyptian pantheon and thus may also have a connection to Moon Knight. The history behind it has not been fully explored and it would show how she came in contact with the first man to become Black Panther and who would eventually found Wakanda. She ties into MoonKnight as well being a part of the Ennead which was a group of Egyptian gods who we introduced in the live-action series.
In the world of Marvel comics, the goddess Bastet is a warrior panther goddess. In the lore of Black Panther, she first brought the herb that grants powers to the Wakandan tribe, resulting in the first superhero. Of course, Bast is not alone in Thor: Love and Thunder, as Gorr the God Butcher (Christian Bale) is out to get the other gods – including Russell Crowe, who will play the leader of Olympus, Zeus, in the upcoming film.
We might see a tease of a conversation of Bast and Valkyrie talking. For now, we will continue to speculate and wonder how interesting it is to see her in the corner of the photo. Maybe she was accidentally revealed with this new image. We don't know if this shot or segment makes into the final cut because they cut some of cameos from Multiverse of Madness. Thor: Love and Thunder will release in theaters worldwide on July 8th.
Do you think Bast will make her entrance in Thor: Love And Thunder? Will Moon Knight make an appearance as a cameo? Let us know down in the comments below or on our social media!
RELATED: SAMUEL L. JACKSON TEASES NICK FURY'S EVOLUTION IN SECRET INVASION
Source: The Cosmic Circus