Last January, we reported on the scoop by DanielRPK that Krysten Ritter is rumored to reprise her role as Jessica Jones in She-Hulk: Attorney At Law! This is exciting news for fans of Netflix's Marvel series, but not all too surprising after seeing Charlie Cox's Matt Murdock appear in Spider-Man: No Way Home, as well as the news of his character receiving his own Marvel Cinematic Universe Disney+ series. 
Will Jessica Jones Appear in She-Hulk: Attorney At Law?
VIDEO: Asher Freidberg
---
Who is Jessica Jones?
Jessica Jones debuted in her own titular Netflix series for three seasons before being canceled alongside Daredevil, Luke Cage, Iron Fist and The Punisher. Jessica Jones received critical acclaim for their depiction of the character and her arc in the story. Jones was experimented on by a secretive group called IGH after surviving a car crash that killed the rest of her family. The experimentations resulted in her gaining enhanced strength, resilience and mobility, and can even fly for short periods of time.
Jones would go on to try and become a superhero, before her story would take a tragic turn, leading her to give up being a hero and work as a private investigator. Jessica Jones had picked up from this point in her career, and gained acclaim for the character's story and the nuance involved in the series.
RELATED: DOCTOR STRANGE 2 STAR BENEDICT WONG CONFIRMED TO APPEAR IN SHE-HULK: ATTORNEY AT LAW
With the report that the upcoming Disney+ Daredevil project will be a "new, but continued" series, we imagine that means the events of Jessica Jones will be considered canon to the Marvel Cinematic Universe. As Daredevil and Jessica Jones were set in the same continuity, this logic tracks.
How Could Jessica Jones Appear in She-Hulk: Attorney At Law?
With Jessica Jones rumored to make her (core) Marvel Cinematic Universe debut in She-Hulk: Attorney At Law, let's discuss the possibilities for her role in the series.
Jessica Jones works as a private investigator, more often than not for enhanced individuals. She and Jennifer Walters actually have a lot in common, as they both work to bring justice to super-powered persons like themselves. We could easily see Jones work alongside Walters to help prove potential convicts innocent.
RELATED: AMAZING FIRST LOOK AT XOLO MARIDUEÑA AS BLUE BEETLE IN NEW LIVE-ACTION FILM!
It would be very interesting to see the two heroes working together, as the two of them have such different personalities. Jessica Jones is a pretty hardcore character, and her vocabulary reflects that. From what she's been through, it's highly understandable. She-Hulk has not gone through the same trauma as Jones, and has developed very differently. We could see a bit of a good cop/bad cop relationship form between Jennifer Walters and Jessica Jones.
Will Daredevil Appear Too?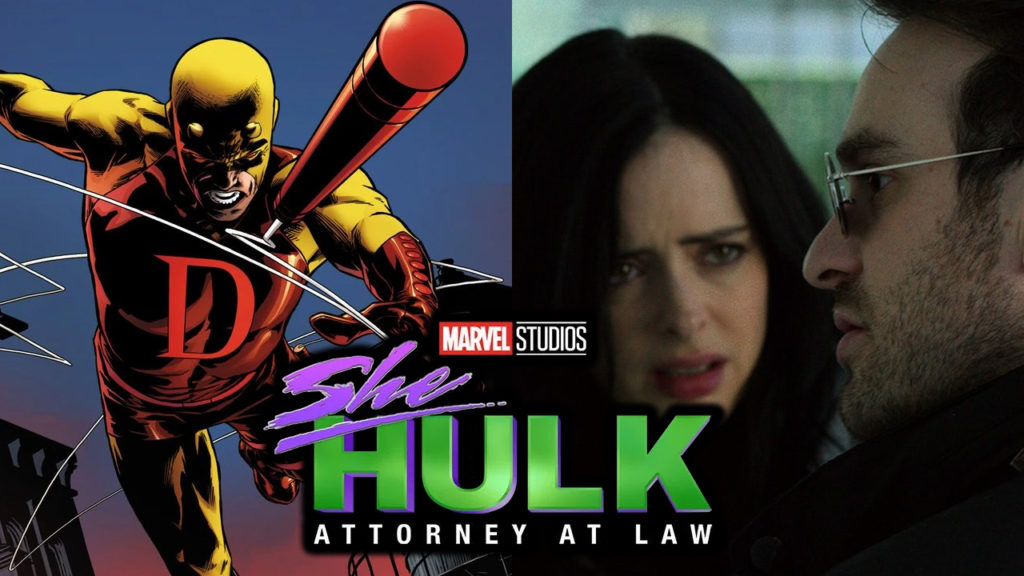 She-Hulk: Attorney At Law could even feature a miniature Defenders reunion! Matt Murdock, A.K.A. Daredevil is also rumored to make an appearance in this series. Matt Murdock is a lawyer, so his role in this series would make a lot of sense. If we're lucky, we could see Daredevil don his yellow suit that fans have been hoping to see for years.
If She-Hulk: Attorney At Law manages to bring both Jessica Jones and Matt Murdock into the same courtroom with Jennifer Walters, fans of the Netflix Marvel series are sure to be thrilled. We know we will.
RELATED: NEW MARVEL STUDIOS' DAREDEVIL SERIES IN THE WORKS!
She-Hulk: Attorney At Law has been rumored to have a "monster of the week" format, meaning each episode will focus on a potential new client for Walters. If this is the case, it's more likely we see Jessica Jones and Matt Murdock appear in separate episodes.
What are your thoughts on Jessica Jones potentially appearing in She-Hulk: Attorney At Law? Will she team up with Jennifer Walters? Do you hope to see her reunited with Daredevil? Let us know in the comments and on our Twitter!
CONTINUE READING: IS THIS OUR FIRST LOOK AT NAMOR IN BLACK PANTHER: WAKANDA FOREVER?