Disney's live action reimagining of Pinocchio has gotten its first trailer and poster.
While Disney still releases many beloved animated films, with their last one Encanto winning the Oscar last year, over the last decade their live-action reimaginings have become more important as they often score exceptional box-office results. From Mulan to Jungle Book to Dumbo to Cinderella, many of the beloved Disney classics have already gotten their live-action treatment.
While most of them fail to convince the critics and generally score lower ratings, there are some real gems among them like Guy Ritchie's Aladdin or Christopher Robin (which still is more of a legacy sequel but still). Some even are said to be getting a sequel as Barry Jenkins (Moonlight) is currently working on The Lion King 2 and an Aladdin sequel also was once in development, even though we haven't heard about that for a long time.
RELATED: CHRIS HEMSWORTH SHARES THAT MAD MAX: FURY ROAD PREQUEL FURIOSA HAS STARTED PRODUCTION
While we already have gotten a ton of live-action retellings, Disney has a lot more planned as The Little Mermaid starring Halle Bailey is set to hit theaters next year and Snow White starring Rachel Zegler and Gal Gadot is currently shooting. Rumors are that Disney also has live-action versions of Tangled and Hercules planned. Disney+ also isn't left out as it's the home of Lady and the Tramp and also will be the place to find Pinocchio, which now has gotten its first trailer, poster and release date.
Pinocchio Teaser Trailer
The Pinocchio teaser trailer shows Tom Hanks as Gepetto as he is building the wooden "boy" and praying into the night sky. Underlined with lovely music, we then get our first look at Jiminy Cricket and the Blue Fairy. That gets followed by a bunch of brief looks at some villagers on a boat, the cat and the fox, and a brief look at Italian actor Giuseppe Battison. The trailer ends with a brief look on Pinocchio himself. It very much feels like a teaser as the focus clearly lies on the atmosphere rather than the footage.
RELATED: WEST SIDE STORY'S RACHEL ZEGLER CAST AS LEAD IN THE HUNGER GAMES PREQUEL THE BALLAD OF SONGBIRDS AND SNAKES
The Pinocchio retelling stars: Benjamin Evan Ainsworth (Haunting of Bly Manor) as Pinocchio, Joseph Gordon-Levitt (Inception), Cynthia Erivo (Harriet) as the Blue Fairy, Luke Evans (Beauty and the Beast) as The Coachman, Lorraine Bracco (Goodfellas) as Sofia the Seagull, Keegan Michael-Key (Toy Story 4) as Honest John and Tom Hanks (Forrest Gump) as Gepetto.
Pinocchio is directed by Robert Zemeckis, the director of the Back to the Future trilogy and Forrest Gump. He also co-wrote the screenplay alongside Oscar nominee Chris Weitz (About a Boy, Rogue One: A Star Wars Story).
RELATED: THE FIRST POSTER & RELEASE WINDOW FOR THE ADDAMS FAMILY SPIN-OFF WEDNESDAY HAS BEEN RELEASED
Funny enough Disney's live-action retelling won't be the only Pinocchio film releasing this year as Guillermo Del Toro's (Hellboy, The Shape of Water) stop-motion animated version of the story, set in 1940's Italy, is set to hit Netflix this winter.
The Disney film will be released September 8 on Disney+. It is being celebrated as a Disney+ Day Premiere as the event returns on the same day. Over the following weekend Disney will also hold its D23 Expo in Anaheim. That means that fans will get a new Disney film and a ton of news about upcoming Disney+ as well as theatrical content over the 3-day September weekend.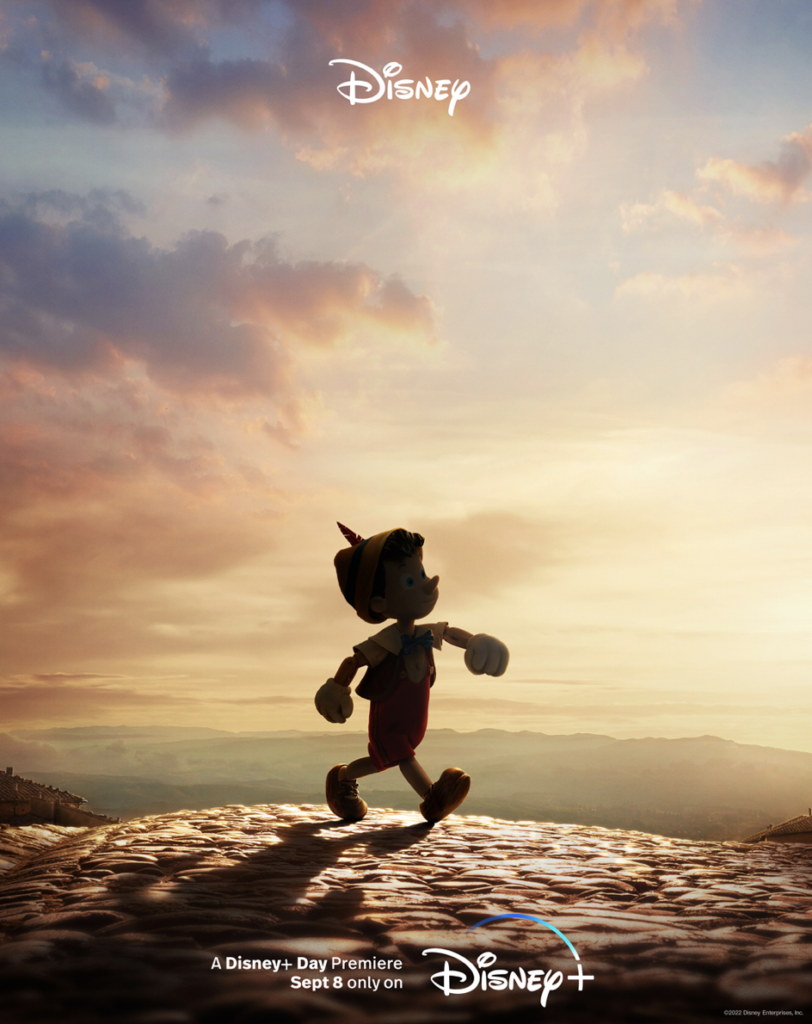 Pinocchio debuts on Disney+ on September 8, 2022. What do you guys think? Are you a fan of the animated original? What do you think about the trailer? Let's discuss everything in the comments down below and on our social media.
KEEP READING: STAR WARS' TWITTER ACCOUNT DEFENDS OBI-WAN KENOBI STAR MOSES INGRAM AGAINST RACIST ATTACKS