Doctor Strange and Scarlet Witch fans can expect an early gift from the popular Disney streaming site this month!
Disney+ announced today that Marvel Studios' Doctor Strange in the Multiverse of Madness will be available for streaming on Disney+ starting on June 22. This film has pushed boundaries with countless twist and turns.
RELATED: THE SUICIDE SQUAD'S DANIELA MELCHIOR JOINS GUARDIANS OF THE GALAXY VOL. 3
Watch the new online spot below for a special "fan thank you" from Benedict Cumberbatch, Elizabeth Olsen, Benedict Wong and Xochitl Gomez. They're grateful for a very good reason, considering audiences made their film the highest-grossing movie of 2022 thus far. Whether Thor: Love And Thunder manages to top it or not has yet to be seen.
DOCTOR STRANGE COMES HOME
Starring Benedict Cumberbatch, Elizabeth Olsen, Chiwetel Ejiofor, Benedict Wong, Xochitl Gomez, with Michael Stühlbarg, and Rachel McAdams, its a film that has stunning visuals with surprising cameos and elements that brings a new look for the MCU. Between introducing the Illuminerdi – yes, that's our namesake – and almost but not quite welcoming the X-Men into the MCU, the film more than lived up to the expectations created by its lofty title.
Last time we saw the former Sorcerer Supreme, he erased the memories of everyone ever knowing that Peter Parker was Spider-Man in No Way Home. This time, he realizes that he faces a much bigger threat: Elizabeth Olsen's Wanda Maximoff, who has since become The Scarlet Witch after the events from last year's WandaVision. The latest entry into the Marvel Cinematic Universe got audiences talking for a multitude of reasons, but one of the most divisive was what happened with Scarlet Witch. Perhaps a rewatch from home will help fans decide if her storyline went the best possible way or not.
RELATED: EXCITING LIVE-ACTION CAPTAIN CARTER SERIES RUMORED TO BE IN DEVELOPMENT AFTER DOCTOR STRANGE 2
"In Marvel Studios' 'Doctor Strange in the Multiverse of Madness.' the MCU unlocks the Multiverse and pushes its boundaries further than ever before," reads the synopsis. "Journey into the unknown with Doctor Strange, who, with the help of mystical allies both old and new, traverses the mind-bending and dangerous alternate realities of the Multiverse to confront a mysterious new adversary."
The film is directed by Sam Raimi with Kevin Feige as the producer. Eric Hauserman Carroll, Victoria Alonso, Scott Derrickson, Louis D'Esposito and Jamie Christopher serve as executive producers with Michael Waldron as the screenplay writer.
Doctor Strange in the Multiverse of Madness released in U.S. theaters on May 6, 2022 and is arriving on Disney+ a month and a half later, on June 22. Details on the home release via Blu-ray and more have yet to be released, but fans can be certain to expect plenty of extra content to satisfy them until Stephen Strange returns in yet another adventure.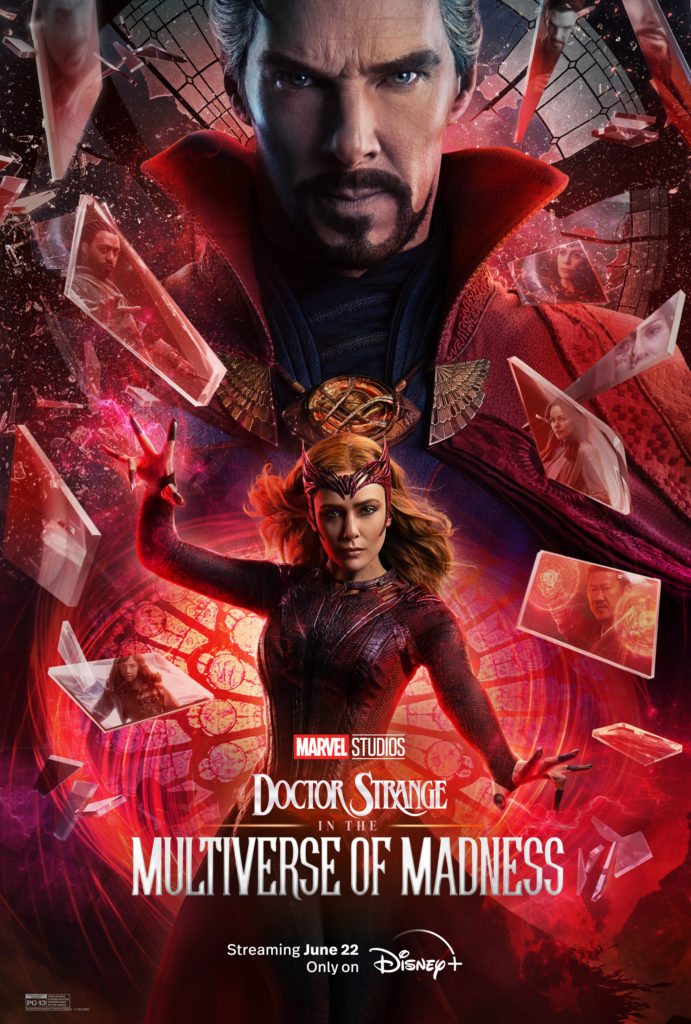 Have you watched Doctor Strange 2 yet? How many times have you watched it? Which aspects were your favorites and which do you wish they had changed? Are you going to watch it once more when it releases on Disney+ or will you wait for a physical copy? Let us know in the comments below, and don't forget to follow us on all of our socials!
KEEP READING: STAR WARS CELEBRATION SHOWCASES SEVERAL NEW LUCASFILM PROJECTS