The Suicide Squad breakout, Daniela Melchior, has joined the Marvel Cinematic Universe.
Daniela Melchior is currently one of Hollywood's rising stars. Her breakout role was in James Gunn's acclaimed DC entry, The Suicide Squad, where she played the fan favorite character Ratcatcher II. Her next role is in Assassin Club, where she'll star alongside Henry Golding (Crazy Rich Asians, Snake Eyes: G.I. Joe Origins) Noomi Rapace (Black Crab, Lamb) and Sam Neil (Jurassic Park, Hunt for the Wilder People) and Marlowe where she'll star alongside Liam Neeson.
She also joined the saga all about cars and family as she has been cast in Fast X, the tenth installment in the Fast and Furious franchise (excluding the spin-off Hobbs and Shaw). Daniela Melchior was previously known for roles in Portuguese TV shows.
Daniela Melchior's Path To The MCU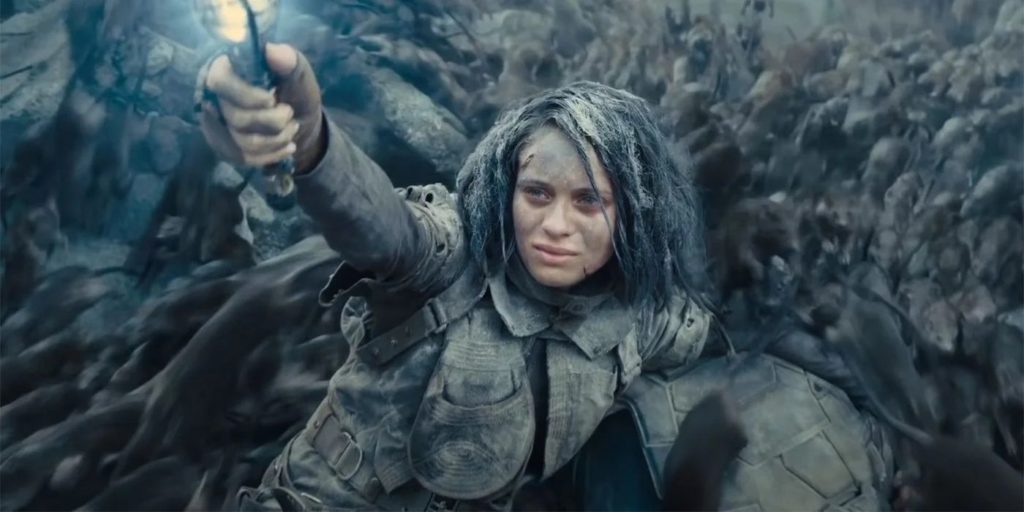 Deadline has revealed that Daniela Melchior's star is now shining even brighter as she has joined James Gunn's Guardians of the Galaxy Vol.3 in a small role. That will mark her second collaboration with Gunn after her breakout in the DC film.
RELATED: THOR 4: WHO IS THE TERRIFYING GORR THE GOD BUTCHER IN LOVE AND THUNDER?
James Gunn himself has taken to Twitter and revealed that ,amid many rumors online, Melchior won't be playing the character Moondragon. In the comics she is the cosmic daughter of Drax the Destroyer. Gunn has denied those rumors of her appearing as the particular character months ago, but that didn't stop him from casting her yet again.
Here's what he had to say:
Daniela Melchior was very excited about the casting as well:
But who could the Portuguese actress be playing? Fans have already started speculating online that she could be voicing either Lady Lylla (Rocket's love interest from Halfworld) or Shocket Raccon (Rocket's female clone). This would align with her only having a small part in the film. as she wouldn't need to be on set and record just a number of voice lines. It has been rumored that Rocket's backstory will be explored in the upcoming film, which could lead to the appearance of one or both of the aforementioned characters, however it's currently unknown if these characters will even appear in the threequel..
Another indicator could be recent Guardians of the Galaxy Vol. 3 set photos that show humanoid animals on an Earth-like place. In the comics this place is called "Counter-Earth" and is ruled by the High Evolutionary. This particular character is expected to be an antagonist in the threequel and is rumored to be portrayed by Chuckwudi Iwuji, who worked with James Gunn on his hit TV show, Peacemaker. The High Evolutionary is also the one who created Rocket in the comics, creating even further evidence that there might be a connection.
While Lady Lylla in the comics is based on Halfworld, the MCU might change that to her living on Counter-Earth. If the Guardians are visiting this place, this might lead to a reunion of old friends (and also maybe enemies).
RELATED: WEST SIDE STORY'S RACHEL ZEGLER CAST AS LEAD IN THE HUNGER GAMES PREQUEL THE BALLAD OF SONGBIRDS AND SNAKES
Another possible option would be Phyla-Vell. She is currently a member of the Guardians of the Galaxy in the comics and is an off-spring of Captain Mar-Vell. There are no rumors or ideas how she could play into the story, but Melchior once poster a photo of her in the make-up trailer with a piece of prosthetic that looks like the same color as Phyla-Vell's skin color. But that could have also easily been for a different project.
James Gunn teased a few weeks ago that there is a "unannounced actor" in the cast and Deadline stated that isn't Daniela Melchior.
RELATED: AMAZING FIRST LOOK AT XOLO MARIDUEÑA AS BLUE BEETLE IN NEW LIVE-ACTION FILM!
I'm very happy about Daniela Melchior's involvement in Guardians of the Galaxy Vol. 3 as she was wonderful in The Suicide Squad and wanted her to collaborate with James Gunn again. It'll be exciting to see who she ends up playing.
Guardians of the Galaxy Vol. 3 recently wrapped production and is set to hit theaters May 5, 2023. The Guardians of the Galaxy Holiday Special, which was filmed simultaneously hits Disney+ this holiday season. Are you excited about Daniela Melchior joining the MCU? What Marvel Comics character do you think Daniela Melchior will end up playing? Let's discuss everything in the comments down below and on our social media.
KEEP READING: CHRIS HEMSWORTH SHARES THAT MAD MAX: FURY ROAD PREQUEL FURIOSA HAS STARTED PRODUCTION