With less than a month until its release, Marvel Studios is ramping up the marketing for Thor Love and Thunder.
Tickets for the highly-anticipated blockbuster are now on sale, and to celebrate, Marvel Studios released a set of all-new posters for the God of Thunder's next adventure.
RELATED: WILL THE TRACK SUIT MAFIA RETURN IN ECHO? HAWKEYE STAR ALEKS PAUNOVIC PLAYS COY ABOUT MCU RETURN
The release includes theater-specific and character posters for Thor, Mighty Thor, Gorr, and more. Check them out below!
Thor Love and Thunder Theater Posters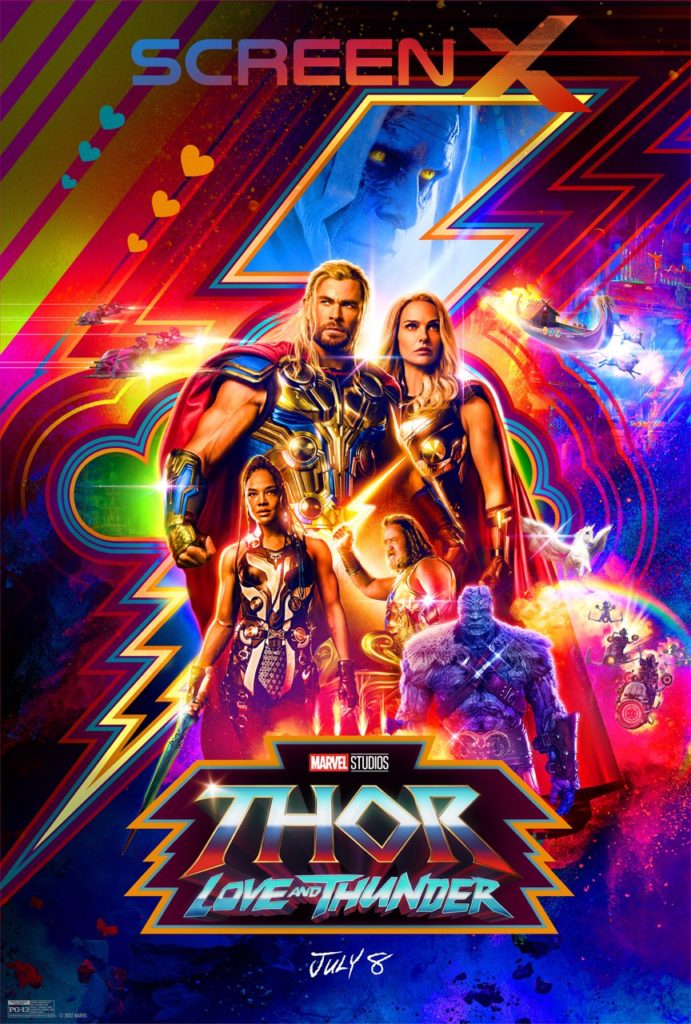 The release of the Thor Love and Thunder theater-specific posters continues a recent trend in which Marvel Studios collaborates with theaters to produce unique promotional material. The RealD 3D, Dolby, ScreenX, and IMAX posters above will display in theaters that offer these viewing experiences.
RELATED: DOCTOR STRANGE IN THE MULTIVERSE OF MADNESS COMING TO DIGITAL ON 6/22 AND HOME MEDIA 7/26
The promotional material does not stop there, as Marvel also released incredible new looks at Thor Love and Thunder's characters.
Thor Love and Thunder Character Posters
From left to right are Chris Hemsworth as Thor, Natalie Portman as Jane Foster/Mighty Thor, Christian Bale as Gorr the God Butcher, Tessa Thompson as King Valkyrie, Russell Crowe as Zeus, and Taika Waititi as Korg.
These character posters show off the ensemble cast featured in Marvel Studios' upcoming film. Noticeably missing are the Guardians of the Galaxy, who Thor joined at the end of Avengers: Endgame and have featured in all of the trailers so far. The lack of promotional material for the Guardians could signify that while they are in the movie, they play more of a supporting role and could have a quick exit.
RELATED: I AM GROOT – CHECK OUT THE ADORABLE 1ST POSTER AND RELEASE DATE FOR MARVEL'S NEW SHOW
Marvel also officially introduced two adorable new characters: Tooth Grinder and Tooth Gnasher, who are featured pulling Thor's boat in the trailer and found below.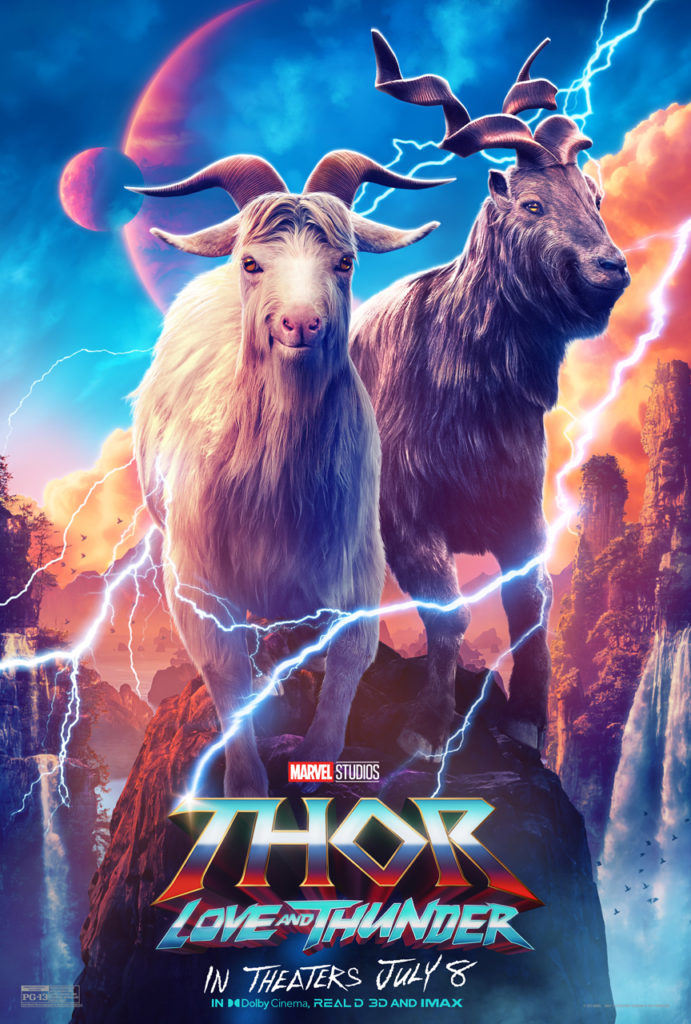 Unlike most recent Marvel movies, Thor Love and Thunder has managed to avoid leaks spoiling details from the film. Before the release of the first official trailer, fans knew little about what to expect from the movie besides casting. These official posters give fans a good look at the central characters in this adventure while still keeping details under wraps.
Thor Love and Thunder will be star Chris Hemsworth's fourth solo film, marking the first time a character has received more than a trilogy in the MCU. The film will release in theaters on July 8, 2022.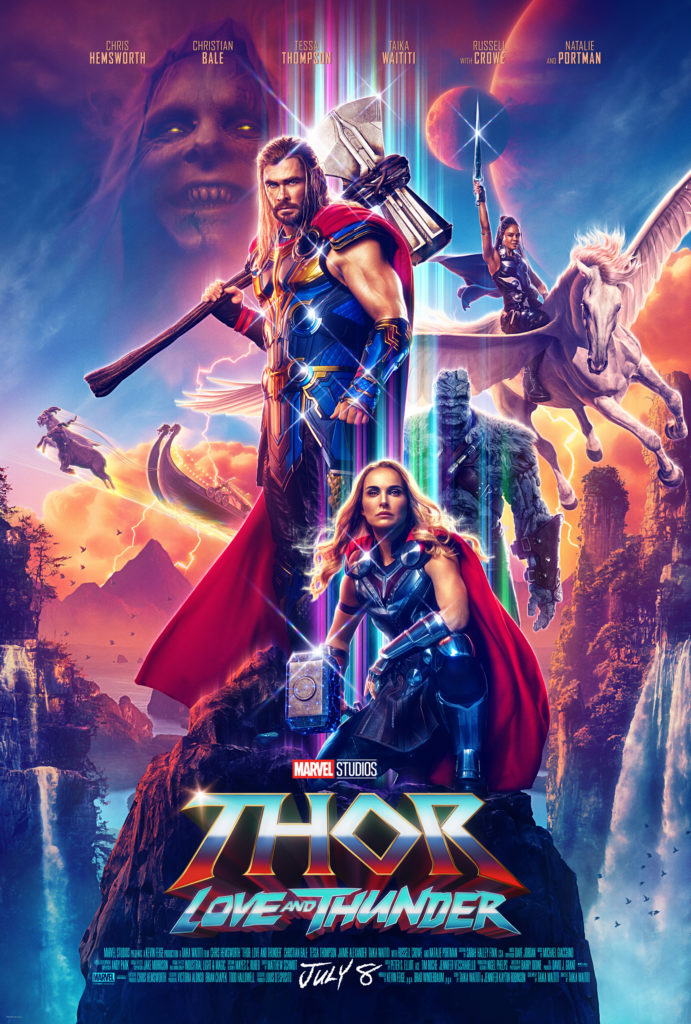 About Thor Love and Thunder
Release Date: July 8, 2022
Directed By: Taika Waititi
Cast: Chris Hemsworth, Christian Bale, Tessa Thompson, Taika Waititi, Russell Crowe, and Natalie Portman
Synopsis: The film finds Thor on a journey unlike anything he's ever faced – a quest for inner peace. But his retirement is interrupted by a galactic killer known as Gorr the God Butcher, who seeks the extinction of the gods. To combat the threat, Thor enlists the help of King Valkyrie, Korg, and ex-girlfriend Jane Foster, who – to Thor's surprise – inexplicably wields his magical hammer, Mjolnir, as the Mighty Thor. Together, they embark upon a harrowing cosmic adventure to uncover the mystery of the God Butcher's vengeance and stop him before it's too late.
Are you excited for Thor Love and Thunder? What do you think about these posters? Which one is your favorite, and which one are you less than impressed by? Let us know in the comments or reach out to us on Twitter.
KEEP READING: LIGHTYEAR REVIEW: A STUNNING SCI-FI ACTION ADVENTURE WITH TREMENDOUS HEART