We all know the story: in a beautiful castle far, far away, the princess is locked in the tallest tower waiting for a knight in shining armor to come rescue her.
It's a tale that's been told a thousand times before, and one that is imbedded in the psyche of every Disney-raised child on the planet. But what if that story went differently? What if instead of lying in wait for her hero, she kicked down the door and sliced through every man that stood in her way?
RELATED: HAWKEYE'S ALEKS PAUNOVIC EXPLAINS HOW JEREMY RENNER ACTED "LIKE HE DOESN'T WANT TO BE HERE"
This is the premise behind Hulu's The Princess, directed by Le-Van Kiet (Furie, The Requin) and starring Joey King (The Kissing Booth, The Act). The R-rated film premieres on Hulu July 1st, 2022, and will be the first action-heavy film that Joey King has stared in. However, that didn't stop her one bit from diving headfirst into the fray!
Joey King Is The Princess, But She's No Damsel
In a press conference just this morning, Director Le-Van Kiet revealed that King actually did almost all of her own stunts, despite having wrist surgery right before they started shooting the film.
"Joey consistently impressed me dramatically," He said, "But also physically, and that made this a real joy….We had so much fun. She did it all. We planned for her not to do it all, but she made it happen. Every day she came to work and she said, 'I want to do this', and she was better than the stunt person."
When asked about her stunt work, King herself added:
"What made me want to do this movie was that it scared the living hell out of me. The initial script had 95 pages and about 92 of it was fighting. And I thought, OMG, can I do this?….I've never really done an action movie before where I'm really in the nitty gritty of the action, and I thought, 'It's about time for me!' "I really did fall in love with martial arts and learning how to fight in the training for this movie. I felt like I unlocked a new confidence in myself that I didn't know I had. I didn't know if I could pull this off, but then I did, and that made me feel really empowered."
Well, if the trailer is any indication, King will certainly have a lot of fighting to do in this film. The movie seems jam-packed with action-packed stunts and impressive-looking choreography, and its very impressive to hear that she did most of the stunts herself.
This can't be easy for an actor who isn't used to working in that type of filmmaking, especially considering that fact that she's wearing a medieval dress the entire time!
WHAT JOEY KING WANTS THE AUDIENCE TO TAKE AWAY FROM THE PRINCESS
In many ways, the story of the Princess seems to reflect King's own experience with filming the movie. When asked about what she wanted people to take away from the film, she said:
"The thing about The Princess is that it's a tale of an underdog really coming out on top in the end, when she thinks that she can't even do it. One of my favorite things about this movie is how much self-doubt there is…she has confidence, she knows that she can fight, but she does NOT think she can pull this off. She's overwhelmed, she's tired, but she's a hell of a fighter. And no matter how strong or how loud your self-doubt is, you really can overcome it and pull through and come out on top."
We are all on board for that! It will be interesting to see if Joey King takes on more action-heavy roles in the future. We know that she will be appearing in this summer's Bullet Train, and we're hoping to see her show off more of her fighting chops in that film as well. If these two back-to-back film are any indication, we might be seeing a lot more of Joey King kicking ass in the future…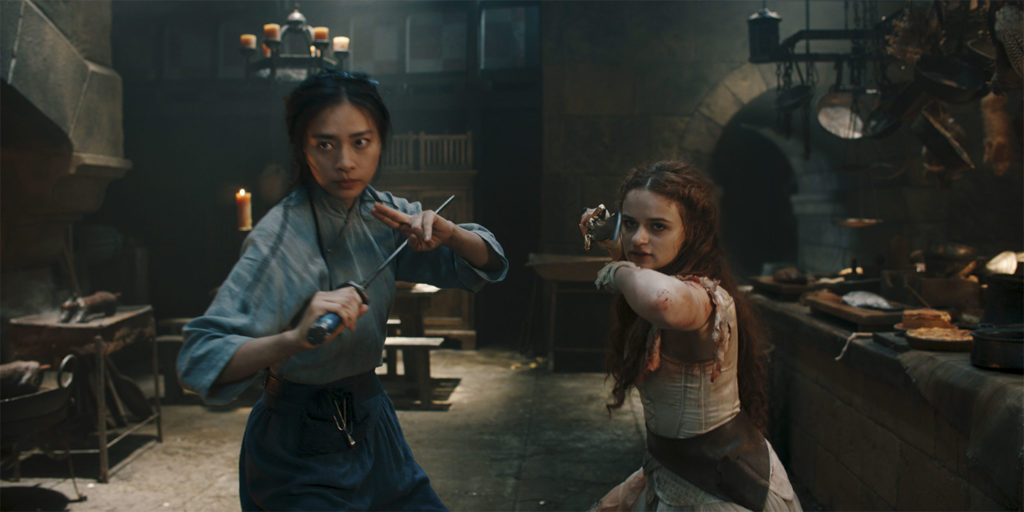 What are your thoughts on the trailer? Let us know on Twitter!
OFFICIAL SUMMARY:
An action-packed fight to the death set in a fairy tale world, "The Princess" is directed by Le-Van Kiet ("Furie") and stars Emmy Award® nominee Joey King ("The Act," "The Kissing Booth") as a beautiful, strong-willed princess who refuses to wed the cruel sociopath to whom she is betrothed, and is kidnapped and locked in a remote tower of her father's castle. With her scorned, vindictive suitor intent on taking her father's throne, the princess must protect her family and save the kingdom.

The movie also stars Dominic Cooper ("Preacher"), Olga Kurylenko ("Black Widow"), and Veronica Ngo ("The Old Guard"). "The Princess" is directed by Le-Van Kiet, written by Ben Lustig ("The Thirst") & Jake Thornton ("Final Fantasy"), and produced by Neal H. Moritz (the "Fast and Furious" franchise), Toby Jaffe ("Total Recall") and Derek Kolstad ("John Wick"), with Joey King and Guy Riedel ("Spectral") serving as executive producers.
The Princess debuts on Hulu July 1st, 2022. Are you excited to watch? Let us know in the comments below or on our social media!
KEEP READING: JENNY KLEIN TO SERVE AS SHOWRUNNER ON 'POWER RANGERS' SERIES AS PART OF OVERALL DEAL WITH EONE