Phase Four of the MCU is introducing a number of new heroes while exploring the legacies left by the original Avengers. Through heroes like Sam Wilson aka Captain America, Riri Williams aka Iron Heart, Kamala Khan aka Ms. Marvel, and of course Kate Bishop the new Hawkeye. Hawkeye fully embraced this with Kate learning directly from her idol Clint Barton about the true cost of being a hero.
The Illuminerdi had the opportunity to speak with Zero Contact's Aleks Paunovic, who played Ivan one of the Track Suit Mafia bros, about his experience working on Hawkeye. During our interview Aleks talks about working with Hailee Steinfeld, calling her "phenomenal," and Jeremy Renner, revealing what he learned from working with the MCU veteran.
ALEKS PAUNOVIC TALKS ABOUT WORKING WITH HAILEE STEINFELD AND JEREMY RENNER ON HAWKEYE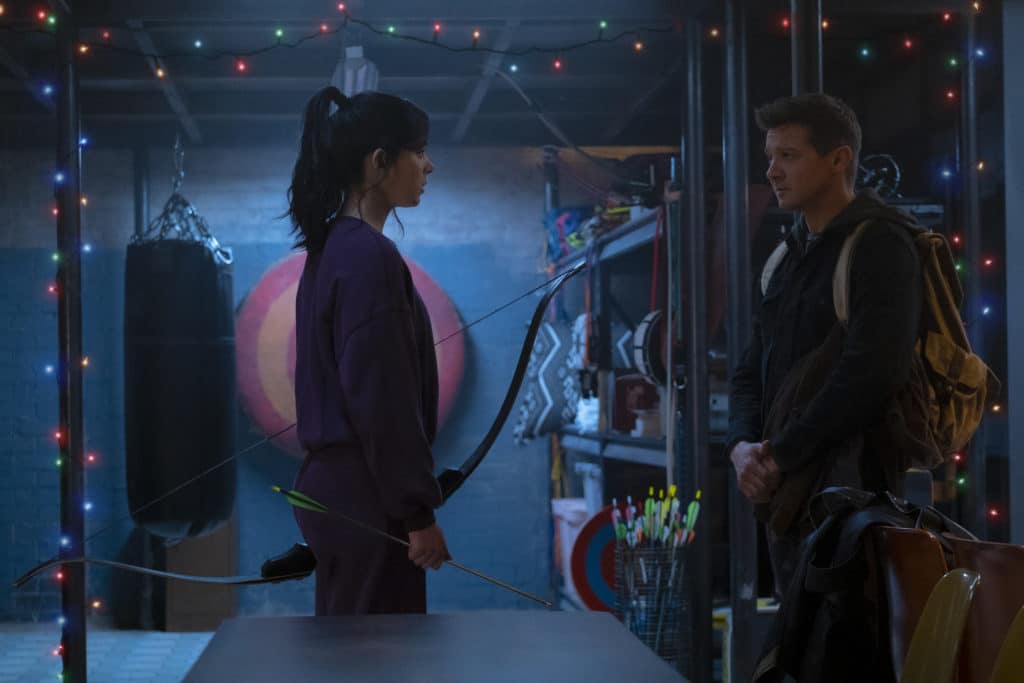 "They are so great, they are so much fun. Hailee is just, she's other worldly. She's just absolutely phenomenal. Not only in the work that she does, she's a phenomenal actress, but just as a human, she is just a really, really great person. Same goes for Jeremy. There was an interesting moment where I was watching Jeremy work from afar, and I was saying to one of the guys, I was like, "Wow man, it's like he's not even trying, like he doesn't want to be here. I don't get it, like this is his own show. Why doesn't he want to be here?"

And then you watch the show, and you actually get it in your head, you're like, "Well the character doesn't want to be tied to a little horse in a toy shop. So that makes sense." And the nuances with the camera in tight, these little nuances. Because I was sitting back, going, he's not even doing anything. And when you go in tight on his face, the whole world is happening. And it so, it's a testament to his ability as an actor and trusting himself on what he is doing with his choices.

I learned a ton from watching Jeremy. So, it was definitely a fun thing to be a part of. And these two amazing stars really made the whole series so much fun to watch. I think it is like the new Die Hard for Christmas. I think every Christmas people are gonna go back to it, because it is that fun."
RELATED: ZERO CONTACT STAR ALEKS PAUNOVIC REVEALS THE UNIQUE ZOOM FILMING STYLE USED TO CREATE THE NEW SCI-FI THRILLER: EXCLUSIVE INTERVIEW
Steinfeld quickly became a fan favorite in Hawkeye infusing her character with a hilarious eagerness and sarcasm while balancing a need to help and determinedness. Hawkeye gave Jeremy Renner a chance to shine as Clint Barton after playing the archer throughout the Infinity Saga. It shouldn't be a huge surprise that Aleks learned a lot just from working with and watching Renner. Throughout Hawkeye Jeremy Renner brought a new depth to Clint as he showed the hero's trauma, both mental and physical, while balancing this with his sense of duty and hilariously reluctant mentoring of Kate.
The relationship between the two archers was a highlight of the series with a number of their strong action and comedy scenes happening with Aleks Paunovic, who played Ivan, and the rest of the Track Suit Mafia. It is interesting to hear Aleks' perspective on the scene where Clint was being held and questioned by the Track Suit Mafia. The fact that Aleks genuinely thought Renner was uninterested in his own show demonstrates how strong the star's performance was on set.
While Hawkeye has ended, Jeremy Renner and Hailee Steinfeld could be returning sooner than fans think with rumors of the pair making an appearance in the Hawkeye spin-off Echo, which is expected to premiere on Disney plus next year. Although details are unknown at this time if these rumors prove to be true it will be exciting to see the two archers potentially suit up again.
RELATED: ECHO: WHAT YOU NEED TO KNOW ABOUT THE EXCITING NEW HAWKEYE SPIN-OFF SERIES
With Echo shooting Kingpin in the finale of Hawkeye she could need their help in defeating him assuming the crime boss survived the altercation and is seeking vengeance against his once employee. It could also be that she goes to Hawkeye for help in learning more about the truth or finding other heroes to help in her crusade, perhaps leading to the rumored appearance of Daredevil. However it may play out, bringing these two back into the MCU is something fans are surely excited to see and with so many young heroes emerging there is a lot of opportunities to bring the archers, especially Kate, back into the fold with something like the Young Avengers.
Hawkeye is available now on Disney Plus. Echo is scheduled to premiere on Disney Plus in 2023. You can also catch Aleks Paunovic in Zero Contact available on demand and digital now. What did you think of Hawkeye? Are you looking forward to Echo? Are you excited to see more of Kate Bishop in the MCU? Leave your thoughts in the comments below or on our social media and check back with The Illuminerdi for more MCU.
KEEP READING: WILL THE TRACK SUIT MAFIA RETURN IN ECHO? HAWKEYE STAR ALEKS PAUNOVIC PLAYS COY ABOUT MCU RETURN: EXCLUSIVE INTERVIEW