LEGO CON 2022 really built up the hype for their future builds at this year's brick building convention.
LEGO CON is back and bigger and better than before. Celebrating their 90th anniversary, the iconic company brought new news, exclusive reveals, awesome guests, and inside access like never before. It was two and a half hours of epic brick building greatness. LEGO gave fans an exclusive look at the brand-new Avatar, Star Wars, Marvel, Super Mario sets, and more. It gets close to being too much while still making us want more. However, if you're like us, space is finite. To help you decide what you want to allocate your space to, here's the list of all the products revealed during LEGO CON 2022.
LEGO CON 2022 Product Reveals List
LEGO® Marvel Sanctum Sanctorum (76218)
Age: 18+; 2708 pieces; August 1, 2022 launch; 249.99 EUR/USD
This 2,708-piece recreation of the Sanctum Sanctorum, the notorious residence of Doctor Strange, incorporates classic scenes from Marvel Studios' Avengers: Infinity War and Doctor Strange in the Multiverse of Madness. The top story houses the museum of mystical collections, the middle section contains the library and at ground-level there are familiar features both inside and out.
RELATED: Doctor Strange in the Multiverse of Madness Coming to Digital on 6/22 and Home Media 7/26
LEGO® BrickHeadz™ FC Barcelona Go Brick Me (40542)
Age: 10+; 530 pieces; August 1, 2022 launch; 19.99 EUR/USD
Kids and fans of FC Barcelona will be thrilled to build a BrickHeadz™ model of themselves playing for one of the world's biggest football clubs! They can choose from 3 different skin tones, tan, light brown or dark brown; 4 different hair colors, blonde, brown, ginger, or black; and many different hair styles including spikes, ponytails, a mohawk or bald. The shirt features the club's iconic crest on the front, while there are also 2 sticker sheets for them to add their favorite number on the back.
LEGO® Star Wars™ The Justifier™ (75323)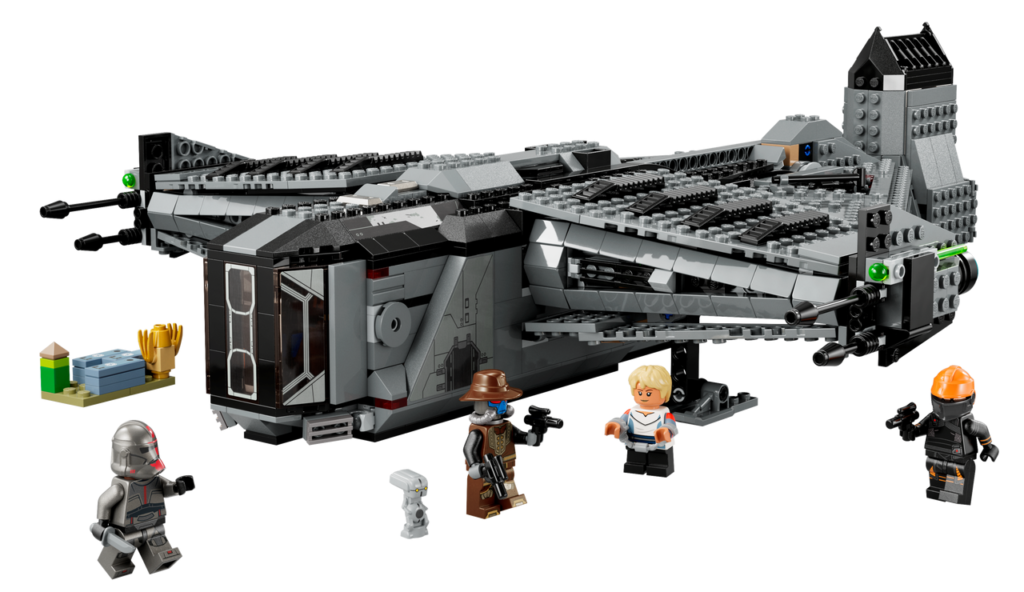 Age: 9+; 1022 pieces; August 1, 2022 launch; 169.99 EUR/USD
Bounty hunter Cad Bane has imprisoned Omega on board The Justifier. This awesome starship has a super-detailed cockpit, spring-loaded shooters and cool flight and landing modes. Help Omega break out from the laser jail cell, with help from droid Todo 360, and team up with Hunter to get away. But there's a big bounty reward on her head, so Bane and Fennec Shand won't give up easily!
LEGO® Star Wars™ AT-TE™ Walker (75337)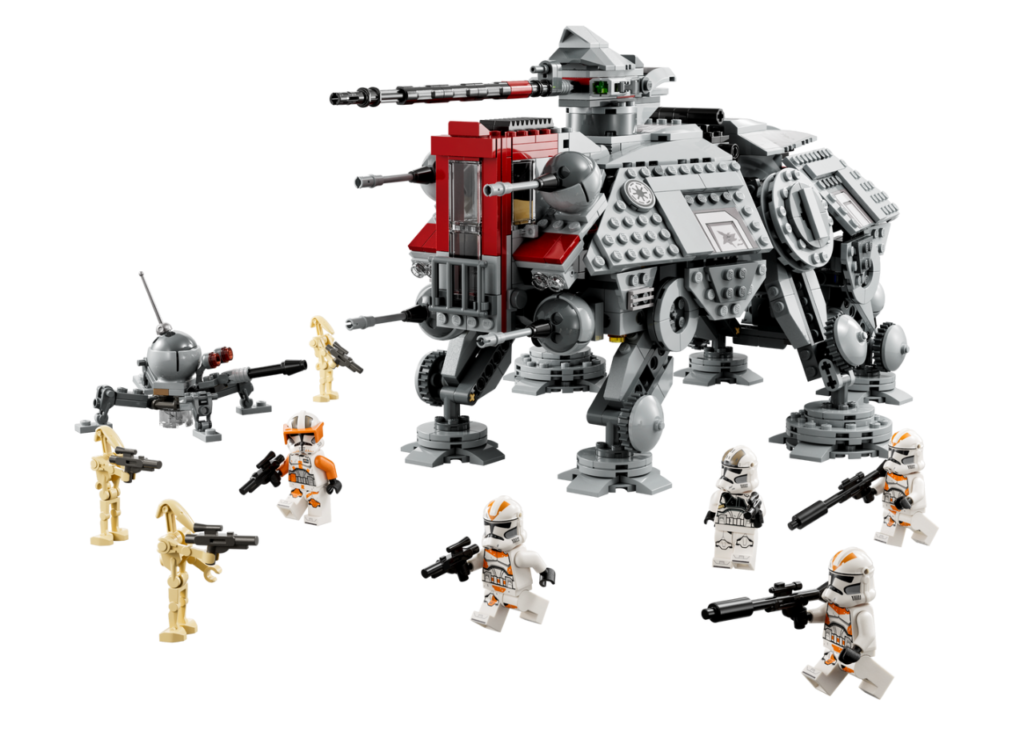 Age: 9+; 1082 pieces; August 1, 2022; 139.99 EUR/USD
Power into battle against the Separatist Droid Army, with the mighty AT-TE Walker! With Commander Cody in the cockpit, stride across rocky terrain and fire the rotating heavy blaster cannon. Grab weapons and thermal detonators from the cabin and deploy the 212th Clone Troopers to fight the Battle Droids on the ground. Who will triumph in the Battle of Utapau? It's up to you!
RELATED: The Bad Batch Season 2 Gets New Trailer And Release Window
LEGO® Lion Knights' Castle (10305)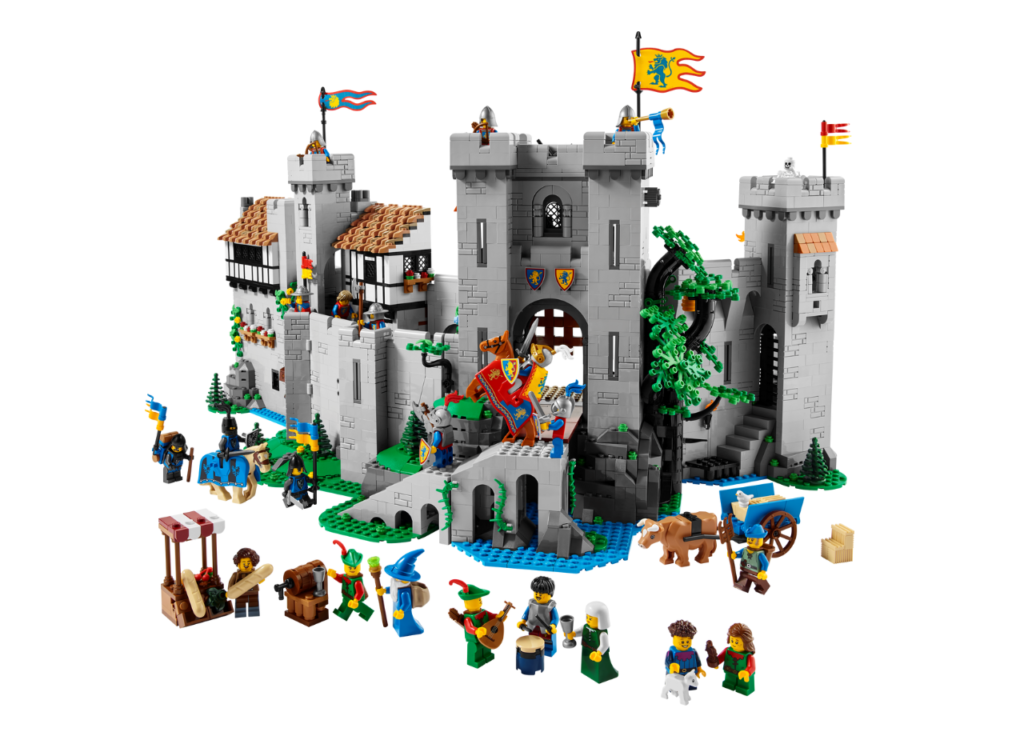 Age: 18+; 4514 pieces; August 3, 2022 launch; $399.99 / £344.99 / €399.99
It's the build adult LEGO® fans have been waiting for. A classic – reimagined. Celebrating 90 years of LEGO history, the Lion Knights' Castle is a new interpretation of the iconic LEGO Castle theme. The impressive set is packed with details, and with 4,514 pieces it offers a project to savor. So rekindle your childhood joy as you uncover the many stories and surprises packed into this model.
LEGO® Galaxy Explorer (10497)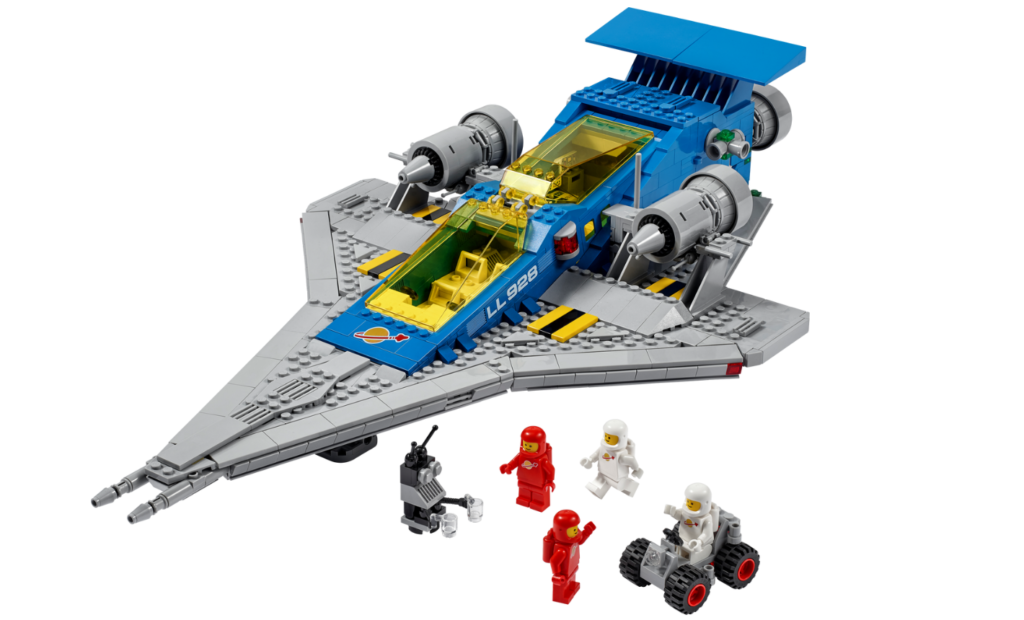 Age: 18+; 1254 pieces; August 1, 2022; $99.99 / £89.99/ €99.99
Celebrate 90 years of LEGO® creations with this nostalgic building project for adults. This special anniversary edition of the Classic 497 LEGO Galaxy Explorer retains all the features of the 1979 set but on a bigger scale. Step back in time and enjoy a relaxing build, crafting all the details. With 4 astronaut figures and accessories, there's lots to explore in this tribute to a LEGO fan classic.
3 out of 12 minifigures from the LEGO® Minifigures Series 23 (71034) were revealed
Age: 5+; September 1, 2022 launch; 3.99 EUR/ 4.99 USD
Delight a child or Minifigures fan with these LEGO® Minifigures Series 23 (71034) blind bags for ages 5+. This unique series features a great line-up of fun characters to collect and display or to take independent or group play in unexpected new directions.
RELATED: Avatar: The Way of Water: Watch the Mind-Blowing Avatar 2 Teaser Trailer Right Now!
LEGO® Avatar Toruk Makto & Tree of Souls (75574)
Age: 12+; 1212 pieces; October 1, 2022 launch; 149.99 EUR/USD
Join Jake Sully, Neytiri, Mo'at and Tsu'Tey at the Tree of Souls! This LEGO® Avatar set reflects the scene where Jake joins with the majestic Toruk and becomes the 6th Toruk Makto. Dive into the intense effort to defend the important landmark of the Na'vi people, flying on the Toruk or riding the fierce Direhorse. Let the roots of the tree wrap around you and join the rest of the Na'vi as they commune together!
LEGO® Minecraft® The Skeleton Dungeon (21189)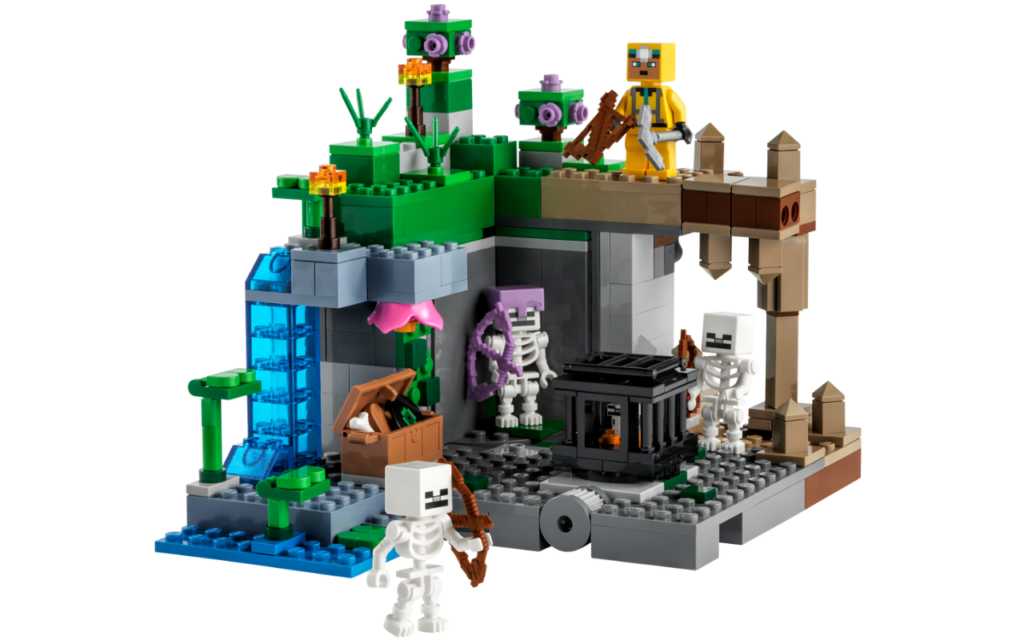 Age: 8+; 364 pieces; August 1, 2022 launch; 49.99 EUR/ 44.99 USD
Use your pickaxe to explore the stalagmites and stalactites of the dripstone cave. Be careful – there are 2 skeletons in the dungeon below! Push a stalagmite to make rocks crash down onto the hostile mobs. Then climb down the dripleaves in the lush cave to battle the skeletons with your crossbow. But watch out – a spin of the spawner causes another skeleton to appear, wearing enchanted armor!
LEGO® Minecraft® The Abandoned Village (21190)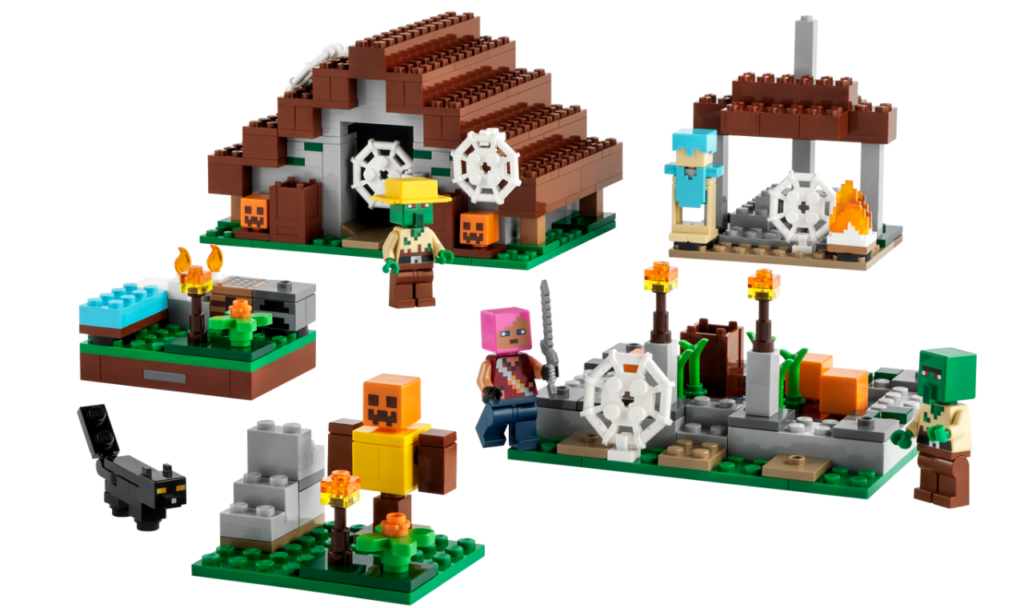 Age: 8+; 422 pieces; August 1, 2022 launch; 29.99 EUR/ 34.99 USD
Grab your sword, it's time to reclaim the abandoned village from the zombies! Battle the zombie villager at the blast furnace, seize the zombie farm and capture the abandoned house. Now you can rebuild the village in your own awesome style! Clear the cobwebs, combine the different buildings, and add furniture and tools for work. Finally, build a campfire – and plan your next adventure!
RELATED: Star Wars The Force Unleashed Nintendo Switch Release: May The Port Be With You
LEGO® Super Mario™ Character Pack Series 5 (71410)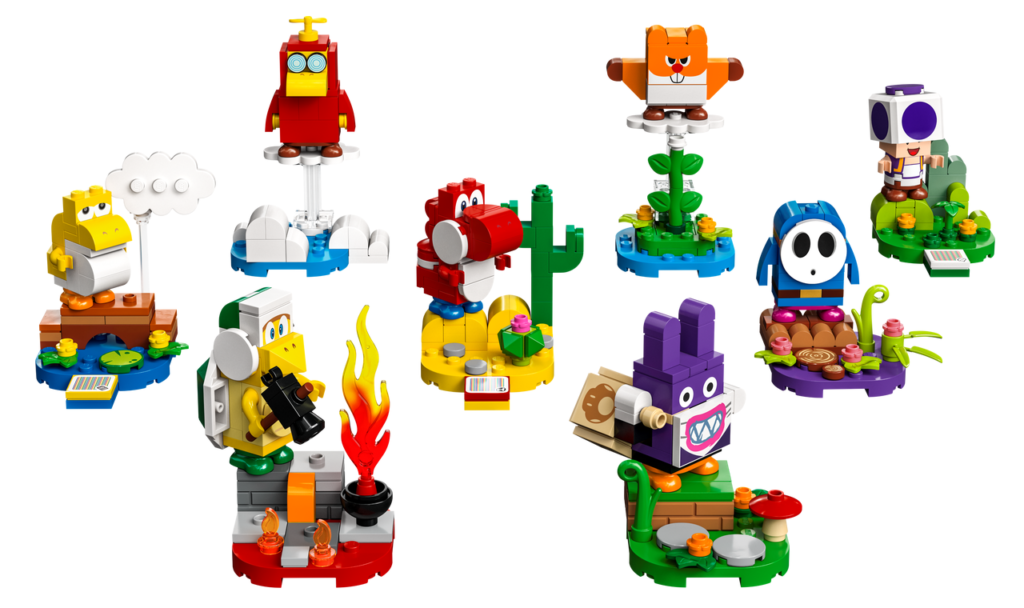 Age: 6+; 47 pieces; August 1, 2022 launch; 5.99 EUR/USD
Kids can take their LEGO® Super Mario™ adventures to another level with collectible toy Character Packs – Series 5 (71410). Each pack contains a mystery buildable character with an Action Tag, plus a small build to use as a display stand or to enhance level play. There are 8 LEGO Super Mario characters to collect: Nabbit, plus a Purple Toad, Hammer Bro, Waddlewing, Toady, Baby Yoshi, Red Yoshi and Blue Shy Guy. Each is designed to be used with a Starter Course set (71360, 71387 or 71403), which is required for interactive play.
LEGO® Art Floral Art Set (31207)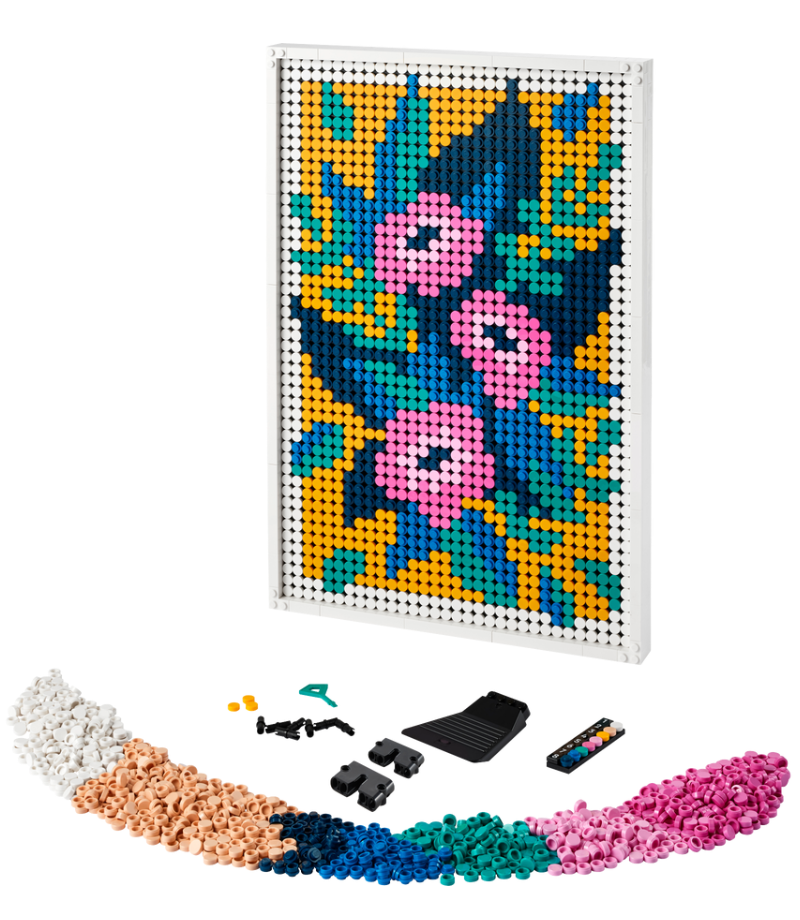 Age: 18+; 2,870 pieces; August 1, 2022 launch; 69.99 EUR/ 79.99 USD
Open botanical creativity awaits in this LEGO® Art Floral Art (31207) wall kit. Bring bold colors and design possibilities into your home as you build. You can also let your imagination bloom with your own motif. Enjoy a zone of joyful zen filled with flowers, peace and stress relief as you click each piece into place.
If you'd like to watch the reveal and all the other great segments of LEGO CON 2022, the full stream is available at their official site or on their YouTube channel.
What do you think of the products revealed at LEGO CON 2022? Which sets are must-haves for your collection? Was there anything you didn't see but wish you would have? Let us know what you think in the comments below and share your favorite builds with us on social media!
Source: LEGO
KEEP READING: Breathtaking LEGO Transformers Optimus Prime Coming from the Partnership of 2 Iconic Brands