Bayley may be making her long awaited return to in-ring action.
Bayley is a name WWE fans have not heard in a very long time. It's kind of like "Oh, yeah, Bayley. Where has she been?" She has been recovering from injury, having torn her ACL last July while training at the Performance Center. The timeframe on her recovery was nine months. However, seeing how it is currently July it looks like that didn't happen.
RELATED: WWE 2K22 CLOWNING AROUND PACK DLC FT. RONDA ROUSEY, MR. T, BRITISH BULLDOG & MORE NOW AVAILABLE!
Despite being out with an injury Bayley has still been active on social media and even teased a possible Money in the Bank match return when she posted a photo of herself hugging the MITB briefcase she won last year.
Most recently Bayley posted a video of her at the WWE Performance Center with Lil Wayne- Money On My Mind playing. Fightful was able to confirm with WWE sources she was indeed at the Performance Center and has been training. What exactly this training consists of and how close she is to in-ring action is unknown. It could be light in-ring cardio, a full on match or even just her being a guest trainer.
If She's Healthy Then Why Not Use Her?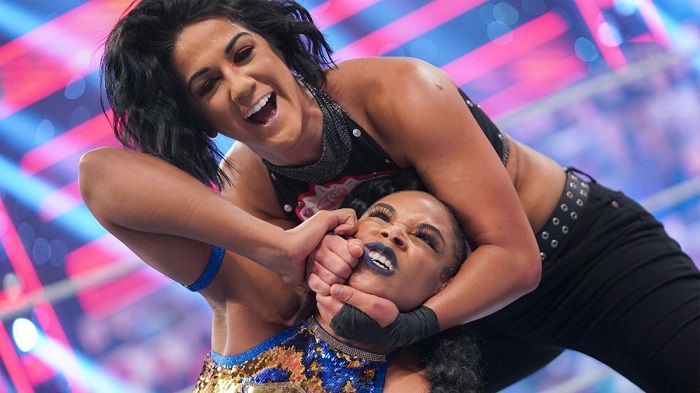 It is also not known if Bayley is healthy enough to return to the ring and for how long she has been healthy enough. If the nine month recovery timetable was accurate then she could have been ready for months.
If Bayley is healthy then why has WWE not put her back on TV? WWE is down two top women and former women's champions with Sasha Banks and Naomi being gone after their walk-out from WWE in May. According to Wrestling Inc. WWE has even removed them from their internal roster and Banks was rumored to have received her release last month. I'm sure WWE is trying to smooth things over especially with Banks as she would be a huge get for AEW if she ends up making the jump.
RELATED: CLAUDIO CASTAGNOLI AKA CESARO MAKES HUGE AEW DEBUT
Bayley has been a huge part of the WWE women's division since her days in NXT. Having some Match of the Year matches with Banks in NXT. She is a former NXT Women's champion, Raw and SmackDown women's champion and former WWE Women's Tag Team champion. Her absence has been felt and we will know just how much once she does return to WWE.
A Year Without Bayley Is Too Gosh Darn Long
The last time we saw her wrestle was on a June 2021 episode of SmackDown which saw her teaming with Seth Rollins taking on Cesaro and Bianca Belair. At the time of Bayley's injury she was involved in a fued with Belair. Maybe when Bayley makes her return this feud can reignite and we can see someone who is able to take Belair's championship from her.
SummerSlam is at the end of this month so that is a pretty good place to debut back on WWE TV. If Liv Morgan or Belair have a mystery opponent or we see cryptic vignettes then it is most likely Bayley. Hopefully Morgan is able to keep her title past SummerSlam because I just like her so much and want her to enjoy a longer title reign than losing her championship in the same month she won it.
Do you think Bayley will return before, after or during SummerSlam? Who would you like to see her feud with when she returns? Do you think putting her in a championship feud when she returns is too soon? When she returns do you think she will return to the singles division or the tag division because of the gap Banks and Naomi left? Who would you like to see Bayley tag with if she returns to the tag division besides Banks? Let us know if you think she will return as a heel or babyface and which you would prefer.
KEEP READING: NATALYA EXPLAINS HER UNIQUE MENTALITY TOWARDS WRESTLING INSPIRED BY HER FATHER
Sources: Wrestling Inc., Fightful, Wrestling Inc.