It's finally happening. Kevin Smith's Clerks 3 is finally hitting theaters later this year, and the first trailer is officially out.
The new sequel looks to be a fun meta adventure as Dante, Randall, Jay, and Silent Bob are all back.
RELATED: KEVIN SMITH GIVES AN UPDATE ON THE SETTING OF CLERKS 3
You can check out the official trailer for Clerks 3 below:
THE GANG IS BACK IN THE OFFICIAL TRAILER FOR CLERKS 3
The groundbreaking, original indie film was released back in 1994. The sequel, Clerks 2, came out 12 years later in 2006. In-between that time, there was a short-lived attempt at an episodic animated series on ABC in the year 2000. It's now been 16 years since Clerks 2 was released in 2006, and now Clerks 3 is finally due to arrive in theaters in September.
In the threequel, Randal Graves (Jeff Anderson) suffers a heart attack. He has an epiphany and sets out on a journey to film his own movie along with fellow clerks Dante (Brian O'Halloran), Elias (Trevor Fehrman), and of course, Jay (Jason Mewes) and Silent Bob (Kevin Smith himself). Randal now seeks to film a movie at the convenience store that started everything for the gang, the Quick Stop.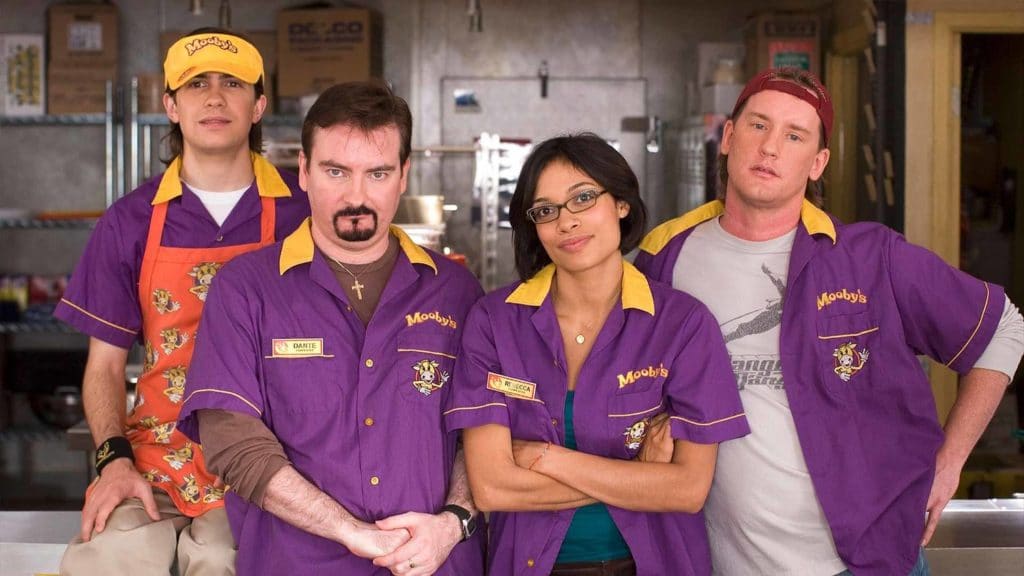 Also back for the film is Rosario Dawson as Becky Scott. The cast also features Marilyn Ghigliotti, Justin Long, and Austin Zajur. The trailer also gives away a pretty big cameo in Ben Affleck, a staple performer in many of Kevin Smith's past View Askew films.
It appears the film will have a lot of callbacks to the original, as the movie Randal is making essentially appears to be the very first film. However, when Dante suggests they put in those arguments about "Death Star contractors" they used to talk about, Randal opines, "And get sued by Disney? No way."
There's even a riff on the darker, alternate ending for the first film, where Dante is shot and killed. In trailer for the threequel, Dante complains, "I'm not letting you kill me off in the third act! What if there's a sequel?" Randal responds, "A sequel?! What am I? A hack!" Writer-director Kevin Smith is clearly having fun with his films at his own expense, along with the fact that this little film he made ultimately launched its own franchise. It's rather appropriate, when the View Askew films had their own shared continuity of sorts, and this is well before the MCU even started.
RELATED: KEVIN SMITH SHARES BTS VIDEO LOOK AT MASTERS OF THE UNIVERSE, SCARE GLOW, AND HINTS AT HUGE TEELA REVELATION!
At the very least, the sequel will hopefully be a fun, entertaining, bittersweet, and nostalgic romp. The original is a genre-defining classic and still holds up very well to this day with its memorable Star Wars banter and nerdy debates. Clerks 3 opens in theaters on Sept. 13. It will be screening in theaters only on two nights on Sept. 13 and 15, courtesy of Fathom Events. You can get ticket information at the Fathom Events website. Additionally, Smith is touring the film in select markets as part of the Clerks III Convenience Tour roadshow starting in his home state of New Jersey on September 4. It will also run in October.
Smith will tour the film in select markets as the "Clerks III Convenience Tour" roadshow starting in New Jersey on September 4th.
What did you think of the trailer? Are you excited that Clerks 3 is finally happening, about 16 years after the second one? Let us know what you think about it on Twitter.
KEEP READING: MASTERS OF THE UNIVERSE REVELATION REVIEW: OLD AND NEW CHAMPIONS BATTLE AS TEELA TAKES CENTER STAGE
SOURCE: Lionsgate, YouTube