Thor: Love and Thunder is off to an auspicious start at the box office. Deadline reports that the latest installment of the God of Thunder in the MCU grossed $29 million from early Thursday previews. That estimate gives the film the second-best opening-day preview box office gross behind only Marvel's Doctor Strange in the Multiverse of Madness.
For those keeping score at home, Doctor Strange in the Multiverse of Madness had the largest Thursday preview opening of 2022 at $36 million. Love and Thunder's $29 million figure counts showtimes that began on Thursday, Jul. 7 at 3:00 p.m. Currently, the new MCU film is tracking for about $70 million for Friday, which would include the $29 million Thursday receipts, and an opening weekend that's currently estimated at $130-$140 million.
RELATED: THOR: LOVE AND THUNDER: NEW LOOK AT NATALIE PORTMAN'S THOR WITHOUT HELMET
If the current box office tracking for Love and Thunder's opening day holds, it would be the ninth-biggest opening day for the MCU franchise, beating 2013's Iron Man 3 at $68.8 million and behind 2016's Captain America: Civil War at $75.5 million. It would also steamroll the opening day of Thor: Ragnarok by 51%, which grossed $46.4 million on its opening day in 2017. Ragnarok went on to gross $122.7 million for its opening weekend. So, if Love and Thunder's business holds up this weekend, it should easily surpass the opening weekend of Ragnarok.
THOR: LOVE AND THUNDER IS ON TRACK FOR THE SECOND-BIGGEST OPENING THURSDAY OF 2022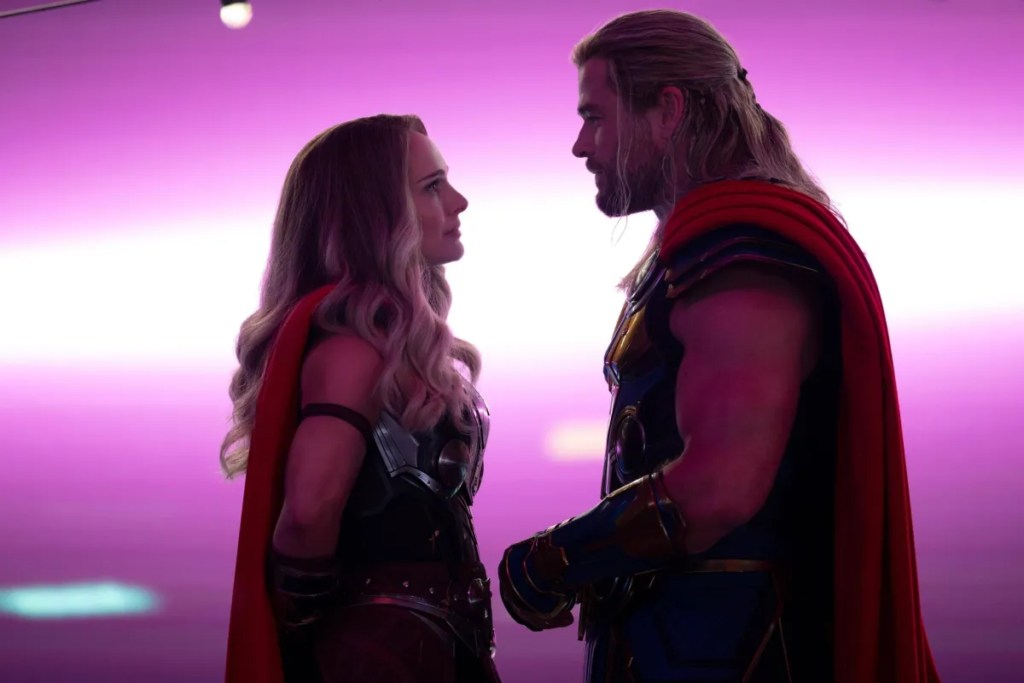 Overall, it's encouraging to see the theatrical box office business turning itself around this year after the uncertainty caused by the pandemic. MCU has been a big winner over the last year between Shang-Chi and the Legend of the Ten Rings, Spider-Man: No Way Home, Doctor Strange in the Multiverse of Madness, and now Thor: Love and Thunder. Doctor Strange 2 is now up to $410 million domestic and $953 million worldwide, so it will be interesting to see where Love and Thunder ends up on the charts.
What might not bode as well for Love and Thunder is the reviews. The film is currently sitting at a 68% critic score on Rotten Tomatoes. That's considerably lower than the 93% score for the last Thor film, Ragnarok, which was also directed by Taika Waititi. Deadline also noted that Love and Thunder had a 63% definite recommend score in exit polling, compared to 57% recommend for Marvel's Eternals. Eternals is the first MCU movie to receive a "Rotten" score on the Tomatometer at 47%. Before that, the lowest critic score to date was 2013's Thor: The Dark World at 66%.
Obviously, the exit polling and Tomatometer scores aren't an exact science for how the movie will perform at the box office. Most MCU films tend to either be very frontloaded in their opening weekend or tend to do very well for the overall box office takes. Even with its lower critic score, Eternals still managed $164 million at the domestic box office and $402 million worldwide.
RELATED: THOR: LOVE AND THUNDER'S TESSA THOMPSON LOOKS BACK ON VALKYRIE'S ARC FROM INFAMOUS RAGNAROK ENTRANCE TO THOR 4
Either way, Love and Thunder appears to have an interesting box office race ahead of itself. It will be interesting to see where it falls on the charts compared to past Thor and MCU movies come Sunday and Monday.
What do you think of the news? Are you excited to see that Thor: Love and Thunder is already off to a sizable headstart at the domestic box office? Let us know what you think over on social media.
KEEP READING: THOR 4: MIGHTY THOR EXPLAINED IN LOVE AND THUNDER!
SOURCE: Deadline