Ghostface may have gotten some new victims in Scream 6.
This year's Scream reboot was a commercial and critical success, making $140 Million at the global box office. It was only a matter of time until a sequel would get announced and Paramount Pictures only waited for a few months.
RELATED: SCREAM 5 REVIEW: SCREAM CALLS THE FRANCHISE BACK TO FORM
The exceptional part about that is that it is set to be released in Spring of next year, which is surprisingly fast, considering that the reboot hit theatres in January. Now two new faces have joined the cast.
THE BODY COUNT JUST INCREASED FOR SCREAM 6
Bloody Disgusting has exclusively revealed that Samara Weaving and Tony Revolori have joined the cast of the highly anticipated sequel, Scream 6, which is already deep in the shooting process. According to the site, the entire cast has not yet been revealed.
Funny enough the directors of Scream, Matt Bettinelli-Olpin and Tyler Gillet reached out to Weaving for a role in the fifth installment of the franchise. The trio previously worked together on the beloved horror thriller Ready or Not, which became a surprise hit in 2019. But her appearance sadly didn't work out due to scheduling conflicts. Samara Weaving stated in an interview with Collider back in 2020:
"We were talking about it, but our schedules aren't gonna work, which is a bummer. We talked about it a lot, but unfortunately, because of scheduling, I couldn't do it."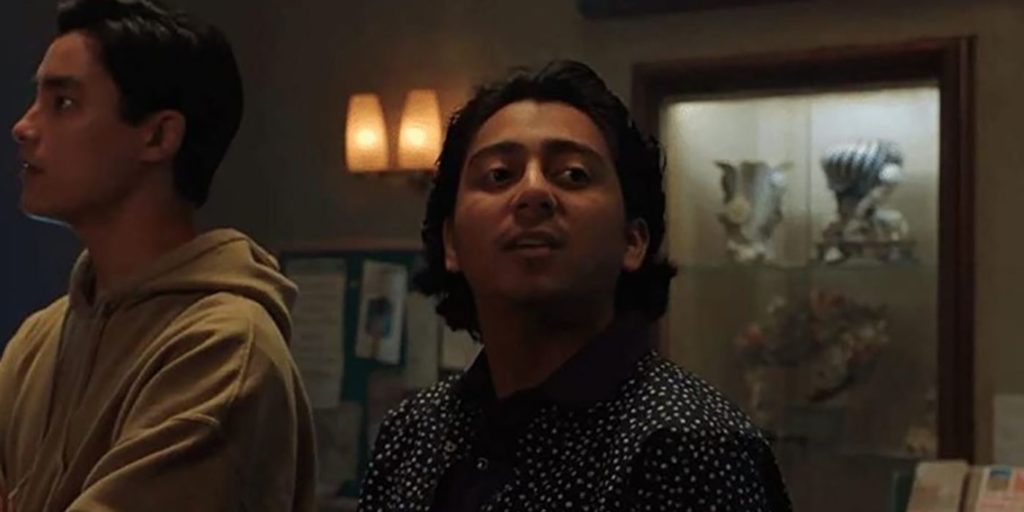 Weaving is best known for her work in horror films. She starred in: Ready or Not, The Babysitter, and the TV series Ash vs. Evil Dead. She recently starred in the third Bill & Ted film, Snake Eyes: G. I. Joe Origins and The Valet. She can next be seen in the highly anticipated awards contender Babylon.
Tony Revolori is best known for his portrayal of Flash Thompson in the MCU's Spider-Man trilogy. But he is also a frequent collaborator of Wes Anderson, as he appeared in The Grand Budapest Hotel and The French Dispatch, as well as Anderson's upcoming film Asteroid City. He can next be seen in the Disney+ Willow series.
They join previously announced newcomers: Dermot Mulroney (New Girl), Jack Champion (Avatar: The Way of Water), Liana Liberato (The Best of Me), Devyn Nekoda (Sneakerella), Josh Segarra (Arrow), and Henry Czerny (Ready or Not).
Melissa Barrera, Jenna Ortega, Mason Gooding, and Jasmin Savoy Brown will all reprise their roles from this year's Scream. Courteney Cox will reprise her role of Gale Weathers, while Hayden Panettiere will return as Kirby Reed, the role she first played in Scream 4.
RELATED: SCREAM 6: HEROES' HAYDEN PANETTIERE TO RETURN TO HORROR FRANCHISE
The synopsis of Scream 6 says: "The Scream saga continues with the four survivors of the Ghostface killings as they leave Woodsboro behind and start a fresh chapter."
The title of the 6th installment of the franchise is currently still unknown, but in a recent set photo, we see a chair rocking a "Scream II" logo, meaning there could be two Scream 2, just like there now are two Scream films.
Neve Campbell, who played Sydney Prescott in all 5 Scream films won't reprise her role in the upcoming film, as she didn't reach an agreement with the studio. While this is the at this time official version, rumors have it that Paramount Pictures made a better Offer and the parties reached a deal for her to reprise the role in Scream 6 (as a cameo) as well as Scream 7.
I think the two actors are fun additions to the cast and it will be interesting to see if maybe one of them could end up playing Ghostface. I enjoyed this year's Scream quite a bit, so I have no reason to doubt that this won't be an entertaining watch.
Scream 6 will slash into theatres on March 31, 2023.
What do you guys think? Are you excited about the two actors joining the cast? Did you like the last film? Let's discuss everything in the comments down below and on our Social Media.
RELATED: SCREAM: RANKING ALL 7 INSTALLMENTS IN THE LEGENDARY HORROR FRANCHISE
Source: Bloody Disgusting