Is Shang-Chi star, Simu Liu, secretly working on a Sleeping Dogs adaptation?
Shang-Chi star, New York Times Best-Selling Author, and an upcoming Ken in the Barbie movie, Simu Liu, hinted at some exciting news at San Diego Comic-Con 2022. Liu was a guest panelist during Funko's first ever, and likely not the last, Hall H Panel during this year's comic-con. Liu shared some tips on how to find tax loopholes for your collectibles but also reminded the audience he isn't even a U.S. Citizen. He also performed a backflip and may have earned himself another Funko Pop!, which he asked to include the remnants of his frosted tips. But aside from his charisma and charm, Liu hinted at a secret project he is working in outside of Marvel, his book, and Barbie.
What Projects are Simu Liu Working On?
Before going into the rapid-fire questions at Funko's Hall H panel, Simu Liu was asked what projects he's working on. He mentioned Marvel and remarked there are quite a few projects there that he could be a part of, as well as promoted his New York Times Best-Selling Book, We Were Dreamers: An Immigrant Superhero Origin Story. However, he made it a point to mention one final project. He was a bit coy with his answer as he said it is still very early and he didn't want to jump the gun, but with what he said, all signs point to a Sleeping Dogs project.
RELATED: Funko Unveils Their Fun New SDCC 2022 Exclusives
Here's a transcription of what Liu said about the unknown project:
And I'm probably not supposed to say anything. We're just super jumping the gun on it. But there's a video game out there that features a, shall we say, Asian-American protagonist that takes place in Hong Kong. That I might be working – I don't know – I don't know. I'm not gonna say the name because I didn't want it to be – I don't want to jump the gun on it. But it's something I'm really excited to be diving in on.

Simu Liu during Funko's Hall H San Diego Comic-Con 2022 Panel
What's Sleeping Dogs
Sleeping Dogs is an open-world martial arts action-adventure game where players play as Wei Shen, a Chinese-American undercover police officer who infiltrates the Sun On Yee Triads. The game was developed by United Front Games and published by Square Enix Europe and was originally released in August 2012. Sleeping Dogs is a critical hit that never overly impressed in sales. A sequel was announced but was scrapped by the end of 2013. The game was remastered and re-released in 2014, and a live-action film was announced in March 2017 to be produced by Neal Moritz with Donnie Yen starring as Wei Shen.
RELATED: Easter Sunday Introduces The Masses to the Filipino Family Dynamic on 8/21
The last known update of the film was in July 2020 when Donnie Yen announced the Sleeping Dogs movie would be his next challenge.
Why Sleeping Dogs is Likely Simu Liu's Other Project?
The first reason is his description of the main character's similarities to Wei Shen. Sadly, there aren't a lot of stories about Asian-Americans. The number of stories gets infinitely smaller when talking about gaming. So the lack of other games with even the vaguest resemblance to an Asian-American in Hong Kong is practically 0. There might be an indy game out there, but for anyone to know would be impossible, let alone Simu Liu questioning if he was too obvious with his hint. It's not like when white people say, "Oh it's a rich kid with parental issues." it's seemingly infinite possibilities across every medium of storytelling.
RELATED: Marvel Zombies: Amazing New Details For Season 2 Revealed At SDCC 2022
Second, we know Simu Liu is a gamer. At least from what we can tell from his Xbox ads. But I'm willing to bet Simu has played Sleeping Dogs which is why he is so excited to tease it. It is honestly one of the best open-world games in every sense. So to be able to bring such an awesome story and one that is very near and dear to North American-Asians to life is something that makes a lot of sense for Liu to not only be a part of but so excited about.
Lastly, he liked my Tweet about it. You can see it at the top of this section. Sure it's no big deal that someone liked my Tweet, but for context, myself and others on the team have tweeted at Liu a few times with 0 interaction. He liked this one, and he has liked another Tweet mentioning Sleeping Dogs as well. For someone who is undoubtedly bombarded with tweets, for this to be a pattern does not seem random. He's able to tease it, without actually saying anything. Granted there are only two, but the tweets are from Sunday, so he definitely had to look for it a bit.
Is Simu Liu Working on a Sleeping Dogs Project?
This is all highly speculative, but because entertainment industries have fought so long to not tell stories of Asian-Americans, they have also made it super easy for us to recognize the few stories of ours out there. If you know another story that takes place in a video game about an Asian-American protagonist in Hong Kong, that will be just as probable as this one. It may also be a show, a sequel, a novel, a comic, or something else. But seeing as there is already movement on a Sleeping Dogs film, I would still put my money on this underappreciated gem being made into a movie with Simu Liu in it.
***Update***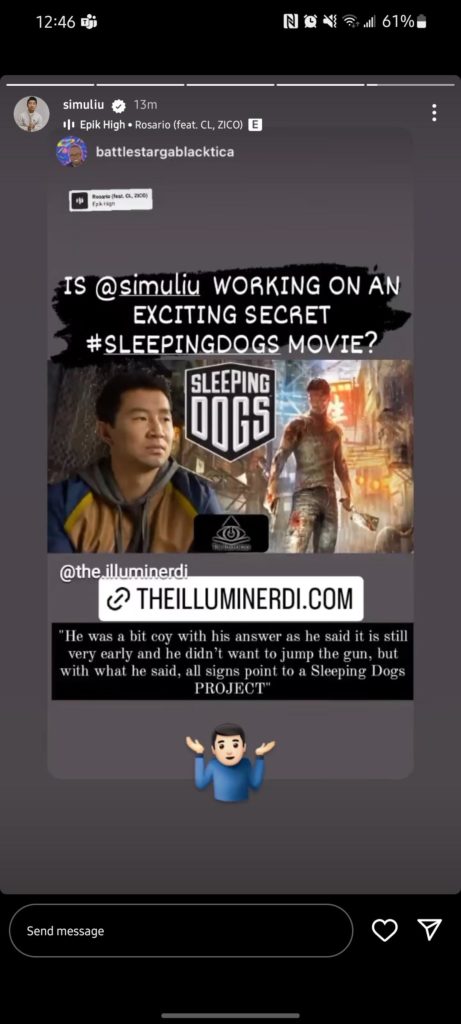 Simu Liu has shared Daniel Jerome's posting of this story on his Instagram Stories, along with the shoulder shrug emoji. It is by no means a confirmation, but it also does zero to deny the speculation.
Sleeping Dogs is currently available for PC, PS4, and Xbox One Playing will likely win you over to our theory. Simu Liu's New York Times Best-Selling Book, We Were Dreamers: An Immigrant Superhero Origin Story, is also available now.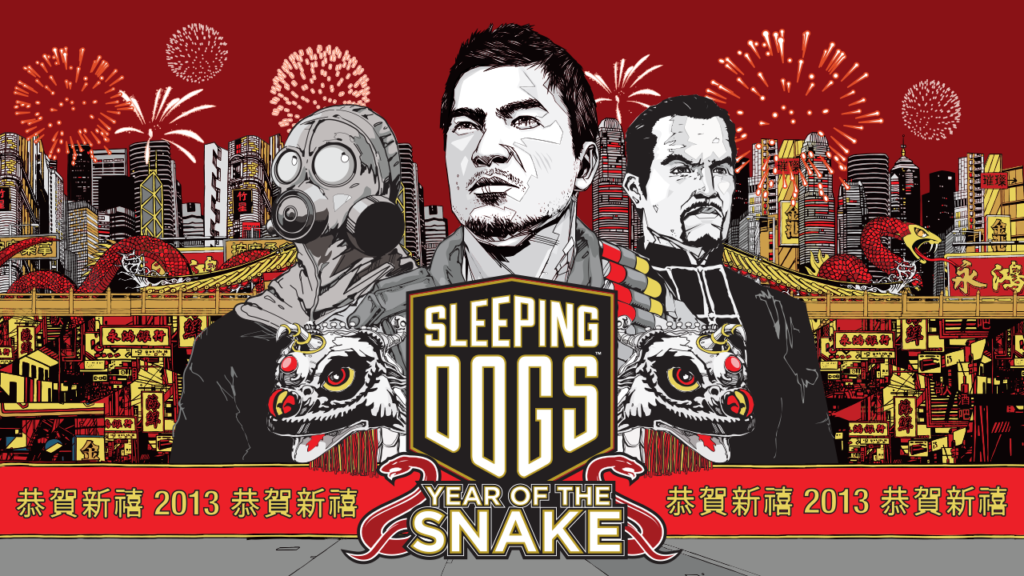 Do you think Simu Liu is working on a Sleeping Dogs project? Is it the same movie with Donnie Yen? Have you read We Were Dreamers: An Immigrant Superhero Origin Story? Let us know what you think and be sure to share all your theories about this or any other nerd property on Twitter.
KEEP READING: Avengers: The Kang Dynasty Finds an Exciting Director In Destin Daniel Cretton