Couldn't make it to SDCC? Missed out on the Dragon Ball Super: Super Hero panel? Well we got you covered.
Hard to believe it has been a week since San Diego Comic-Con 2022 ended. All the news that came out, all the experiences experienced, and all the exclusives hauled are all past tense. Fans unable to make the famed convention undoubtedly had a bit of FOMO. Especially Dragon Ball Fans. They missed out on witnessing both the Japanese and English voice actors of Piccolo interacting, as well as some amazing Dragon Ball Exclusives. And usually, that means having to pay drastically marked-up resell prices for exclusives. But luckily, we got you covered.
Dragon Ball Super: Super Hero Hall H Panel
It was a truly awe-inspiring experience to be with over 6000 other Dragon Ball fans to celebrate Dragon Ball Super: Super Hero. Though there have been leaks online, I do not believe it has affected the fans' fervor to experience this film. Getting to know more about the production process, hearing stories from the Piccolos, and getting to see the first 20 minutes of the film, I can honestly say the Dragon Ball franchise has never been as fresh or as strong as it is right now.
RELATED: Dragon Ball Super: Super Hero's Astonishing Voice Cast Announced
Dragon Ball Super: Super Hero is a major change of pace from what fans have come to expect from Dragon Ball Super and Dragon Ball in general. Mainly, it will not just be about Goku and Vegeta. On top of that, the animation and art have never looked as good as it does in this film. The topper, the world has not been as alive and ready to be explored since the original Dragon Ball.
Dragon Ball Super: Super Hero feels like a bold new starting point for the future direction of the franchise. The film releases on August 19, 2022, tickets are available now.
Dragon Ball Super: Super Hero Booth
Bandai Namco SDCC Exclusives
Bandai Namco went big at SDCC with 7 booths! A significant player and presence at the convention. Of their 7 booths, Tamashii Nations is always a highly sought-after booth for both its presentation and exclusives. You can experience it in our booth tour video above. As for this year's exclusives, you can see them down below and order them via Premium Bandai.
Tamashii Nations Event Exclusives
S.H.Figuarts SHENRON -Exclusive Edition- $130.00
S.H.Figuarts ANDROID 16 -Exclusive Edition- $65.00
S.H.Figuarts MAJIN BUU -GOOD- -Exclusive Edition- $85.00
S.H.Figuarts SUPER SAIYAN 2 SON GOKU-Exclusive Edition- $70.00
S.H.Figuarts MADARA UCHIHA -Exclusive Edition $70.00
S.H.MonsterArts KONG FROM GODZILLA VS. KONG (2021) -Exclusive Edition- $90.00
RELATED: Crunchyroll Powers Up SDCC with Dragon Ball Super!
Bandai Namco has also made it super easy to get your Tamashii Nations Exclusives as well. You can pre-order to have them shipped directly to you (estimated to ship in March 2023) or you can pick them up at Chicago Comic and Entertainment Expo (C2E2). March is a long time to wait, but it is better than paying twice or more for the same item. However, if you want it that bad, and with how gorgeous these event exclusives look, we wouldn't blame you for being impatient.
Other Bandai Namco Exclusives
Outside of Tamashii Nations, We also have Anime Heroes, Storm Collectibles, Banpresto, Bandai Spirits, Megahouse, and more! Pictured below are the Naruto Sage of Six Paths Mode Anime Heroes figures and the Storm Collectibles Exclusives. All these and other Bandai Namco SDCC Exclusives are available via the Bandai Namco Shop.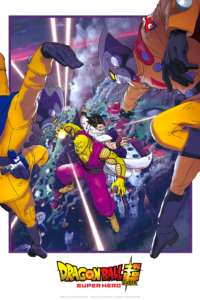 ABOUT DRAGON BALL SUPER: SUPER HERO
Release: August 19, 2022, in North America, U.K. Ireland, South Africa, Zambia, and Vietnam
Based on: Dragon Ball by Akira Toriyama
Director: Tetsuro Kodama
Production Studio: Toei Animation
Distributed: Crunchyroll (North America), Crunchyroll and Sony Pictures Entertainment (International)
Cast (Dub): Kyle Herbert, Sean Schemmel, Robert McCollum, Christopher R. Sabat, Monica Rial, Sonny Strait, Eric Vale, Kara Edwards, Jeannie Tirado, Aleks Le, Zach Aguilar, Zeno Robinson, Charles Martinet, Jason Marnocha

Synopsis:
The Red Ribbon Army was once destroyed by Son Goku. Individuals, who carry on its spirit, have created the ultimate Androids, Gamma 1 and Gamma 2. These two Androids call themselves "Super Heroes". They start attacking Piccolo and Gohan… What is the New Red Ribbon Army's objective? In the face of approaching danger, it is time to awaken, Super Hero!
Are you excited for Dragon Ball Super: Super Hero? What exclusives are you getting? Could the franchise split off into different shows to focus on all the different characters? Let us know what you think in the comments below and share your reactions with us on Twitter!
KEEP READING: Bandai Namco Toys and Collectibles Awesome Exclusives at SDCC 2022 & Premium Bandai