Green Lantern: Beware My Power producer Butch Lukic spoke with The Illuminerdi about the new DC animated film's origins, connections to Adam Strange, and the history of John Stewart.
DC animation fans have been blessed with not one, not two, but three successful interconnected franchises. Green Lantern: Beware My Power is the most recent installment in the third generation, sometimes referred to as "The Tomorrowverse". The series of films includes Superman: Man Of Tomorrow, Batman: The Long Halloween Parts 1 & 2, JSA: World War II and now Green Lantern: Beware My Power. Aldis Hodge stars in the title role, voicing John Stewart, a legend and a DC icon.
GREEN LANTERN: BEWARE MY POWER PUTS JOHN STEWART ON CENTER STAGE
John Stewart was created by Dennis O'Neal and Neal Adams, first appearing in Green Lantern Vol. 2, #87. He served alongside other Green Lanterns such as Hal Jordan and Guy Gardner, going on countless interstellar quests, losing loved ones, yet never giving up the good fight. For a period of time, John Stewart became the primary Green Lantern of the DC Universe, something that was respected in the DC Animated Universe. Phil LaMarr voiced John Stewart, bringing life to the beloved force of will.
When asked why John Stewart deserves to be at the forefront of the DC franchise, Green Lantern: Beware My Power supervising producer Butch Lukic said the following.
"Originally when we did Justice League: Unlimited, he was our Green Lantern, so for years, people have been asking "when are you going to bring back John Stewart?". And he has been around but I felt it was important, and DC and Warner felt it was important to bring him back as a main character.

For the last few years, he has been something of a secondary character in other storylines. So this is our turn, and I figured we're building the Justice League for this arc of films, and John Stewart, we might as well bring him back. Because most of the fans, the audience of the animated features, know him as The Green Lantern, and know less of Hal Jordan."

– Butch Lukic, Supervising Producer of Green Lantern: Beware My Power
RELATED: GREEN LANTERN BEWARE MY POWER: DIRECTOR JEFF WAMESTER TALKS JOHN STEWART, LOSS, & WORKING WITH ALDIS HODGE: EXCLUSIVE INTERVIEW
Many DC fans who are young adults today grew up on Phil LaMarr's performance as John Stewart/Green Lantern, and therefore have a certain degree of nostalgia and love for this Lantern. His storied history within the DC Universe is a special thing, and it's refreshing to see the creative team of Beware My Power treat the work with such adoration and respect. The time has finally come for John Stewart to stand in the spotlight again, where he belongs.
GREEN LANTERN: BEWARE MY POWER EXCLUSIVE INTERVIEW WITH PRODUCER BUTCH LUKIC
Explaining how characters like Hawkgirl and Adam Strange became a part of Green Lantern: Beware My Power, Lukic told us this:
"I did a short a few years ago, a DC showcase short, where I wanted to do Adam Strange down and out, working in a mine. And I did his backstory about how he got there, where Thanagar was in a constant war for years. And Jim, once I said "Look, we need to get him into space, I don't want to do earthbound Green Lantern." And he said, "OK, why don't you bring the Adam Strange you did in, and put that in as background for this story?" So we have a war, but also we can introduce Hawkgirl into the mix, and quite a bit of conflict."

– Butch Lukic, Supervising Producer of Green Lantern: Beware My Power
GREEN LANTERN: BEWARE MY POWER TAKES DC ANIMATION INTO THE STARS
The scope and scale of this project dwarfs the other films in the Tomorrowverse, which have stuck to Earth and its trials for the most part. By bringing in fascinating cosmic characters from the furthest reaches of space and time, such as Hawkgirl and Adam Strange, the intrigue of potential viewers grow accordingly. This sounds like it will be a more high-concept space opera than a down-to-earth adaptation, which is befitting of a Lantern. Additionally, it's wonderful to learn that DC actually looks to their wonderful DC Showcase Shorts for inspiration on new projects, as they feature some impressive and creative DC adaptations.
RELATED: SDCC: MIGHTY SCREENWRITER ERNIE ALTBACKER ON GREEN LANTERN: BEWARE MY POWER
Furthermore, Hawkgirl's prominent role in this film has to be considered a victory for fans of the character, who is mysteriously absent from the DCEU. When Aldis Hodge was cast as Hawkman in the DCEU, many assumed that Hawkgirl would be involved in the live-action film as well, considering their connection, but this was not the case. Perhaps, if the chips fall just right, Jamie Gray Hyder could move from her performance as Hawkgirl here to a new, DCEU version of Hawkgirl someday. But for now, we're just happy to have the Thanagarian warrior in any movie, animated or live-action.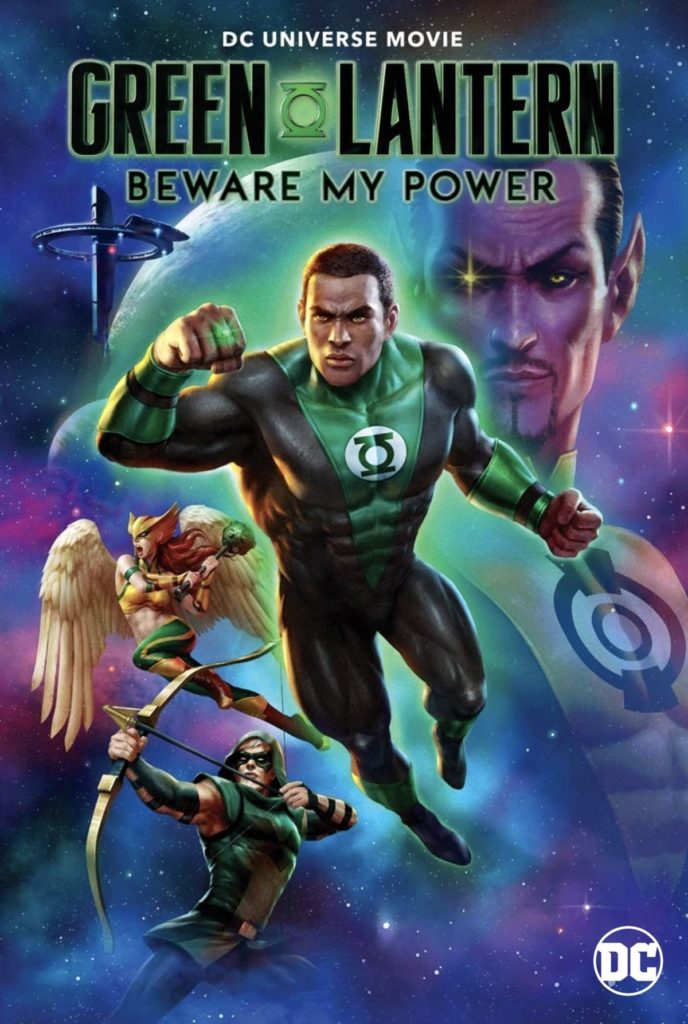 Green Lantern: Beware My Power is directed by Jeff Wamester, produced by Butch Lukic, written by Ernie Altbacker and John Semper. The animated DC film is the fifth feature in the "Tomorrowverse", the second generation of the DC interconnected animated film franchise. Aldis Hodge stars as Green Lantern/John Stewart, Ike Amandi plays Martian Manhunter, Jamie Gray Hyder plays Hawkgirl, also starring Keesha Sharp as Vixen and Rick D. Wasserman as Sinestro, with Brian Bloom as Adam Strange, Jimmi Simpson as Green Arrow, and Nolan North as Green Lantern/Hal Jordan.
Are you excited for Green Lantern: Beware My Power? Let us know your thoughts in the comments below or on our social media!
KEEP READING: GREEN LANTERN AND BLACK ADAM STAR ALDIS HODGE REVEALS WHY HE ASPIRES TO BE LIKE JOHN STEWART IN REAL LIFE: EXCLUSIVE INTERVIEW