SPOILER WARNING: THIS ARTICLE INVOLVES PLOT DETAILS FROM THE FILM, PREY.
The word "woke" carries a negative connotation with some sectors of movie fans complaining that modern films nowadays are too much into feminist messages and inclusion. The most likely culprit behind these complaints comes from the audience not being used to change in the things they watch. When the audiences were younger, what they watched looked different, so new social change requires adjustment when what they see in modern films and TV looks different from before – nostalgia is strong is what we are saying.
There are a lot of films and TV shows out there that are "woke" but are also awesome. Case in point, Prey – the most woke big blockbuster in Hollywood.
PREY IS ABOUT FEMINISM
Being a feminist blockbuster movie is not unique nor is it rare for one to be a huge hit. In 2015, Mad Max: Fury Road surprised many with its testosterone-filled violence all centered by a story about fighting the patriarchy and toxic masculinity. James Cameron movies are often about female empowerment with a theme of motherhood .The Terminator franchise depicts the important role a mother has in saving the world, while the Alien franchise is about a woman, and later surrogate mother, fighting the living embodiment of rape.
Prey is the next great film in line with this tradition. Our heroine Naru, played by Amber Midthunder, is the latest strong female protagonist that will be celebrated alongside Ripley, Sarah Conner, Merida, Furiosa, Wonder Woman, and many more.
For the story of Prey is about the young Naru trying to prove she is a worthy hunter in a Comanche tribe that believes women should not be hunters. Every time Naru comes along for a group hunt, she is unwelcome to a visibly angry boys club that has no faith in her ability to hunt.
Throughout the film, we witness Naru struggle to be a hunter, only to improve with each failure. She is perceived as so weak that she is the only human in the movie who The Predator does not take notice of. It is this underestimation that proves to be The Predator's downfall. For while Naru is not your stereotypical masculine hunter, her ingenuity, and observation skills prove first class. Naru does not defeat The Predator through brute strength, but by careful strategy where every minute detail she learned about The Predator comes into play.
In the end, the decapitated head of The Predator proves Naru is the ultimate hunter among hunters. The moral of the story is for society to not underestimate a woman.
RELATED: PREY'S GARGANTUAN RELEASE BECOME'S HULU MOST SUCCESSFUL PREMIERE EVER
Then again, a feminist message alone does not make this the most woke blockbuster in Hollywood. It's because it is a feminist movie that also happens to have…
A NATIVE AMERICAN CAST
Not many big-budget franchise movies in Hollywood get to have a Native American protagonist, let alone the majority of the cast being Native American like Prey. This makes Prey groundbreaking in Native American representation film history when they almost never get to have starring roles or good roles in general.
Historically, it is a trend in Hollywood to whitewash or cast outside the wrong ethnicity for indigenous roles. The Biblical epics and many examples come to mind. More recent, is the upcoming DC superhero movie, Black Adam – starring, Dwayne Johnson for the lead despite the character being of Egyptian descent and the movie taking place in Egypt. Prey does not star Johnny Depp in brown make-up, or Anya Taylor-Joy as Naru. It stars Amber Midthunder, Dakota Beavers, and many others of the genuine Native article.
RELATED: PREY: NEW PREDATOR IS AN INCREDIBLE MIX OF CGI AND PRACTICAL EFFECTS
The only genre film of note with a majority Native American cast would be 2019's, Blood Quantum, a zombie apocalypse movie where the only people alive and fighting are from a Native American reservation because their tribe is the only one genetically immune from the zombie plague (Side note: Watch Blood Quantum). The difference is, that while Blood Quantum walked so that Prey can run, Blood Quantum was not a part of a big-budget franchise and was not expected to have as large of an audience.
The biggest comparative (Although still not the same) film for representation would be Black Panther, the groundbreaking superhero film that starred a mostly black cast and celebrates what African culture can achieve. A worldwide box-office phenomenon, even by Marvel's standard, that finally broke the myth that only a white cast can make it huge at the box office. Thanks to Black Panther, a new era of movies with a majority black cast is born, paving the way for generations of great black actors to finally have a spotlight.
Admittedly, while Prey is having great critical and audience reception, it has nowhere near the cultural impact of Black Panther and Native Americans are even less represented than African Americans from the start. Yet one can still hope that Prey can spark the same movement of a new era for Native Americans in film in subtle ways, much like Black Panther did for African Americans in more visible ways.
RELATED: PREY: FOX-DISNEY MERGER DELAYED PRODUCTION OF EXCITING PREQUEL
One can only wonder how influential Prey will be. After all, Prey is like its protagonist, Naru – underestimated, so no one saw coming. Maybe we haven't seen it coming, still.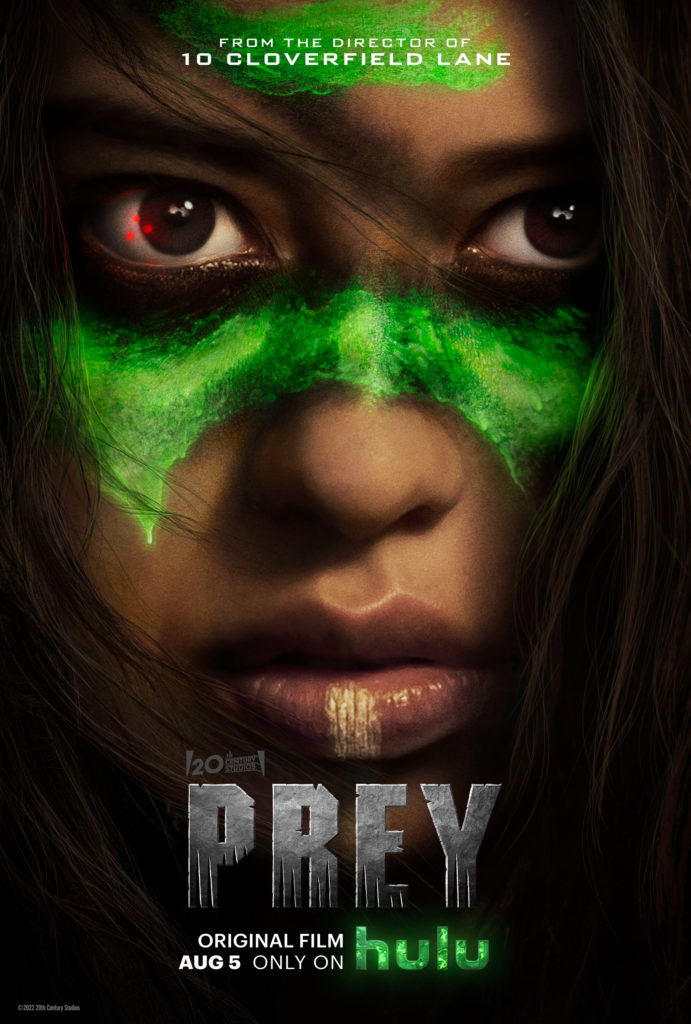 Prey can now be streamed on Hulu. What were your thoughts on Prey? Are there other films with a Native American cast to note? Let us know all of your thoughts and theories over on our Twitter!
KEEP READING: PREY: HOW NARU AND THE PREDATOR PARALLEL IN HULU'S ACCLAIMED EPIC FILM