Do you have what it takes to outsmart the Sheriff or catch the Outlaw?
West Hunt is a fun game of Cat-and Mouse that merges social deduction with quick-styled games. This new game is brought to you by developer and publisher Snail Games who is best known for the Ark: Survival Evolved, as well as publishing partner Wandering Wizard with developer NewGen. Available now on PC through Steam, West Hunt is great for any player that loves to use logic and deduction.
The Concept
Designed for 1-4 players, West Hunt places players in one of two roles found in this small Old West town. If you like games like Among Us and Werewolf, West Hunt is perfect for you. If you are assigned the role of Sheriff your goal is to find the Outlaw and shoot before the time is over. If your role is Outlaw, your job is to cause chaos with a list of missions before the time runs out.
RELATED: Star Wars Knights of the Old Republic Reboot Put on Hold Until Possibly 2025
Missions are broken up into two sections, primary and secondary. Primary missions raise the Outlaw's notoriety which also will give the Sheriff key information that helps point to who the Outlaw might be. While secondary missions help reduce notoriety if you want to keep under the radar.
Some of these missions include feeding a horse, poisoning the water supply, stealing from luggage or carts, bribing the Barman, and praying for forgiveness. Each mission takes about 10 seconds to complete, which is important when helping manage what tasks to do. It can seem a little overwhelming at first to balance tasks with keeping an eye out for the Sheriff. However, after a few games of West Hunt under your belt, you will start to find your own flow.
The Mechanics
There is a fair balance between Sheriff and Outlaw which keeps West Hunt fun no matter who you are assigned. While the Outlaw is wandering town causing trouble and trying to keep their head down, as Sheriff your goal is to observe the behavior of the villagers. This will start to help narrow down who the Outlaw might be. But you don't have to just keep an eye out. One of the things that helps balance the two roles is the mailboxes. This is where the Sheriff will be able to receive hints during the game regarding the actions of the Outlaw. Where he was last spotted, last completed mission, or even uncompleted missions.
RELATED: Digimon Survive Pleads For No Spoilers for first 2 Months
While the concept is fun and the roles feel balanced, there were two things that brought down the excitement. The first is that the walking pace is so slow. This might just be a personal issue, but the slowness of the characters just kept taking me out of the experience. But it wasn't just the lack of a pep in their step that made it difficult to get from point A to point B. The controls to move your character are a little frustrating to get a handle on.
W, S, A, and D are the normal controls we all use in PC gaming, but it just felt off the way you would have to turn a character around to reposition them vs being able to use your mouse. This issue didn't cause a huge impact, but when you are on a time restraint, any kind of movement issue can be annoying.
While the mechanics can be a little hit or miss, overall West Hunt is addicting. Especially since it has randomized elements that keep players on their toes. \Different Outlaw skins, missions, and even the mailboxes will be placed in different areas.
Better with Friends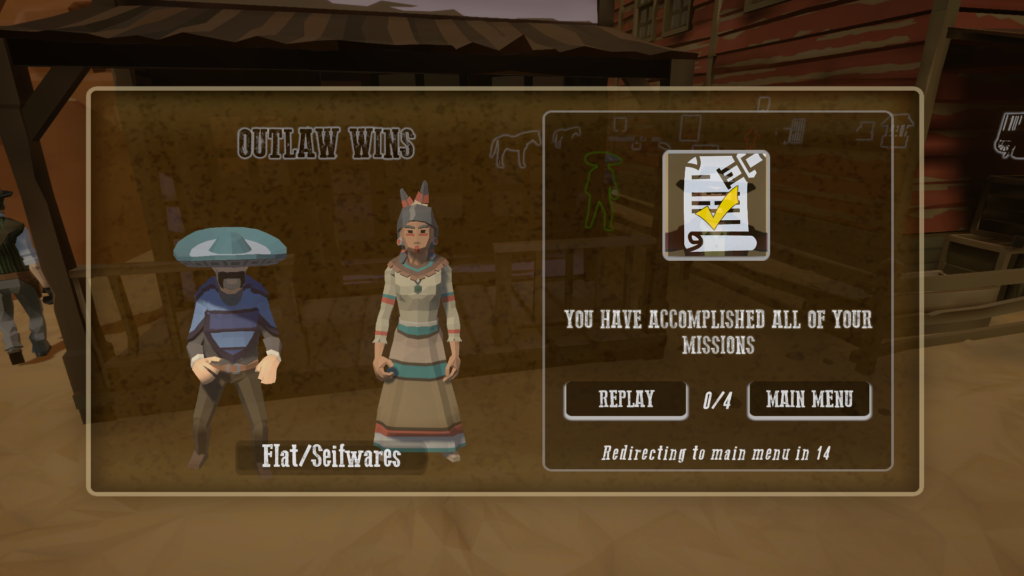 Similar to Among Us, while these games are great for playing against anyone, where they really thrive is when you are facing off against friends. 1 vs 1 or 2 vs 2, this game is great as a time killer while waiting for other people or if you need a break from more intense games. One of the things that I wouldn't do with strangers, but would do with friends is the in-game voice option. This allows players to add a little heat to the game by allowing both sides to communicate and in my world, taunt the other player. Including trying to get the Sheriff to shoot an innocent bystander, which will give the Outlaw the victory.
RELATED: MultiVersus Open Beta Launches Today For Excited Gamers Everywhere
One of the great things about West Hunt is the customization options. You can customize your character with different looks, emotes, and clothing. Players can even get a dog! But what piqued my interest was the ability to customize your games. Which honestly, would be another great aspect to explore with your friends.
The only downfall is that the game caps out at 4 players with the 2v2 mode. The ability to add more friends would only add to the chaos and fun.
In the End
As the sun sets on this review, West Hunt gets a 7 out of 10 from us. The concept is fun and exciting, while also being easy to pick up the game for a variety of players and ages. Has a great balance of characters and game play, that keep the game entertaining. The only real downfall came in the style of a walking slowpoke and slightly difficult controls in getting around.
But the best part about this game is that it is a lot of fun with friends. Including the ability to talk shit while you face off with one another. But no matter who you are playing with, this game is fun for hours.
West Hunt is reasonably priced at $9.99 and is important to note that it is still in Early Access. So if you are confident in your deduction reasoning or your ability to sneak around, then head over to Steam right now to grab your own copy. And make sure to follow Wandering Wizard on Facebook, Twitter, and their official website, as well as follow Snail Games on Facebook, Twitter, Discord, and their website to keep up with the DLC packs and new changes to West Hunt.
KEEP READING: Is Simu Liu Working on an Exciting Secret Sleeping Dogs Movie?