Orphan: First Kill, a slasher prequel streaming on Paramount+, is an unlikely success that remixes the slasher genre with twists that give the original a run for its money. 
Orphan: First Kill is directed by William Brent Bell and written by David Coggeshall, who based the screenplay on a story from original Orphan screenwriter David Leslie Johnson-McGoldrick. Alex Mace, who is credited with the original story, also worked on the story for First Kill alongside Johnson-McGoldrick.
RELATED: AQUAMAN 2 AND SHAZAM 2 GET NEW 2023 RELEASE DATES
Isabelle Fuhrman reprised her role as Esther, the titular "Orphan", joining an otherwise brand new cast for Orphan: First Kill. Fuhrman also produced the film and allegedly made uncredited story contributions. 
ORPHAN: FIRST KILL: STREAM THE ORIGINAL FILM ON PARAMOUNT+ FIRST
Before getting into this review, readers will want to make sure that they have watched the first Orphan movie, as Orphan: First Kill quickly spoils the original. Directed by Jaume Collet-Serra (who is directing the upcoming Black Adam, DC fans), Orphan is a fantastic slasher movie from the 2000s that deserves to be witnessed without knowledge of any twists. Vera Farmiglia and Peter Sarsgaard costar alongside Isabelle Fuhrman, playing the adoptive parents of Esther. I watched the original for the first time recently in order to get ready for First Kill, and having just experienced the first film in this way, I highly recommend going into this legendary horror film blind, if possible. 
In Orphan: First Kill, Julia Stiles plays Tricia Albright and Rossif Sutherland plays Allen Albright, mother and father to Esther Albright. Matthew Finlan portrays Gunnar Albright, Esther's brother, while Hiro Kanagawa plays Inspector Donnan, and Samantha Walkes stars as Dr. Segar.
Second only to Fuhrman, Stiles gets the most screen time in this film, quite deservingly. Tricia Albright is one of the most memorable matriarchs in any horror movie, more than earning her spot alongside Vera Farmiglia's Kate Coleman. Samantha Walkes plays a therapist working with the Albright family, and while she is no Character Actress Margot Martindale (who filled the role in the 2009 story ), she plays the part well. Rossif Sutherland's performance as Allen is painful and nuanced, and Allen's relationship with Esther is profoundly disturbing. 
ORPHAN: FIRST KILL: OFFICIAL SPOILER WARNING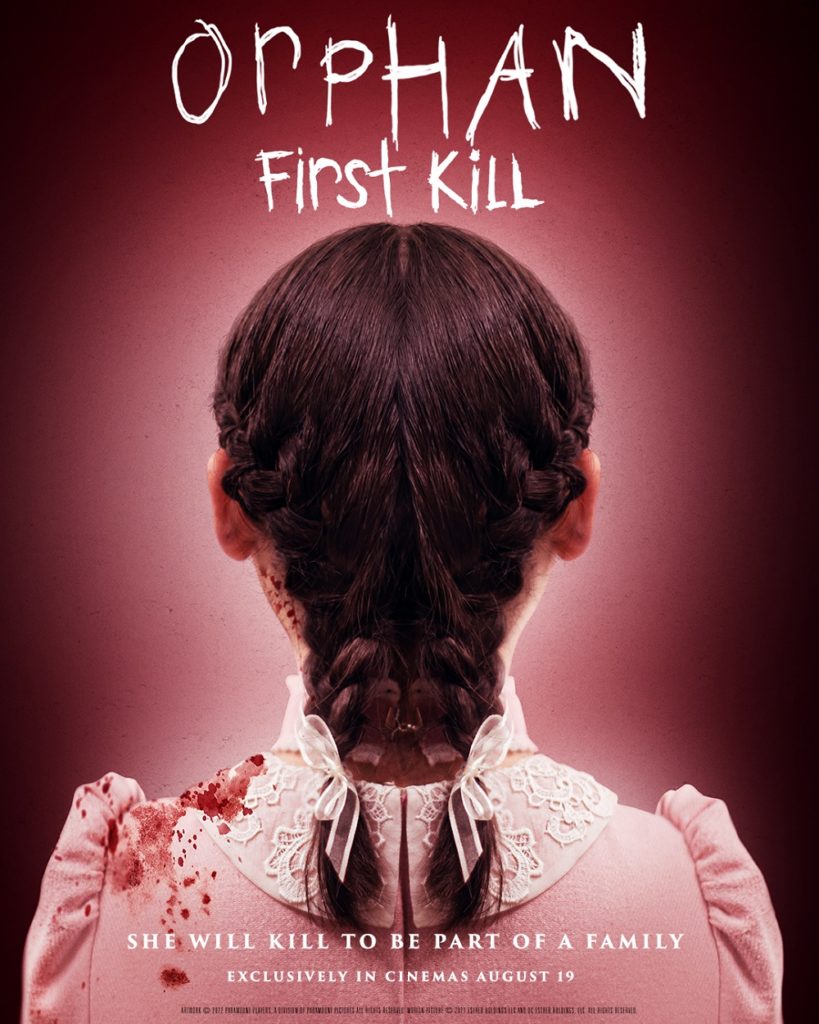 Before moving on to the remainder of this review, which will contain spoilers regarding the biggest twists and turns of Orphan: First Kill, I have to praise this film for changing the slasher movie formula in a meaningful manner, creating something timeless and unique in the process. First Kill may not be seamless, but it's a top notch horror movie and one of the best slashers in the entire genre. Orphan has remained a hidden gem for far too long. Don't miss out on one of the most creative and terrifying pictures of the year, and stream Orphan & Orphan: First Kill today.  
Still here? Fantastic. It's time to talk about that twist. The reveal that the original Esther was murdered by her brother, and that the crime was covered up by the mother, Tricia Albright, left my jaw on the floor for several minutes. This horrifying information comes to light at the tensest and unexpected time possible, and it creates a dynamic between Leena/Esther and the Albrights which is sinister and haunting, in the best kind of way. It turns Tricia into the villain, and the would be slasher-killer, if she was to overcome Esther. 
ESTHER IS ONE OF THE MOST UNIQUE KILLERS TO SLASH HER WAY THROUGH THE SILVER SCREEN
Though Esther is no saint, she is pitted against an arguably greater evil, and when she emerges victorious, we find ourselves cheering for Esther in the same way we usually do for the final girl, the Laurie Strode's and Sally Hardesty's. At the same time, viewers know of the violent crimes that Esther will soon commit, and so in the closing moments of Orphan: First Kill, Esther/Leena is unified as both final girl and murderous slasher, an incredible feat seldom captured on film.
Isabelle Fuhrman delivered one of the strongest child acting performances ever in the original Orphan, and she has returned to elevate the legend of Esther to untold heights in Orphan: First Kill. While Esther was a nightmare in the first film, First Kill has elevated her to the plateaus of killers like Chucky, Hellraiser, and Jigsaw.
Orphan: First Kill is streaming on Paramount+, and may be playing at a theater near you. If you are able to see this film in theaters and want to see this duology turned into a trilogy, buy a ticket today!
What did you think of Orphan: First Kill? Let us know your thoughts in the comments below or on our social media! 
KEEP READING: ECHO: VILLAINS FOR NEW SERIES MAY HAVE JUST BEEN REVEALED AS THE BLACK KNIFE CARTEL