A. A. Milne's beloved collection of children's books receives a new coat of paint, except the paint is the blood of humans in the new horror movie, Winnie the Pooh: Blood and Honey. An official trailer dropped the highly-anticipated horror film online. Horror aficionados can finally see what all the buzz is about for this take on Winnie Pooh, where the cuddly and kind animal icons become psychotic and brutal killers out to get retribution.
You can check out the bloody, shocking new trailer for this horrific take on these beloved childhood characters below:
WINNIE THE POOH: BLOOD AND HONEY OFFICIAL TRAILER DROPS ONLINE
RELATED: WINNIE THE POOH: BLOOD AND HONEY TURNS A BEDTIME STORY INTO A HORROR SHOW
In the new trailer, it appears an adult Christopher Robin (Nikolai Leon) returns to his old stomping grounds of the 100 Acre Woods, along with his future wife Mary (Paula Coiz). Christopher Robin looks to reunite with his old animal pals, including Winnie the Pooh, Piglet, and Eeyore. However, instead of an emotionally joyous homecoming, their arrival soon becomes a terrifying nightmare.
As stated in the trailer, it looks like Christopher Robin's old friends feel like they were abandoned by him. Now, they are running wild and want revenge against the child who left them behind in this dark, violent, and brutal new take on these timeless, classic, and iconic characters. It looks like there is already a grave for Eeyore, and Pooh and Piglet appear to be the ones enacting most of the violence against the frightened victims.
Obviously, this film looks like it was made on a shoestring budget, but it is a horror movie after all. Horror is usually a genre that can yield high profits on extremely low budgets. Not to mention, this film looks incredibly bloody and gory. That said, it looks like the actors for Pooh Bear and Piglet are wearing fairly simple, expressionless, rubbery, or plastic animal masks. Not to mention, they've grown into normal humanoid shapes, outside of their heads. Unless these beings are not in fact Pooh or Piglet, and simply some psychotic individuals who are posing as them instead.
RELATED: WINNIE THE POOH IS NOW PUBLIC DOMAIN, WITH DISNEY LOSING EXCLUSIVE RIGHTS
Blood and Honey is a product of Milne's Winnie the Pooh and its characters of the 100 Acre Woods entering the public domain earlier this year. This means all the characters and settings of the stories are allowed to be legally shared without permission or fees. However, The Walt Disney Company still owns its own versions and adaptations of the characters under The Mickey Mouse Protection Act. As a result, you will not notice any references or visual motifs of the characters that were made famous by the Walt Disney versions, cartoons, and films.
The upcoming film also stars Craig David Dowsett as Pooh, Chris Cordell as Piglet, Amber Doig-Thorne, Maria Taylor, Danielle Ronald, Natashia Tosini, May Kelly, and Natasha Rose Mills. Winnie the Pooh: Blood and Honey does not yet have an official release date. The movie is "coming soon" for a global release on home video and video on demand.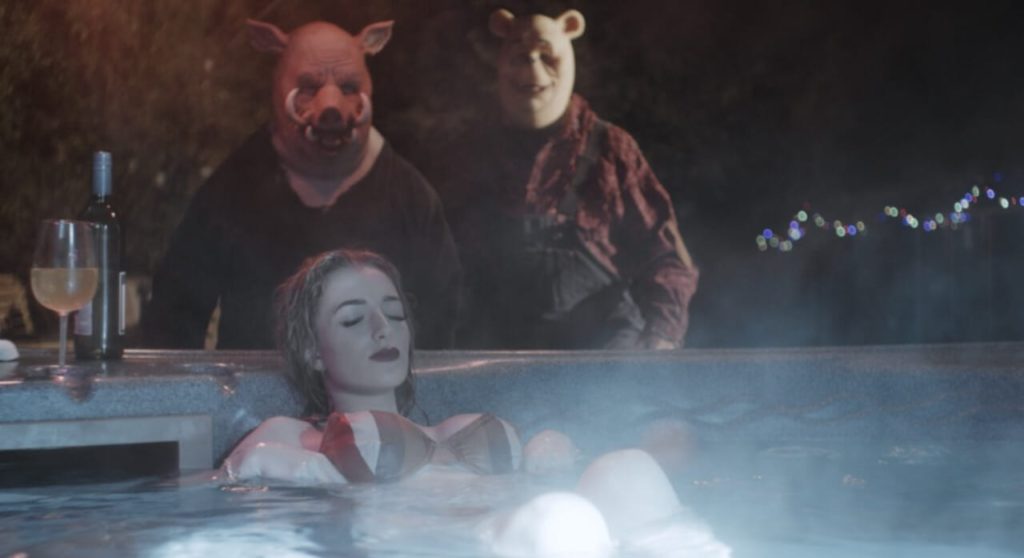 Now that Winnie the Pooh has entered in the public domain, it will be very interesting to see how other studios or companies might try to exploit Milne's characters and stories in the future for various adaptations. Either way, Jagged Edge Productions appears to be off to a bloody start with this project.
So what do you think of this graphic, bloody, and vicious new take on Winnie the Pooh? Is this a fun experiment with these characters after they've entered the public domain? Or is translating beloved children's characters into a violent horror movie a bit too much? Let us know what you think about the topic on our official Twitter account.
SOURCE: Jagged Edge Productions, YouTube
KEEP READING: HOLLYWOOD HORROR NIGHTS 2022 REVEAL ALL-NEW EXPANDED TERROR TRAM