Critical Role continues to grow not only with new programming and expansion of story through comics and books, but collectibles from one of the foremost collectible companies, Sideshow. Critical Role first announced their partnership with Sideshow Collectibles in 2020 with Fjord and Beau statues as well as a Mighty Nein fine art print. Now, the collection has grown to include statues of fan favorite members of Vox Machina, Vex, Vax, Keyleth, and Grog, along with fine art prints featuring characters from all three campaigns.
RELATED: CRITICAL ROLE: MATT MERCER REVEALS OTHER AREAS HE WANTS TO EXPLORE WITH EXU DURING SDCC PANEL
During San Diego Comic Con Sideshow debuted two new limited edition Vox Machina statues, Keyleth and Grog, with incredible detailing. The Grog Strongjaw statue depicts the hilarious barbarian mid battle with a bloodied axe and a torso full of arrows. Critter will also catch nuance character details including Grog's signature skull spaulder, a dwarven belt for strength, and one of the Vestiges of Divergence known as the Titanstone Knuckles.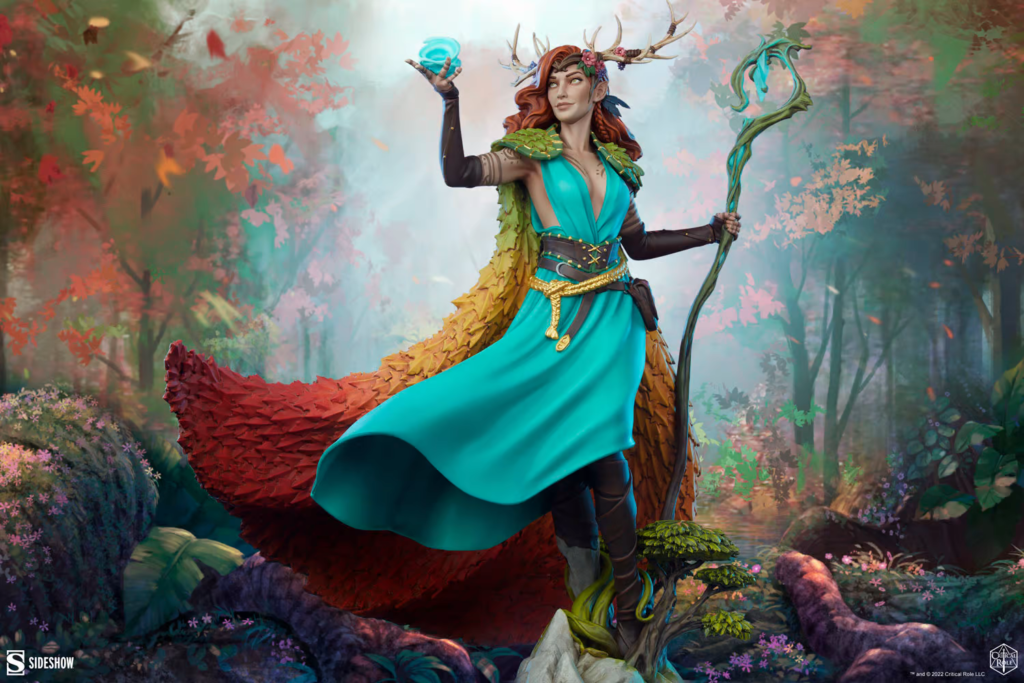 The Keyleth statue portrays the Voice of the Tempest leader of the Air Ashari after completing her Aramenté with her iconic antlers as well as the ancestral Mantel of the Tempest cloak. The detailing of the changing leaves is not the only amazing easter egg that Critters will pick up on with Keyleth wielding the staff-like Vestige of Divergence known as the Spire of Conflux, and with her right hand, she casts elemental air magic.
Sideshow has even brought characters from the current campaigns intrepid heroes, Bells Hells, to life in beautiful fine art prints including a full team portrait and fan favorite automaton Fresh Cut Grass who is played by Sam Riegel.
SIDESHOW COLLECTIBLES ADDS 2 NEW FINE ART PRINTS TO THEIR CRITICAL ROLE COLLECTION
Now, they are adding two more prints that any Critter would be lucky to include to their own collection Fjord Refjorged by Couple of Kooks and Yasha Nydoorin: Champion of the Stormlord by Robson Michel. Fjord Refjorged brings to life Fjord's (played by Travis Willingham) evolution throughout Campaign 2 as he stands between his two patrons Uk'otoa. While Yasha Nydoorin: Champion of the Stormlord shows Yasha, follower of the Stormlord, (played by Ashley Johnson) staring at the storm filled skies while sitting in a field of wildflowers. Both prints embody each character and their journey throughout Critical Role's second Campaign.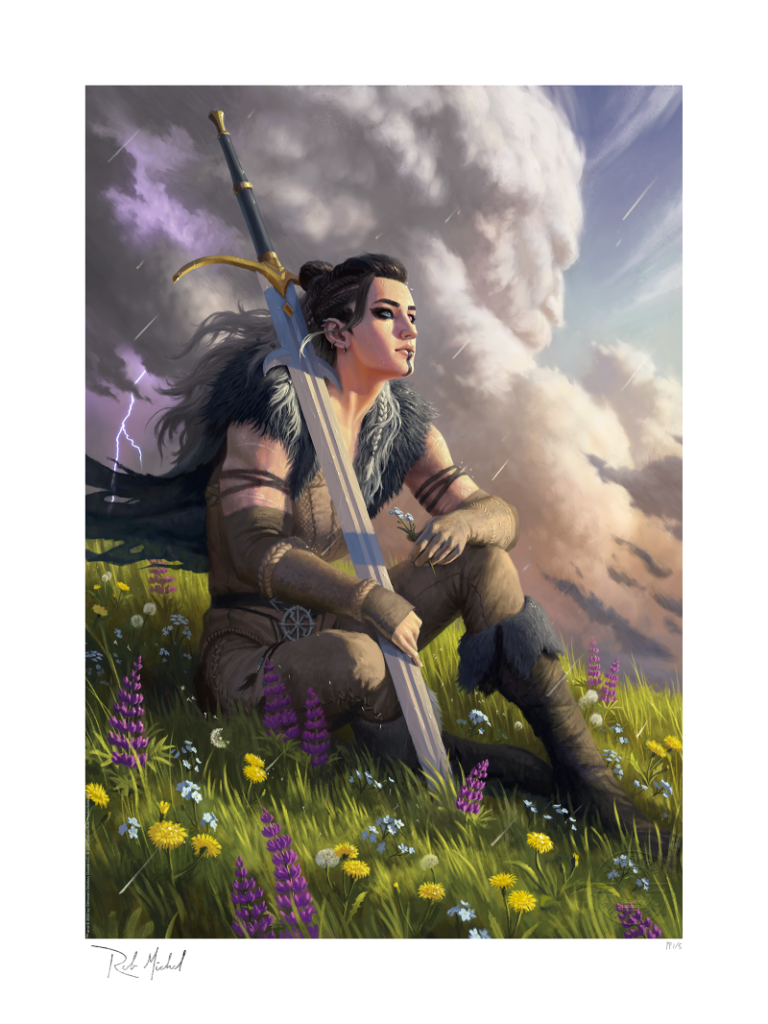 Critical Role continues to grow as the current campaign unfolds, but new programming including multiple EXU mini campaigns, the animated series Legend Of Vox Machina, graphic novels exploring beloved characters from Campaigns 1 ad 2 as well as two novels. Critters are also able to show their love through collectibles from Funko, McFarlane Toys, and Sideshow Collectibles. Sideshow includes collectibles from all three Campaigns with their iconic detailed statues and beautiful fine art prints. With four members of Vox Machina and two of the Mighty Nein available as statue collectibles it's only a matter of time before the other heroes join their ranks.
Critical Role's Sideshow Collection continues to grow with not only limited edition Vox Machina statues, but gorgeous fine art prints featuring members of The Mighty Nein and Bells Hells. Check out Sideshow's full Critical Role collection here. Which new Critical Role collectible is your favorite? Are you going to order any statues or fine art prints? Which character would you like to see as the newest addition to Sideshow collection next? Leave your thoughts in the comments below or on our social media and check back with The Illuminerdi for more Critical Role.
KEEP READING: CRITICAL ROLE COMPOSER MATTHEW CARL EARL REVEALS MATT MERCER EASTER EGG ON THE WELCOME TO TAL'DOREI ALBUM: EXCLUSIVE INTERVIEW