The Elite [The Young Bucks and Kenny Omega] give their side of the fight and how Tony Khan has decided to address the situation so far.
2022 has without a doubt been the most interesting year of wrestling maybe ever. Vince gets in trouble, Vince retires, Triple H takes over WWE and Triple H brings people back.  WWE is doing really good after overcoming the Vince stuff and WWE's future looks bright.  
However, AEW is the complete opposite.  A lot of wrestlers are unhappy with their position and now there have been two backstage fights.  In case you've been living off the grid all week CM Punk and Ace Steel got into a fight with The Elite after Punk trashed them during the post-AEW All Out media scrum.  Someone close to Punk alleged the Young Bucks broke down Punk's locker room door and it turned into a fight right away.  They claim The Young Bucks were the aggressors.
Elite's Side Of The Story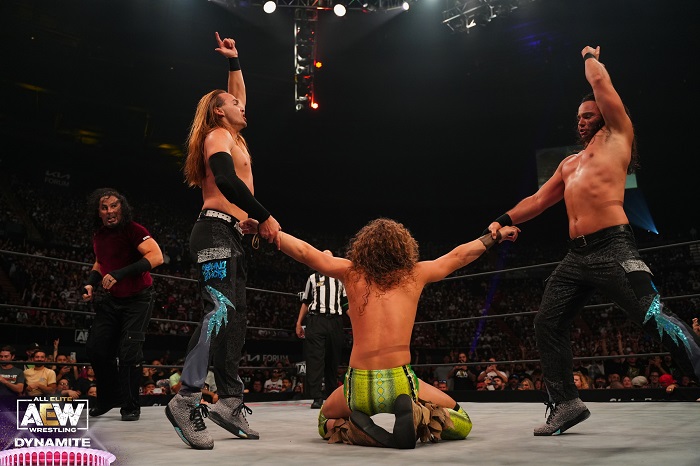 However, we now know The Elite's side of the story due to sources close to The Elite and Wrestling Inc. The Young Bucks and Omega approached Punk's locker room to talk to him about his comments and address his issues. They opened the door and did not kick the door open. Matt Jackson attempted to start the conversation, but before he could even speak Punk allegedly "had went off and started throwing sucker punches at Matt's head." Nick got involved, but we don't know if that means he tried to break them up or if he started throwing punches. Nick's involvement led Ace Steel to get involved and allegedly threw a chair at Nick and gave Nick a black eye.
RELATED: CHRIS JERICHO'S STATEMENT AT AEW'S MANDATORY MEETING AND CM PUNK'S CONTROVERSIAL TIRADE REVEALED
Omega was in the background trying to move Punk's dog, Larry, out of the situation because he was "barking and going nuts." The presumption is he handed the dog off to Steel's wife who was allegedly in the locker room. He then tried to pull Steel off one of the Young Bucks and Steel bit Omega and pulled his hair.
The fight was alleged to last six minutes with both sides shouting and Punk threatening legal action.
Tony Khan Responds And Suspends Everyone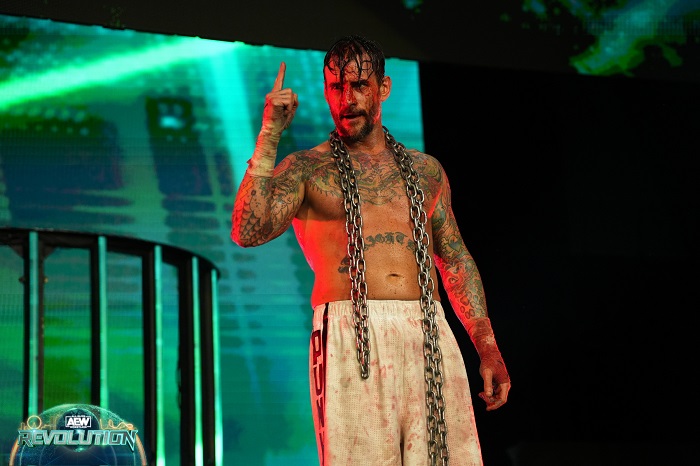 Khan initially handed out suspensions to all five individuals, but then additionally suspended Michael Nakazawa, Brandon Culter, Christopher Daniels and Pat Buck who were alleged to be trying to break everyone up. Surprisingly enough there has been no word if Punk's dog Larry was suspended as well.
RELATED: TONY KHAN EXPLAINS WHY HE THINKS TRIPLE H TAKING OVER WWE IS GOOD FOR AEW
To make the situation even more complicated was the fact that The Elite was recently crowned the inaugural AEW World Trios champions and Punk beat Moxley for the AEW World Championship earlier in the night at All Out.
Khan prerecorded a statement which aired during AEW Dynamite addressing the fight vaguely and directly addressing the title situation. He decided to vacate the championships rather than have an interim champion.
Vacated Titles And New Champions
The Trios Championship match was held on Dynamite to crown new champions with The Best Friends and Orange Cassidy facing Death Triangle. A bracket tournament will be held to crown a new AEW World champion with the first round being held last night on Dynamite and on this week's AEW Rampage. The potential new champions include big names and former AEW World Champions. The list of names include Bryan Danielson, "Hangman" Adam Page, Chris Jericho, Jon Moxley, Sammy Guevara and Darby Allin.
Many are calling for The Elite to be stripped of their executive vice president titles for unprofessional conduct and Punk to be fired. I think it is already a foregone conclusion that Steel will be fired because it isn't even clear if he works for AEW. This is all of course if this isn't a big work on everyone, but as time goes on it seems less and less likely.
This could potentially cause The Elite to leave AEW if they feel like Punk wasn't punished enough or that Khan sided with Punk.  Cody Rhodes was also an AEW EVP and he had a huge involvement in building AEW, but he is in WWE now.  An EVP leaving is not unheard of.  The idea of The Young Bucks wrestling in WWE is so exciting but not as exciting as the idea of Omega leaving for WWE.  However, I think they would be much more likely to go back to NJPW.
Do you think this fight really happened or is it just setting up an The Elite vs. Punk and FTR match? Did Khan address the situation correctly by stripping titles and handing out suspensions? Do you think Punk should be fired? Should The Elite be fired, stripped of the EVP title or just the suspension? If no one gets fired do you think this will lead to anyone leaving AEW and who? Leave a comment and let us know if you think AEW will suffer drastically if Punk and/or The Elite leave AEW.
KEEP READING: THUNDER ROSA TALKS ABOUT DEALING WITH INJURIES AND THE GUILT ASSOCIATED
Sources: Wrestling Inc., Khan's prerecorded statement