Walt Disney Animation Studios is coming up on 100 years of amazing animation and storytelling and with 60 acclaimed films under their belt they are not slowing down. In November audiences will have the chance see Disney's new animated movie, Strange World, which will explore a completely new environment full of unique and mysterious creatures.
Strange World is an action packed adventure that follows the Clades, a family of explorers, as they traverse a strange and dangerous new landscape full of mystery that has never been mapped before. The team behind Strange World created a whole new world full of creatures that are wholly original from the very ground that the characters walk on, to the vegetation, and everything that inhabits it. This proved not only to be a truly unique and impressive feat, but absolutely gorgeous as well.
The Illuminerdi had the opportunity to attend a press junket for Strange World at Walt Disney Animation Studios where we were shown exciting footage of Strange World and participate in a Q&A with Director Don Hall, Co-Director and Writer Qui Nguyen, and Producer Roy Conli. The minds behind Strange World talked about what inspired this new original world, the family dynamics in the movie and how they tie to the idea of legacy, and what classic movies were key inspiration for Strange World.
STRANGE WORLD CREATORS REVEAL THE INSPIRATION FOR AND FAMILY DYNAMICS IN THE NEW MOVIE
Qui Nguyen explained how director Don Hall first pitched the idea for this movie to him including the interesting classics that they drew from for inspiration.
"When Don first pitched this movie to me he very clearly because he has, this obvious, this huge love for action adventure films. He did Big Hero Six, he's done Raya And The Last Dragon, and now with this, it was his opportunity to go into the pulp story. And I was like, Oh, great, we're gonna do an Indiana Jones film. But he was like, yes, Indiana Jones and King Kong, but with the characters of National Lampoon's Vacation.

And that was really what kind of made me lean in and go, I have to be involved in this. Because right away you know where your adventure is going to come from, you know what that that thing that's going to make kids chew on their popcorn and be at the edge of the seats.

But you also know that there's gonna be a lot of heart, it's about family, and you know where your humor is going to come from. The entertainment of it all, that will bring you back to the film over and over again, to watch it with your kids or with your dad, in this instance, because it's our love letter to our kids as both fathers and sons."

Producer Roy Conli added, "And where the heart is, because I gotta say that family is the delightful. I love that family. They're all working through their things, and they all come together."
Indiana Jones, King Kong, and National Lampoon's Vacation is an eclectic mix of fun movies to pull from for a Disney Animated Studios project. It will be exciting to see how these different movies influenced Strange World especially the adventure and family aspects. Although the environment that they have created for Strange World is unique and dynamic it should come as no surprise that the Clade family is the true heart of the movie.
RELATED: ANDOR REVIEW: A NEW DARK IMMERSIVE EXPERIENCE FOR STAR WARS FANS
Director Don Hall talked about the family dynamic, which they had figured out early on. During the Q&A they primarily talked about the relationship between the three generations of Clade men in the film Jaeger, his son Searcher, and Searcher's son Ethan. The idea of legacy and expectations being placed upon the son by the father. The layers of these relationships are primed to be extremely interesting to explore in the new movie especially as the family learns more about each other and themselves.
"So I think a lot of the relationship dynamics were sort of in place. So for instance, you know, Jaeger, being the world famous explorer, the sort of Michael Jordan of exploration bigger than life character, and then Searcher sort of living in the shadow of that and almost living his adult life, in contrast to that, like a lot of us, I'm never going to be like my dad, and then cut to you're exactly like your dad, that is, there's a truth to that.

So that dynamic was very early on. And then the idea of Ethan growing up with expectations put on him by Searcher not mandated, like Searcher is a very different character, but those expectations are still there. And even starting to feel, you know, "I don't know if this is my path." And again, that was based on my own life, my dad is a farmer and I was training to do that as well, follow in his footsteps. But obviously, it wasn't my path. And so that conversation had to come. Obviously, it wasn't as dramatic and dramatized, like we're doing in a film, but that was a moment in my life that I can draw upon."
RELATED: AVATAR CREATOR JAMES CAMERON EXPLAINS WHY THE 3D MOVIE CONTINUES TO BE A GRIPPING CINEMATIC EXPERIENCE
The idea of sons needing to find their own path outside their father's shadow is not a new one, but it is something that should be thrilling to explore in Strange World especially as the Clade family traverses a mysterious and at time terrifying new world. How Jaeger, Searcher, and Ethan will push and pull against these expectations should be especially compelling with the different generations dealing with the legendary name of "Clade."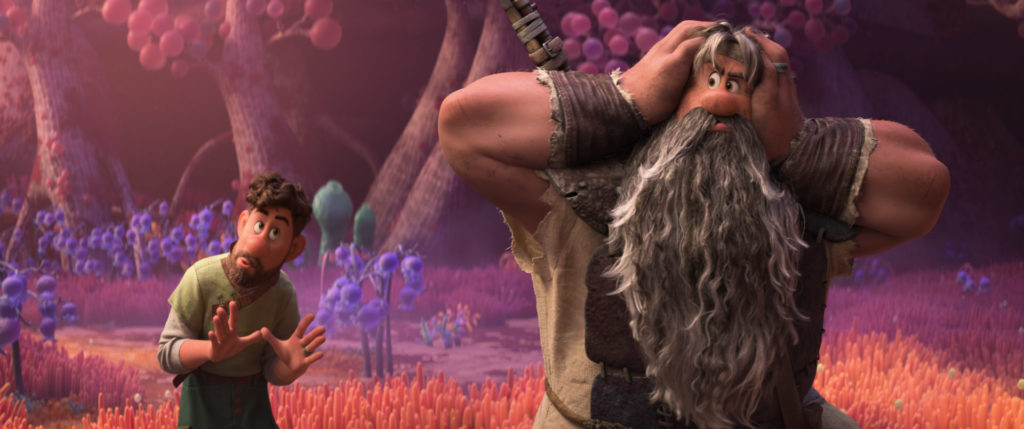 Strange World Producer Roy Conli also added that while the adventure, sci-fi, fantasy aspects of not only Strange World, but all of Director Don Hall's Disney Animation projects is thrilling it is the thematic heart that really pulls him in. And with Strange World that heart is family and legacy.
"I also think that John, while he plays in this playground, finds a thematic in each of these that I think is very deep, and very meaningful and independent. In this piece it's about legacy and what we what we pass on to others. And it's an incredibly moving piece, as well as being an incredibly exciting and that's what I love about it. I just love the whole thematic."
Strange World is primed to be a truly thrilling new adventure leaning into the pulp adventure of classics like Indiana Jones, King Kong, and Journey To The Center Of The Earth while also playing with family dynamics and legacy through generations. The animation is absolutely stunning and the performances in the clips we were shown was hilarious and heartfelt. Walt Disney Animation Studio had proven themselves to be truly outstanding storyteller and creators in the nearly hundred years they have existed and Strange World will continue to live up to Disney's impressive name.
Strange World is scheduled to hit theaters November 23, 2022. Are you going to see Strange World when it hits theaters? Are you excited to see the newly created world featured in the movie? What do you think about the classic films that inspired this new Disney Animated movie? Leave your thoughts in the comments below or on our social media and check back with The Illuminerdi for more Walt Disney Animation and Strange World.
KEEP READING: WALT DISNEY ANIMATION STUDIOS' "STRANGE WORLD" FOOTAGE DEBUTED AT ANNECY ANIMATION FESTIVAL & CAST ANNOUNCED