Hocus Pocus 2 lacks the horror of its predecessor in exchange for goofier humor and unengaging protagonists. While it's not the worst belated sequel out there, I believe we were better off leaving this series as a one-and-done.  The three leads charm whenever they're onscreen, but
The original Hocus Pocus is a cult classic. Originally conceived as a Disney Channel Original Movie, the film was deemed worthy of theatrical release when stars Bette Midler, Sarah Jessica Parker, and Kathy Najimy joined the project, only for it to underperform there.  Ironically, years of television airings and physical media releases saw it grow a healthy cult fanbase that has clamored for a sequel, now being released on Disney Plus. 
RELATED: HOCUS POCUS 2 NEW EXCITING STORY DETAILS: EXCLUSIVE
In modern-day Salem, Mass, teens Becca (Whitney Peak) and Izzy (Belissa Escobedo) plan to go about their yearly Halloween ritual: Going out deep into the woods to perform fake magic spells.  After picking up a fake Black Flame Candle from shopkeeper Gilbert (Sam Richardson), the 2 go to the woods, start the ritual, and discover the fake Candle is real, conjuring up the long-dead Sanderson Sisters: Winifred (Bette Midler), Sarah (Sarah Jessica Parker) and Mary (Kathy Najimy).  With only one night to cause havoc, the 3 sisters set about the town seeking Winnifred's magic book that will give them ultimate power and allow them to live forever.
Hocus Pocus 2 Lacked Some Focus
Hocus Pocus 2 recaptures the tone of its predecessor for about 15 minutes at the start before taking a turn for the goofy.  As childish as the original film is, it still took the Sanderson sisters as a genuine threat when they needed to be. 
The few moments that are played for scares are effective (including the scene where they come back to life), so it's baffling they didn't include more of them.  As well, the film's 3rd act goes in such a bizarre direction with the characters that I had to wonder if I was still watching the same film.  To her credit, all three of the actors sell this development, but as a longtime fan, my mouth was hanging open.
Despite all of that, Hocus Pocus 2's biggest magic trick is the commitment of its 3 leads.  Bette Midler has stated for years that Winifred Sanderson was her favorite role and lobbied for a sequel right along with the fans.  Once she, Parker, and Najimy enter the picture, their enthusiasm for these characters is immediately apparent and they elevate the material.  Their group dynamic and chemistry are still solid after all these years and their reactions to the modern world yield most of the film's biggest laughs.
RELATED:  HOCUS POCUS 2 OFFICIALLY ANNOUNCED BY DISNEY
I wish the film used more of this fish-out-of-water humor, but what's there kept me laughing and engaged enough with what was happening whenever they were onscreen.  The film also includes plenty of callbacks to iconic lines, jokes, and moments from the original which should leave adult fans smiling, but if this is somehow your introduction to the series and you're not a child, you'll be left scratching your head over much of this.  The film is clearly trying the strike that sweet spot of hitting the nostalgia my generation has for the original while also entertaining the kids of today, but for me, it never fully cast that spell.
The new teen heroes of the film can be best described as serviceable but bland.  There's a subplot about one of the teens (played by Lilia Buckingham) having a new peer group and that causes friction between the trio, but it doesn't get enough development to resonate at the end. 
The actors all do fine, but stronger characterization would have been appreciated.  As is, their primary purpose is to give reaction shots of the witches' buffoonery, often feeling like secondary characters whilst the Sandersons are the main events.  That said, if you're a fan coming just to see Midler and Co. have fun, it's worth seeing at least once.  If you're not a fan already, this will do little to change your opinion. 
RELATED: DISNEY INVESTOR DAY REVEALS NEW FILMS AND SERIES AND THE RETURN OF OLD FAVORITES
Hocus Pocus 2 is fine for fans, but after nearly 30 years of waiting, this one thinks the book should be closed on this particular franchise.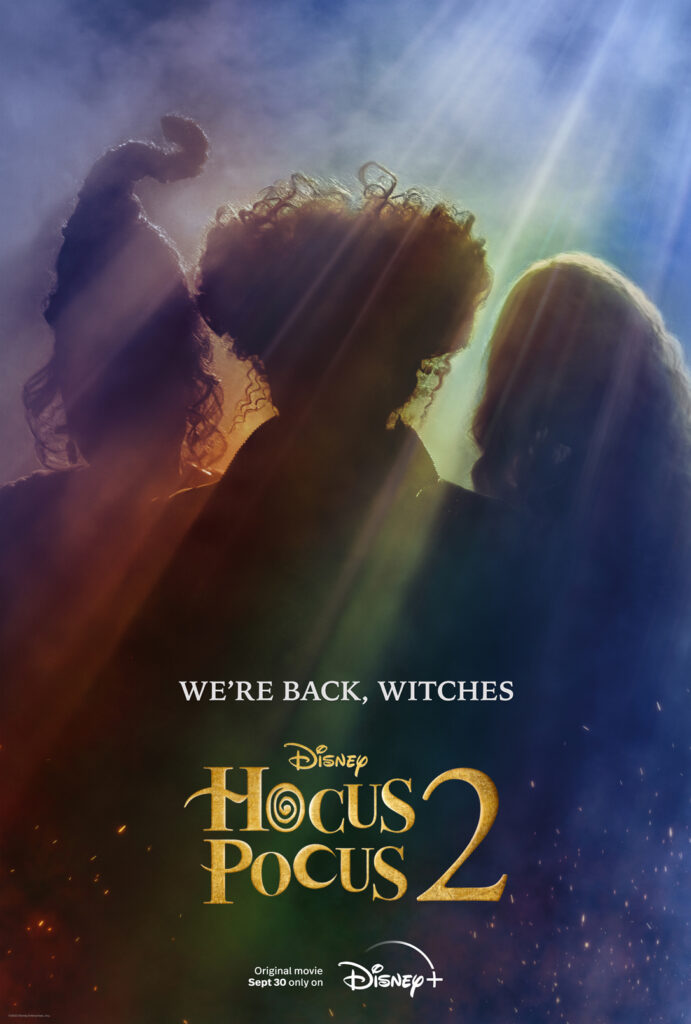 2.5 out of 5 stars (decent)
Would be watching Hocus Pocus 2 when it arrives on Disney Plus on Friday, September 30th? Would you rather just rewatch the first one? Let us know in the comments. If you like to see more bewitching content like this, be sure to follow us on Twitter, we're always watching.
KEEP READING: DEADPOOL 3: HUGH JACKMAN AND RYAN REYNOLDS EXPLAIN EXACTLY HOW WOLVERINE WILL MAKE HIS BIG MCU RETURN!