Hocus Pocus 2 drops today on Disney+ and it is long over due.
One of the things that stole fans hearts almost 30 years ago, is the bewitching Sanderson Sisters. Coming back to play the roles they originated is Bette Midler (Winifred), Sarah Jessica Parker (Sarah), and Kathy Najimy (Mary). But this time around these three sisters aren't the only coven to keep an eye on. In Hocus Pocus 2, we are introduced to three new women characters that face off against our favorite trio.
Meet The New Sisters of Hocus Pocus 2
Whitney Peak plays Becca who just wants to celebrate her birthday with her best friends, Izzy (Belissa Escobedo) and Cassie (Lilia Buckingham). These three show another side to sisterhood and the fact that sometimes our sisters are more about the people we choose to be around. Compared to the Sanderson Sisters who are connected by blood. Both groups are powerful, it just shows that sisterhood as a whole can come in a variety of forms.
But it isn't just the idea of sisterhood that makes these new characters stand out in Hocus Pocus 2. It's the fact that while they can be parallel's to the older witches, they thrive on an individual level that allows viewers someone to connect with. In a recent press conference with the cast, Whitney, Belissa, and Lilia were asked what they hoped fans would resonate with and what they were most proud of bringing them to life.
RELATED: DEADPOOL 3 FEATURING WOLVERINE MEANS A VIOLENT REMATCH 15 YEARS IN THE MAKING IS ON THE WAY 
Lilia was first to begin, touching on her role and the huge impact it has on the group dynamic. One of the huge plot points of the movie is the fact that these three besties are currently in a middle of a falling out. Lilia stated, "… every teen knows what it's like to kind of go through a rough patch with your friends, and to have your first boyfriend/girlfriend.." Continuing with, "And I think she is a very good example of kind of just miss stepping and not being able to figure it out until she communicates with her best friends."
She continued to talk about how relatable that is, and we couldn't agree more. While this plot takes a backseat to keeping Salem safe from the Sanderson Sisters, it's a plot point that hits hard because of the fact it is extremely relatable. Especially when you think of the demographic that this movie is geared to.
Another important factor that Whitney touched on is the idea of putting their differences aside to face the bigger issue. But not only that, to focus on what is most important at the end of the day. She stated, "..reuniting and just kind of putting their differences aside and the distractions of whatever happens and just, you know, making sure that she has her sisters behind her the entire time."
RELATED: SPIRIT HALLOWEEN: THE MOVIE: A TWEEN-FRIENDLY SPOOKFEST
And it's that line that is so important. Because again, Hocus Pocus 2 really does a great job on shinning a light on the diversity of what makes up a sisterhood.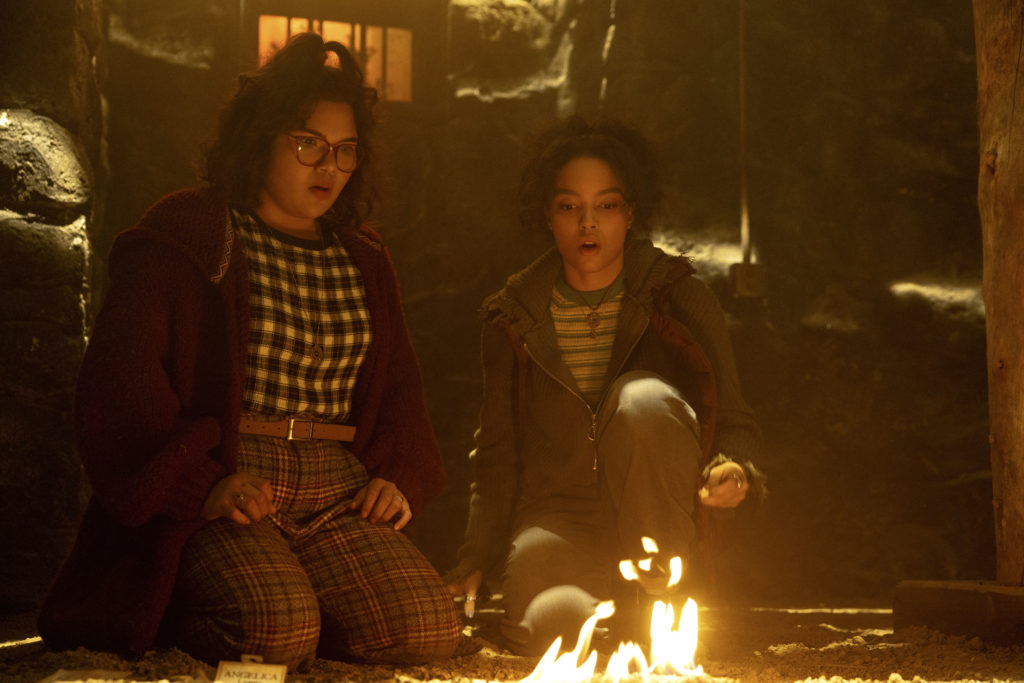 Lastly, Belissa spoke up about her character Izzy and the blind loyalty she has for the girls. It's this loyalty that leads me to think she will become a fan favorite. Not only does she have some of the best lines in the movie, but she stated it best when she said, "…will do anything for them, no questions asked, totally would go against three evil witches like for you." And that is someone every coven, sisterhood, and friend group needs.
RELATED: DEADPOOL 3: HUGH JACKMAN AND RYAN REYNOLDS EXPLAIN EXACTLY HOW WOLVERINE WILL MAKE HIS BIG MCU RETURN!
Hocus Pocus 2 does a great job at setting the scene for the passing of the baton between our classic Sanderson Sisters and this new coven of friends. So much so, that I could see a series spinoff that focus more on the friendship as they start to dive deeper into the world of magic and all the things it means to be part of a sisterhood.
Check out Hocus Pocus 2 when it debuts today on Disney+. What did you think of the sequel? Let us know over on our social media!
KEEP READING: HOCUS POCUS 2 REVIEW:  SILLY SEQUEL LACKS THE HORROR OF ITS PREDECESSOR, BUT SHOULD ENTERTAIN FANS