Matt Hardy explains why Chris Jericho is so important to AEW and compares him to Hulk Hogan in WCW.
Hardy has worked with some of the best wrestlers in the world which includes top talents in WWF/WWE, TNA/IMPACT and AEW. His high level wrestling career dates back to 1998 when he and his brother, Jeff, began wrestling as The Hardy Boyz in WWF. In that time he has done pretty much everything in pro wrestling and seen it all.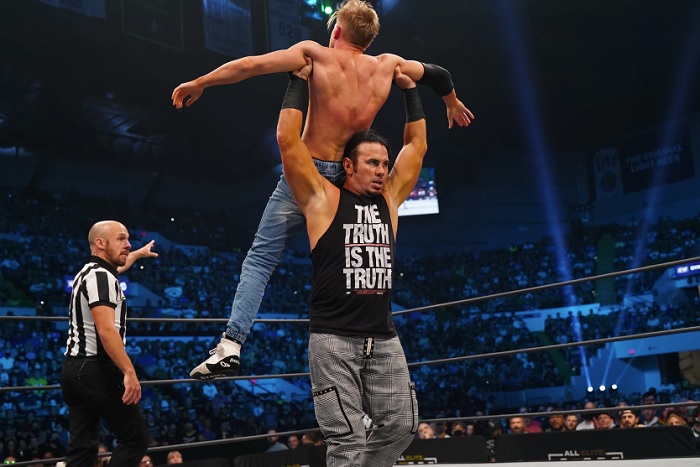 Talent Recognizes Talent
With Hardy's wealth of experience he can recognize when someone brings a lot to a promotion and their importance.  This is exactly what he did on a recent episode of his podcast, The Extreme Life of Matt Hardy, when discussing Jericho. The news of Jericho's contract extension until 2025 and being given a producer and creative advisor role was recently released.
RELATED: MATT HARDY THINKS THIS AEW STAR IS "ONE OF THE GREATEST PRO WRESTLERS OF ALL TIME"
"I just think Chris Jericho is so multi-talented and he understands how to do sports entertainment," Matt Hardy said. "He understands how to do wrestling. He understands character work, if your a Danhausen type, how to portray that and optimize it and get the most out of it. He understands if you're a very serious wrestler like Bryan Danielson, he realizes how to get the most out of that.

That's something I think is hugely beneficial because you have a lot of guys that are great wrestling minds, but they only did one gig. I feel like when you've done so many different gigs and you've been serious, you've been able to create drama, you've been able to create comedy, you've been able to draw money, and you know what you have to do to make something work, I feel like Chris is the epitome of that."

H/T To Wrestlingnews.co For Transcription (1:14:19-1:15:04)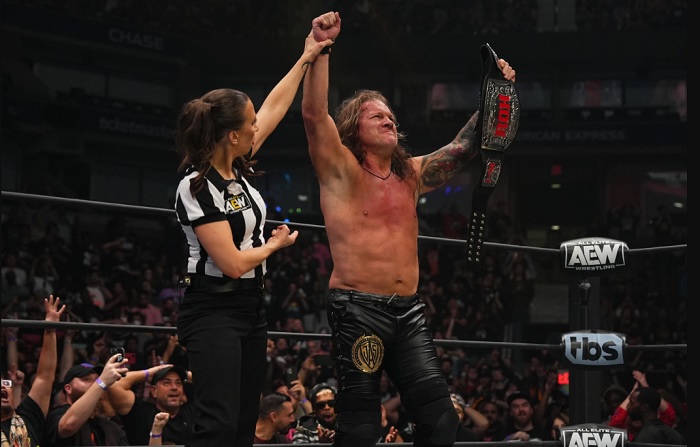 Jericho's Immense Wealth Of Experience
Jericho is like Hardy as far as being in a lot of big promotions and being very successful in each. Jericho was part of WCW and even though he wasn't in the top tier he was very popular and had amazing matches. He even had a feud with Goldberg and there was no one hotter than Goldberg during that time.
Jericho's career really took off in WWF/WWE. He was there from 1999 to 2018. While there he won every title available in the promotion.
RELATED: AEW STAR JADE CARGILL REVEALS WHO HER BIG MENTORS ARE BACKSTAGE
In 2018 Jericho decided to leave WWE and wrestled for NJPW and eventually an upstart promotion being put together by Cody Rhodes and friend Kenny Omega called AEW in 2019.
Matt Hardy went on to explain how important Jericho was early on to AEW's success. He even compared him to the legendary Hulk Hogan when he joined WCW.
"Chris Jericho is the same as Hulk Hogan was whenever WCW got hot. I mean, he was the guy the people know, probably the biggest household name they could get their hands on and just super beneficial. I mean, Chris Jericho goes down in the conversation as one of the GOATs without a doubt. I mean, he's one of my close, dearest friends as well. You know, he is just so amazing, and the fact he's been able to keep himself in that top position for so long is a credit to how talented he is." (1:15:13-1:15:48)
Two Big Names Vastly Elevating Promotions
Early on Jericho was the only name casual fans would know in AEW. Dustin Rhodes aka Goldust was in AEW at the time, but couldn't go by the Goldust name. Having a big name in the new promotion made people more likely to watch the new promotion because they could watch someone they know wrestle people they didn't know yet.
Hogan joined WCW in 1994 after leaving WWF late 1993. Hogan wrestled some of and feuded with some of the big names in WCW including Ric Flair, Vader, Lex Luger and Big Bubba Rogers aka Big Boss Man,
However, Hogan's biggest impact to WCW was he was introduced as the third man and joined Scott Hall and Kevin Nash, forming the nWo. The nWo began the biggest thing in wrestling and brought a lot of eyes to WCW and the group is still emulated today in all cool heel factions. The Monday Night Wars between WWF and WCW would not have been a thing if Hogan didn't join WCW and more importantly nWo because of the huge name Hogan was.
I can't think of a better person to be an advisor for young and experienced talent alike. It has already been reported that Jericho had already taken on the role unofficially after the CM Punk brawl.
What do you think of Jericho taking on this role? Is there anyone else in AEW who you think has the experience and respect to take on the role? Do you think Jericho should wrestle and take on the role or should he only focus on the backstage role? Do you think comparing Hogan's WCW/nWo impact in the late '90s to Jericho's impact in early AEW is a fair comparison? Leave a comment over on The Illuminerdi Twitter and let us know where Jericho factors in on your personal GOAT list.
KEEP READING: SHOCKING REASON WHY AJ STYLES DECIDED TO LEAVE TNA
Sources: The Extreme Life of Matt Hardy, Wrestlingnews.co, WrestlingHeadlines