One of the spotlight features of this year's Animation Is Film Festival was easily the amazing film, My Father's Dragon.
My Father's Dragon is a new traditionally animated feature from the studio, Cartoon Saloon. Cartoon Saloon has an impeccable background, having worked on such amazing animated features as the Academy Award-nominated The Secret of Kells in 2009, The Breadwinner, and Wolfwalkers.
RELATED: ONE PIECE FILM: RED OFFICIALLY SELECTED FOR A SPECIAL SCREENING AT ANIMATION IS FILM FESTIVAL
It's great to see Cartoon Saloon continue with its impressive track record with My Father's Dragon, and it will have access to a huge global audience when it arrives next month on Netflix. However, the people in attendance at the Animation Is Film Festival could watch this animated masterpiece the way it was meant to be shown on the big screen.
Based on the 1958 children's book of the same name, My Father's Dragon tells the story of young Elmer (Jacob Tremblay). Elmer and his mother are unfortunately forced to uproot from their home after having to shut down their general store and move to the big city. Life in the city is challenging for both of them, and it's a big adjustment for Elmer.
MY FATHER'S DRAGON STEALS THE SHOW AT THE ANIMATION IS FILM FESTIVAL
Eventually, both Elmer and his mother reach their breaking point, leading Elmer to run away. However, he gains a friend in the form of a stray neighborhood cat (Whoopi Goldberg) he kindly fed some milk. The cat informs Elmer that he can gain the help of a mystical dragon on an island far away from the city to possibly help with his money problems.
With the child of the bubbly, kind whale Soda (Judy Greer), Elmer reaches the island currently occupied by the dragon. What the cat neglected to tell Elmer is that Wild Island is home to all manners of creatures, who are both intelligent and can also talk. However, the creatures are holding the dragon, the kindly and gentle Boris (Matarazzo) prisoner. The island is sinking, and Boris' means of flight are the only thing keeping it from submerging into the depths of the ocean forever.
RELATED: ANIMATION IS FILM FESTIVAL REVIEW: WENDELL AND WILD IS A HEARTWARMING ADVENTURE WITH A DARKLY HORRIFIC EDGE
After Elmer frees Boris, the two make a pact. Elmer will help Boris find a better, more permanent means to save the island, which will help Boris evolve into a Great Dragon, and then Boris will help Elmer make money in the city so he can open a new general store for his mother. Unfortunately, Elmer and Boris have no idea how to find a solution to save the island, and the denizens of Wild Island, led by Seiwa (Ian McShane), are hot on their trail to recapture Boris in order to save themselves.
My Father's Dragon is an animated masterpiece and another winner for the artists at Cartoon Saloon and director Twomey, who co-directed The Secret of Kells. This is elevated animation not just from a visual standpoint but also storytelling. Meg LaFauve, the writer of Pixar's Inside Out, did a tremendous job in adapting the story. This is a story that clearly skews to a younger audience from a thematic standpoint, but it never talks down to the audience, which makes the material play incredibly well.
The film feels both whimsical and magical. The way the relationship between Boris and Elmer evolves is fascinating. It symbolizes the film's moral message, of how we all get angry when we're frightened and we can lash out, much like Elmer's mother. This is also seen in the form of Seiwa and Wild Island's animals.
RELATED: 'DUNGEONS AND DRAGONS' DOCUMENTARY IN WORKS FROM HASBRO'S ENTERTAINMENT ONE; JOE MANGANIELLO & KYLE NEWMAN DIRECTING
While Seiwa generally acts as the narrative's chief antagonist, it is not out of cruelty. He is simply trying to save the island the only way he knows how. He merely wants to help protect the island and all who live there. Boris too wants to help, but he doesn't know how. Elmer tries to act like he has all the answers, but even he does not.
The animation and artwork really come to life on screen. The artisans at Cartoon Saloon are experts when it comes to creating riveting traditional animation. The character models and figures all look very distinct. The animals never look too scary, save for maybe the tigers who try to eat Elmer. The animation looks like an illustrated children's book come to life, adding to the film's magical storybook quality.
RELATED: MATTEL AND CRYPTOYS TO LAUNCH MASTERS OF THE UNIVERSE DIGITAL TOY COLLECTION
My Father's Dragon is a wondrous, magical, and heartwarming tale about friendship and how to overcome the fear that causes you to become angry and lash out. It's a wonderful movie that both kids and parents can enjoy together. It features a talented, strong voice cast and amazing animation work by the artists at Cartoon Saloon. This film was easily the highlight of this year's Animation Is Film Festival.
I give My Father's Dragon a 4.5/5.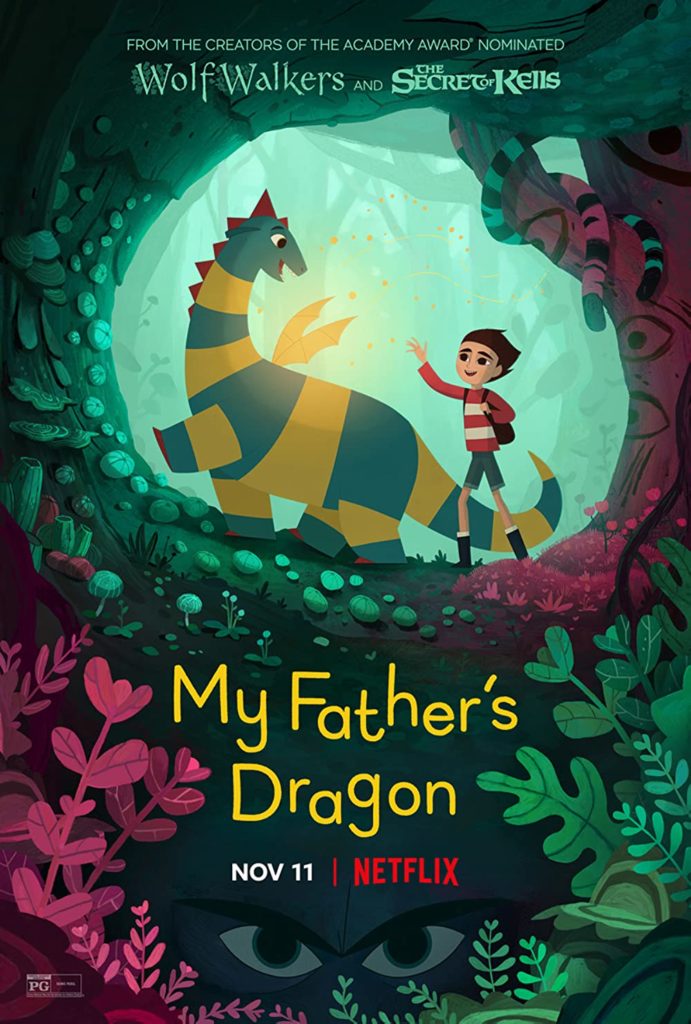 My Father's Dragon debuts on Netflix on November 11, just in time for the holiday season. The film features the voices of Jacob Tremblay as Elmer Elevator, Gaten Matarazzo as Boris, Ian McShane as Saiwa, Chris O'Dowd as Kwan, Judy Greer as Soda, Jackie Earle Haley as Tamir, Leighton Meester as Sasha, Alan Cumming as Cornelius, and an appearance by Whoopi Goldberg.
Are you a fan of the animated features of Cartoon Saloon? Have you ever gotten the chance to see The Secret of Kells, The Breadwinner, or Wolfwalkers? Do you plan on checking out My Father's Dragon when it hits Netflix next month? Let us know in the comments below and share your thoughts on the film with us on Twitter!
KEEP READING: ANIMATION IS FILM FESTIVAL REVIEW: ONE PIECE FILM RED IS A MUSICALLY EPIC, ACTION-PACKED, EMOTIONAL THRILL RIDE