Sasha Banks teases some big news happening this month.
WWE has been missing some things in the women's division or should I say some people. Banks has been missing from WWE since May when she and Naomi dropped their tag titles on the desk of the then-EVP of Talent Relations John Laurinaitis. They walked out on WWE because they were unhappy with their booking.
RELATED: SASHA BANKS AND NAOMI REFUSE TO PERFORM ON RAW
Since then Sasha Banks and Naomi have been to non-wrestling events, but have not talked about their status. Rumors from WWE have been that they are both gone from WWE and removed from the roster and also they are on the roster and coming back soon.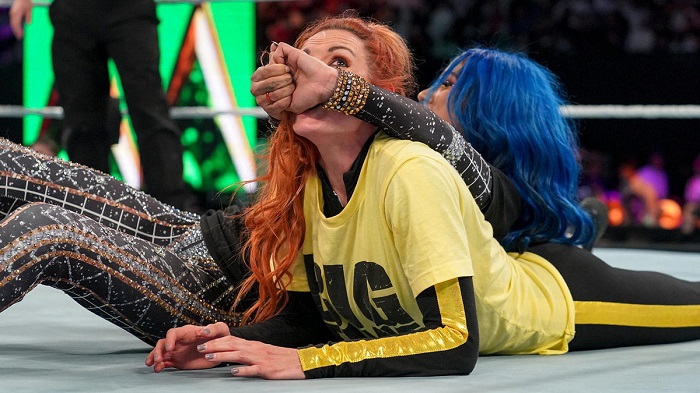 The rumors of Sasha Banks and Naomi's WWE status have been just that, rumors. However, Banks shared a big tease via her Instagram Stories which may indicate a return later this month:
"As time passes, there's been so much growth and there's been so much beautiful opportunity in the journey that I've been loving, but as the time also goes on, the day is coming that I've been waiting for for the past six months, and I can't wait," Sasha Banks said. "I'm really gonna make the most of this November to make all my dreams happen in preparation for this date that I've been waiting for.

I'm very excited and I hope you guys come along for this journey, which I know a lot of you have been with me for so long. So, thank you, but I just wanted to let you know that there's gonna be something so f***ing crazy coming."

H/T Wrestling Inc.
A Giant Sasha Banks Tease, But Towards What?
This post could mean anything. It could be hinting at a possible return to wrestling or that she landed a big acting role. She did have a guest role on The Mandalorian. Perhaps she landed a Marvel movie role.
However, I think this leans more towards a return to wrestling. The rumor was at the time of her walkout that Sasha Banks' WWE contract was set to expire late in the year. November is late in the year. November is also six months from May when the walkout occurred. The big news she is teasing could be her waiting for her contract to expire. It should be said that there were conflicting rumors about whether she was released from WWE in June.
RELATED: LIV MORGAN'S PUSH IS DIRECT RESULT OF TOP WOMEN SUPERSTARS' ABSENCE
However, another possibility is a big WWE PPV occurring later this month. Survivor Series WarGames which will occur Nov. 26. Maybe she is teasing her big WWE return. If Team SmackDown or Team Raw have a mystery last teammate or teammates it is probably Banks and/or Naomi.
WWE May Be Teasing Something As Well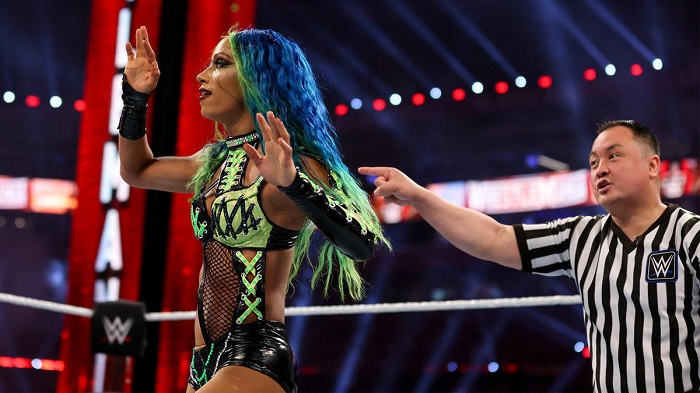 Another possible hint at a possible return of Sasha Banks and Naomi came via WWE. Sean Ross Sapp of Fightful found during the opening of the WWE Then, Now, Forever, Together intro before WWE Crown Jewel, Banks and Naomi can clearly be seen. They were removed from the intro shortly after their walkout. Them being put back into the intro could mean they are coming back or it could mean they are completely done with wrestling and won't wrestle for a rival promotion.
Sasha Banks and Naomi being put back in the intro could also be a simple mistake. Since Crown Jewel was in Saudi Arabia the WWE could be half-staffed or the secondary crew was used and they accidentally used the old intro file. We will have to see if we can see them on intro for tonight's Raw.
With Triple H taking over WWE, returns have been a constant thing with Emma recently returning to SmackDown. Also in 2022 when rumors have circulated about a possible return they have all come true so far. Some examples are Cody Rhodes, Bray Wyatt, Braun Strowman and Johnny Gargano. Banks and Naomi could just be another example of that.
What do you think Sasha Banks is teasing? Is it more likely that she is teasing a WWE return or her debuting in a rival promotion? Do you think Banks and Naomi will return together or would it be better if they return separately? Is their return to the opening intro a tease or a mistake? Leave a comment over on social media and let us know if you would like to see them challenge for the tag titles or singles titles.
KEEP READING: SHAWN SPEARS GIVES AN UPDATE ON IF TYLER BREEZE WILL EVER RETURN TO THE BIG RING
Sources: Wrestling Inc., Instagram Stories, Sean Ross Sapp of Fightful, Wrestling Inc.