There's no denying that Edward Berger's All Quiet on the Western Front is a technical marvel. James Friend's immaculate cinematography will likely pick up an Oscar nomination, as he composes every frame with immense attention to detail and never lets the camera away from Paul Bäumer's (played by Felix Kammerer) point of view as he endures the harsh reality of trench warfare after idealizing what being a soldier would be like with his friends.
All Quiet on the Western Front has Booming Action Scenes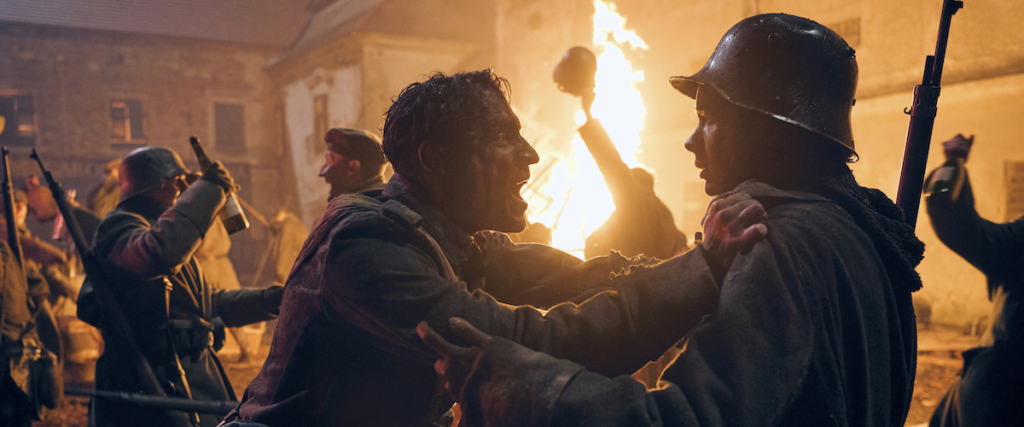 The action sequences are raw and wrought with immense emotional power—many of its main characters get killed in ultra-violent ways, showing how brutal the so-called "War to End All Wars" indeed was. Some critics may compare the photography to Roger Deakins' work in Sam Mendes' 1917. However, Friend has the upper advantage, because he composes with emotion first, instead of its artistry. 1917 was more like an elongated video game level, instead of a movie with real emotional stakes.
There are many sequences in which the cinematography gives the total weight of the scene's emotion, and perfectly marries the acting on display, including one near All Quiet on the Western Front's end that may be the year's most tragic shot. 
RELATED: Watch The Chaos Unravel in New Glass Onion: A Knives Out Mystery Full Trailer
These sequences aren't meant to be seen at home. If you can see it in a cinema near you, you shouldn't hesitate. Berger's All Quiet on the Western Front is meant to immerse you into what the soldiers faced in the trenches, with massive aplomb. Every action sequence has legitimate emotional stakes in them, because of how the camera moves within the frame, and with the characters, in a way that doesn't feel like a video game. A film like this demands to be seen on the big screen, to soak up its harsh emotions, unflinching action, and great performances. Albrecht Schuch, who plays Paul's friend, Kat, is the movie's highlight. 
Great Performances, but the Characters Lack Depth
Without Kat at the center of Paul's friendships during the war, the movie wouldn't have been as effective as it was. Schuch gives an impassioned performance that's poised to get some awards recognition, and the chemistry he has with Paul is the undeniable highlight of All Quiet on the Western Front. But it's a shame that Kammerer is nowhere near as impactful as Paul compared to Schuch's performance as Kat. The final shot involving their friendship is an absolute punch to the gut and one that will stay with me for a long time, solely because of Schuch's acting skills which are far more refined than that of Kammerer. 
RELATED: Gears of War: New Live-Action Film Coming To Netflix!
Aside from a terrific performance and refined visual language, the movie quickly loses steam every time it focuses on German official Matthias Ezberger (Daniel Brühl) trying to achieve an armistice with General Ferdinand Foch (Thibault de Montalembert). These sequences are overlong and languishing, and add nothing to the actual plot of the movie, which focuses on Paul's time in the trenches. It would've been far more effective had it cut every scene involving Ezberger and mentioned the armistice in passing. Had that been the case, the final scene would've been more emotionally poignant.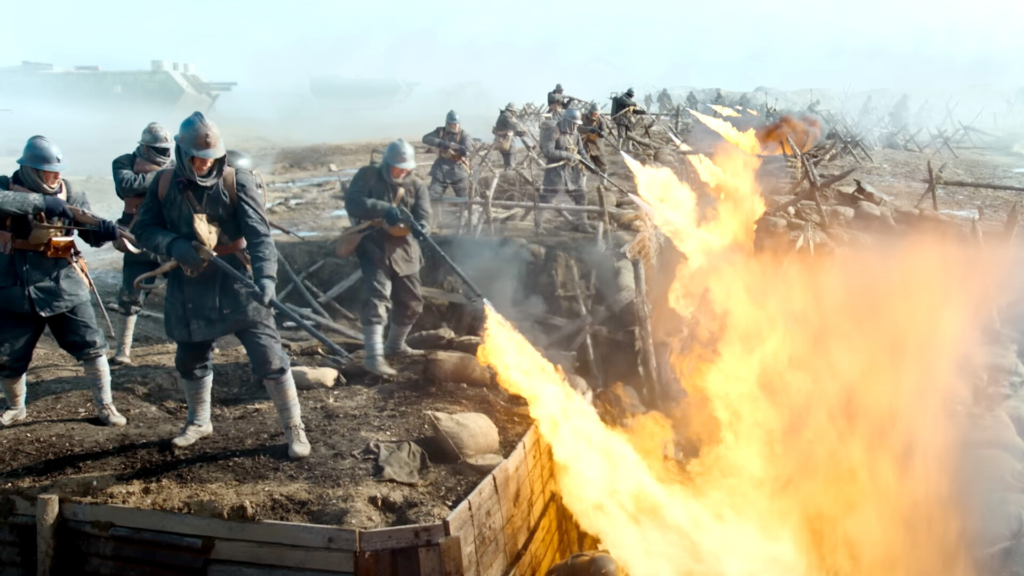 RELATED: Blockbuster Review – It is the Perfect Time for a Blockbuster Night… On Netflix
However, All Quiet on the Western Front doesn't have the same emotional poignancy as Erich Maria Remarque's book and Lewis Milestone's 1932 film of the same name. Its visual palette is far more refined than the 1932 film, sure, but lacks the emotions that made Milestone's Academy Award-winning production so powerful. One leaves Berger's All Quiet on the Western Front empty, having looked at staggering images and immaculately-crafted setpieces, with little to no emotional gravitas to support them. If you want to watch a Netflix film with beautiful imagery and emotional power, Romain Gavras' Athena is right there. 
Score: 3/5
All Quiet on the Western Front is now available to stream on Netflix.
What did you think of the movie? Which adaptation of the book was better? Let us know your thoughts over on our social media!
KEEP READING: Black Panther: Wakanda Forever Review – A Powerful Emotional Epic That Reignites Classic Marvel Fire With a New Flame