Wednesday debuts the mesmerizing featurette "Welcome to Nevermore" featurette.
In just 12 days, the series premiere of Tim Burton's Addams Family project, Wednesday is set to premiere on Netflix! The streaming giant's upcoming original series will focus on the eldest of the Addams children attending the Nevermore Academy Boarding School, The school which all of the Addams have attended. Jenna Ortega stars as the titular character and will be the focus of the series set in a boarding school created for uniquely talented individuals like herself. Learn more about the inspiration and thought behind the Nevermore Academy in the recently released featurette below.
Wednesday "Welcome to Nevermore" Featurette
RELATED: The Witcher Blood Origins: Check Out The Violent New Fantasy Spinoff Trailer Now!
The Nevermore Academy is new to the Addams Family franchise and specifically concocted for this series. In the numerous incarnations of the Addams Family, they are generally the outsiders. However, this time around they are going to be right at home surrounded by students, families, and faculty who seem to share similar values. So instead of standing out because of their uniqueness, they stand out because they excelled. It is an incredibly fresh take on the franchise that, from the trailers and previews, looks to be compelling television. Plus stellar casting across the board, Netflix could have a new hit franchise on their hands.
Tim Burton Makes The Addams Normal and It' Looks Exceptional's The Weirdest Thing He's Ever Done
RELATED: Gears of War: New Live-Action Film Coming To Netflix!
Tim Burton is renowned for his work in the strange and out there work, so the Addams Family always seemed like a natural fit for the famed storyteller. And as expected, he is doing the unexpected, by fully embracing the unique and out-there nature of the Addams, and placing them in a community of equally out-there people, essentially making them normal, This is easily the most out-there project Tim Burton has done in recent, and all, memory and anticipation is at an all-time high. Burton is essentially being weirder than ever by making weird normal. It's absolutely brilliant.
Tim Burton's Wednesday, starring Jenna Ortega, premieres exclusively on Netflix on Wednesday, November 23, 2022.
About Wednesday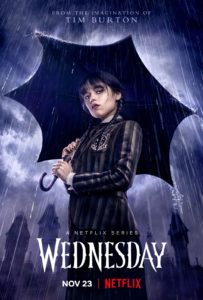 Showrunners / Executive Producers / Writers: Alfred Gough & Miles Millar
Director / Executive Producer: Tim Burton
Executive Producers: Steve Stark, Andrew Mittman (1.21 Entertainment), Kevin Miserocchi (Tee and Charles Addams Foundation), Kayla Alpert, Jonathan Glickman (Glickmania), Gail Berman, Tommy Harper, Kevin Lafferty
Cast: Jenna Ortega (Wednesday Addams), Gwendoline Christie (Principal Larissa Weems), Jamie McShane (Sheriff Galpin), Percy Hynes White (Xavier Thorpe), Hunter Doohan (Tyler Galpin), Emma Myers (Enid Sinclair), Joy Sunday (Bianca Barclay), Naomi J Ogawa (Yoko Tanaka), Moosa Mostafa (Eugene Ottinger), Georgie Farmer (Ajax Petropolus), Riki Lindhome (Dr. Valerie Kinbott), with Christina Ricci (Marilyn Thornhill)
Additional Cast: Catherine Zeta-Jones (Morticia Addams), Luis Guzmán (Gomez Addams), Fred Armisen (Uncle Fester) and Isaac Ordonez (Pugsley Addams)

Synopsis:
The series is a sleuthing, supernaturally infused mystery charting Wednesday Addams' years as a student at Nevermore Academy, where she attempts to master her emerging psychic ability, thwart a monstrous killing spree that has terrorized the local town, and solve the murder mystery that embroiled her parents 25 years ago — all while navigating her new and very tangled relationships at Nevermore.
Would you want to attend Nevermore? What clique would you belong to? Are you ready for the Wednesday series premiere two Wednesdays from now? Let us know what you think and any series theories on social media.
Source: Netflix
KEEP READING: Blockbuster Review – It is the Perfect Time for a Blockbuster Night… On Netflix