On November 9, Mattel, in association with Cryptoys, dropped the official Masters of the Universe digital toy collection. The collection featured 12 fan-favorite characters including He-Man, Battle Cat, Skeletor, Panthor and more. They are now available as digital action figure collectables.
As the Masters of the Universe love to say, "By the Power of Grayskull, I Have the Power!"
Masters Of the Universe Digital Collection Are Designed To Feel Like A Real Life Collection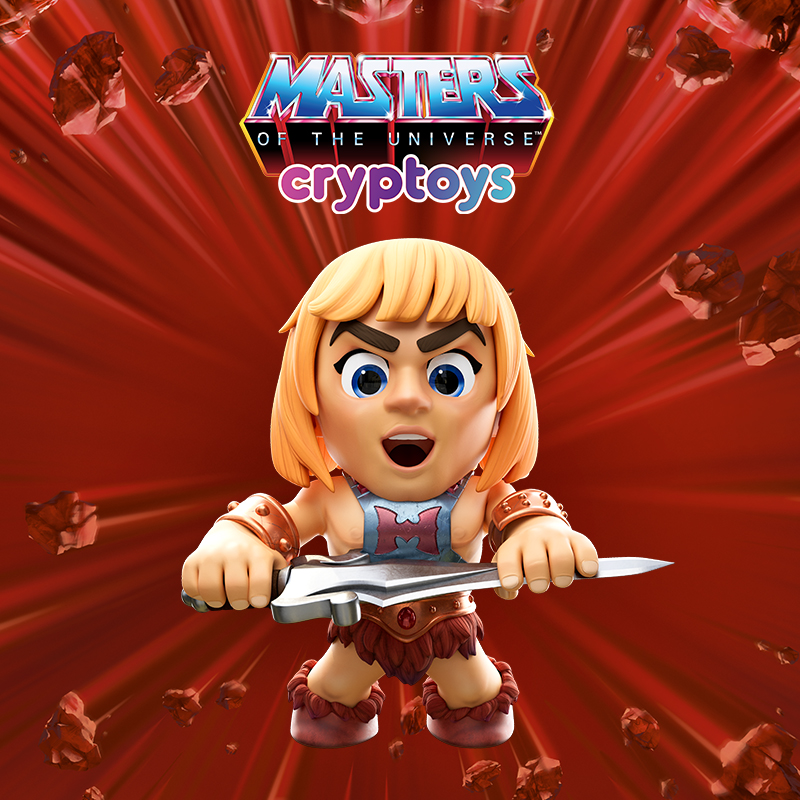 The new collection, which dropped on Wednesday, November 9, is made up of limited-edition action figures, with its first release including He-Man/Prince Adam, Evil-Lyn, Battle Cat/Cringer and Tri-Klops.
Mattel and Cryptoys – a revolutionary new NFT platform that combines toys, gaming and entertainment – teamed up to release the collection, which marked the 40th anniversary of the iconic Masters of the Universe franchise. 
RELATED: GLORIOUS COBRA KAI LIGHTNING COLLECTION COLLABORATION FIGURES UNVEILED BY HASBRO
As part of the celebration for the franchise's milestone anniversary, Cryptoys and Mattel also shared wonderful new details about plans to release digital toys starting from November through to January 2023.
With the new Cryptoys' expanded universe creation, you can collect and play in many different new ways. Over the coming months, fans of the franchise will get the chance to collect characters such as Orko, Teela, Beast-Man, Trap-Jaw, Skeletor, Sorceresses, Panthor and Man-At-Arms released as digital action figures.
"With a unique ability to remain at the forefront of pop culture for 40 years, Mattel's Masters of the Universe IP has an extremely high consumer awareness level and strong collectability value," said Mike DeLaet, Global Head of Digital Gaming at Mattel. "As the first toy company to launch NFTs and the only toy partner on the Cryptoys platform, we are thrilled to bring this project to life, bridging the gap between traditional toys and the future, providing fans of all ages a new way to experience He-Man and Masters of the Universe."
In order to maximize fan satisfaction with the digital figures, the characters are built to improve your experience in the virtual world, becoming alive the moment you unwrap them. They're also designed to give you the experience that you're actually collecting real toys, rather than giving you the same pleasure as your typical NFT offerings.
RELATED: GOKAIGER MEMORIAL EDITION LINE RELEASES NEW GOKAI SABER AND GUN
How? Every MOTU drop will contain 10,000 toys per character that you can customize using the multiple skins offered. These skins are spread across seven rarity levels, with some rarer than others. Rare skins have the advantage of becoming more powerful and valuable.
Cryptoys Wants Digital Collectors To Have An Interactive Experience
Watch out folks, toys and collectibles are finally making their way into the digital space. And not in a small way, because, with what Cryptoys is proposing, it'll feel just like having this super awesome collection with you, as if you can reach out and touch them.
According to the CEO and Co-founder at Onchain Studios, Will Weinraub, the collection will feel nostalgic to fans of the franchise.
"We're excited to bring these beloved characters to life as Cryptoys, giving fans a new way to collect and play, ushering in a new era for the world of toys."
How To Buy And Collect Your Cryptoys
I know what you're thinking, a digital collectible that you can interact with in the virtual world? How interactive can it actually be?
Well, each collectible comes to life once you unwrap them and it can even go for a walk and perform complex movements. The surprise pack Cryptoys Cubes gives you the option for you to keep the cubes in mint condition or unwrap them and play all sorts of games with them.
Each of the collectibles can be bought for $39.99 with a credit or debit card (5% transaction fee not included) or through crypto, since the platform is basically constructed on the Flow blockchain.
Every time a collector max mints five Cryptoys Cubes per transaction, they'll be rewarded with early access to future drops.
The Masters of the Universe collection, which is part of a planned multi-year global partnership between Mattel and Cryptoys, is sold exclusively at https://creations.mattel.com/pages/motu-cryptoys.
Cryptoys is on a mission to create an expansive playable universe with toys, gaming and entertainment.
The Masters of the Universe Collection Dropped On November 9. What do you love about the digital collection? Let us know in the comments or on Twitter and check back with the Illuminerdi for more digital content like this. We're always watching.
KEEP READING: 1ST LOOK AT AMAZING AVATAR FUNKO POPS COMING TO STORES!