Only a few weeks ago it was discovered in an article about Sony Pictures Television's efforts to market the 5th Season of the hit Netflix series Cobra Kai that they would be teaming up with Hasbro to produce new collaboration figures with the Power Rangers Lightning Collection. Now thanks to IGN the first three entires in this series have been revealed.
LARUSSO'S JOIN LIGHTNING
The first two entries bring Daniel LaRusso and his daughter Samantha to the Morphin Grid as Cobra Kai inspired versions of the Mighty Morphin Power Rangers Season 3 Ninja Ranger outfits. Those Ranger suits had previously been released as Target Exclusives earlier this year and Hasbro is wasting no time getting the molds back out to put these figures on the market.
RELATED: COBRA KAI JOINING HASBRO'S POWER RANGERS LIGHTNING COLLECTION IN 2023
Daniel will be the Morphed White Crane Ranger while Samantha is the Morphed Pink Mantis Ranger. Both of these take the original Ninja Ranger figure mold and add the Miyagi-Do Karate logo on the back of the figure. Unmorphed head sculpts of Daniel and Samantha are included as well as fully morphed NInja Ranger heads and effect pieces. Unlike the original Ninja Ranger figures these will include flesh colored hands instead of regular Ranger gloves.
THE SKELEPUTTY IS HERE TO TERRORIZE COBRA KAI
That's not it however as Hasbro is also bringing Rita Repulsa's iconic Putty Patrollers to the world of Cobra Kai as well with the Skeleputty. This figure is inspired by the skeleton costume worn in the original 1984 film by Johnny Lawerence, who has not yet appeared in this collaboration himself. This figure will include a punch and chest blast effect for its accessories. The back of this figure will feature the Cobra Kai logo to be the villain of this wave.
RELATED: A NEW KARATE KID MOVIE IS GOING TO WAX ON TO THEATERS IN 2024
MORE ON THE WAY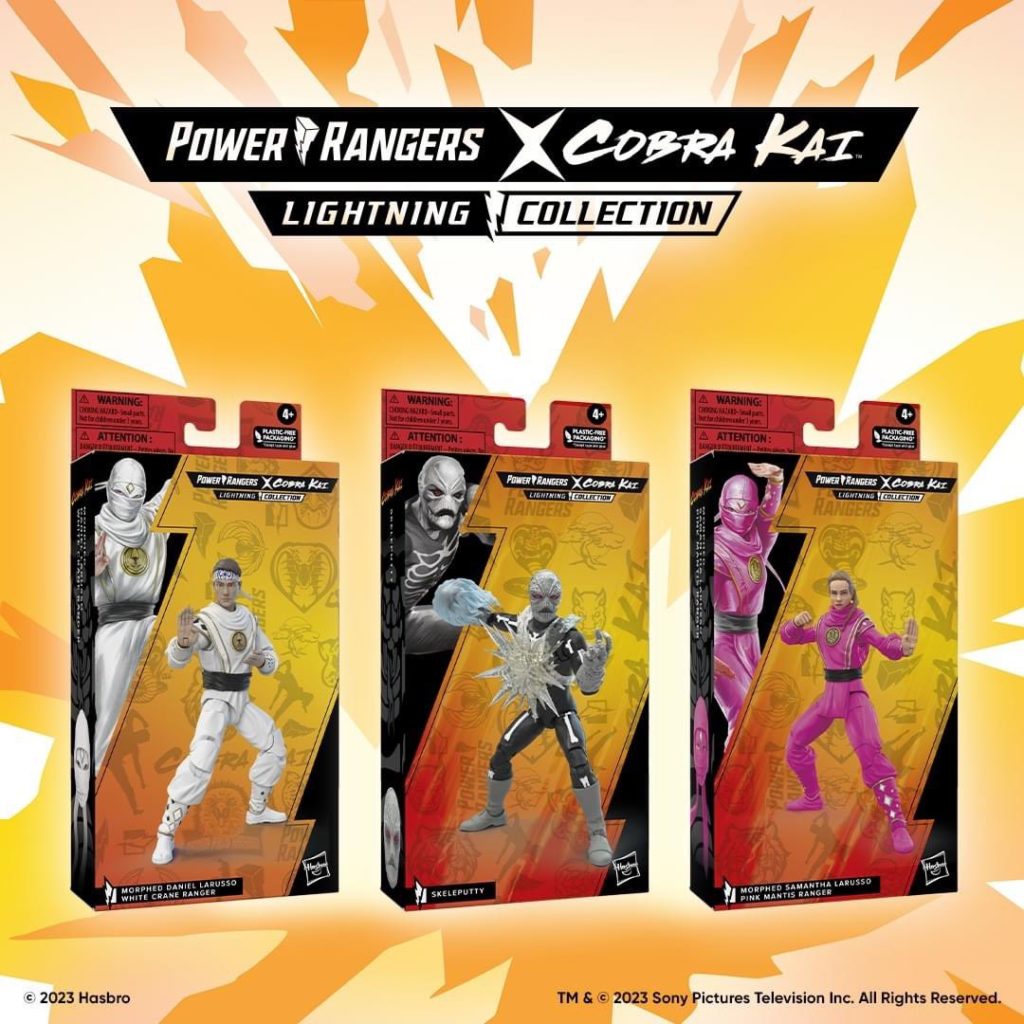 As with all of the recent releases in the Lightning Collection these releases feature the new plastic free packaging design with special artwork of the Cobra Kai Ranger figures as well as a special Power Rangers/Cobra Kai backdrop of karate types and other iconic imagery. All of the Lightning Collection x Cobra Kai figures retail for $27.99 and are available exclusively for pre-order at Target with limited quantities on Hasbro Pulse for an April 2023 release date.
RELATED: MAGNIFICENT POWER RANGERS LIGHTNING COLLECTION X STREET FIGHTER COLLABORATION REVEALED!
This won't be the end of this collaboration though as thanks to a video released on the Target website Hasbro product designer Loretta teased that characters using the Eagle Fang karate style from the Cobra Kai series will also be making their way to the Morphin Grid in the near future. At this time it's unknown how many more figures will be added to this series but many fans already have plenty of guesses on which characters would make perfect additions.
All seasons of Cobra Kai including the most recent 5th Season are streaming now on Netflix.
To stay up to date with all the news for the Power Rangers Lightning Collection fans can check out The Illuminerdi's Josh Perry on his weekly Lightning Storm YouTube series every Saturday at 9:00 am Pacific or on Twitter at @LightningFigPR. Are you adding any of these items to your collections? Leave your thoughts in the comments below or on our social media. Make sure to follow us so you don't miss a thing, we're always watching.
KEEP READING: POWER RANGERS POWER WEEK REVEALS DINO THUNDER YELLOW AND LIGHTNING COLLECTION SURPRISE RELEASE
Source: Hasbro