It's almost hard to believe after many years of rumors and development, a live-action, motion picture version of The Last of Us franchise is finally happening. The show finally debuts in less than two months, so HBO is stepping up its marketing and promotion for the new television series. A stunning new poster image for the show.
The new poster features the show's stars, Pedro Pascal as Joel and Bella Ramsey as Ellie. You can check out the new image below:
THE LAST OF US GETS AN AMAZING NEW POSTER AHEAD OF JANUARY LAUNCH
The new poster definitely looks to capture the mood and tone of the series. The world has become a bleak, post-apocalyptic wasteland. Ellie and Joel are just trying to survive, and they are depicted in the series in front of a devastated, broken city, where the wildlife is starting to take back over.
RELATED: THE LAST OF US GETS OFFICIAL 2023 RELEASE DATE FOR HBO
Based on the smash-hit video game franchise created by Naughty Dog, the new HBO Max series is set 20 years after modern civilization has been destroyed. Joel (Pascal) is a hardened survivor who is hired to smuggle the 14-year-old girl, Ellie, out of a dangerous and oppressive quarantine zone. What begins as a small job eventually becomes a brutal, heartbreaking journey as the two survivors must make their way across the remnants of the United States and depend on each other if they want to make it to their destination alive.
Other cast members for the new series include Gabriel Luna, who portrays Joel's younger brother and former soldier Tommy. Also, Merle Dandridge, who appeared in The Last of Us video games as Marlene, reprises her role as the Fireflies resistance leader for the live-action series. Anna Torv of Fringe fame will portray Tess, a smuggler and fellow hardened survivor.
Guest stars for the show include Nico Parker as Joel's 14-year-old daughter Sarah, Murray Bartlett as Frank, and Nick Offerman of Parks and Recreation fame as Bill. Frank and BIll are two post-pandemic survivalists who are living on their own in an isolated town. Storm Reid portrays Riley, an orphan in Boston. Jeffrey Pierce portrays Perry, a rebel in a quarantine zone. Other guests include Graham Greene as Marlon, Elaine Miles as Florance, Lamar Johnson as Henry, and Keivonn Woodard as Sam.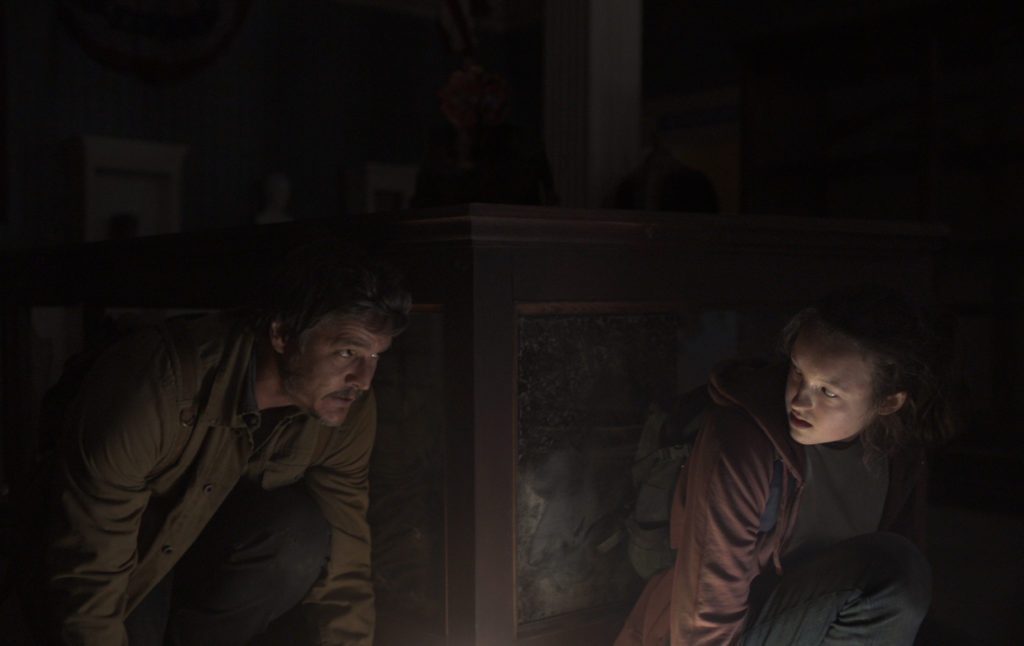 Bella Ramsey was a fan-favorite with her run on another HBO franchise, Game of Thrones, as Lyanna Mormont. Pascal was also in Game of Thrones earlier in the show's run as Oberyn Martell.
Behind the camera, the show is written and executive produced by Craig Mazin of Chernobyl fame. Also, The Last of Us original game co-director and writer, Neil Druckmann himself, is also writing and executive producing the show. The fact that one of the original game creators is actually on board the show as a writer and producer at least give it a leg up over many previous failed adaptations.
While live-action adaptations of video games tend to have a very negative reputation, it does appear that HBO is putting its best foot forward in terms of the show's cast and crew. It stars Pedro Pascal fresh off of The Mandalorian and Wonder Woman 1984.
Other executive producers for the show include Carolyn Strauss, whose other credits include Chernobyl and Game of Thrones. Evan Wells, from the game's original developer Naughty Dog, is also working on the show. Asad Qizilbash and Carter Swan are producing the show on behalf of PlayStation Productions.
RELATED: THE LAST OF US: NEW SHOW MAY HAVE ALREADY CONFIRMED SEASON 2
Thus far, the show looks like it will have a level of faithfulness to the original game series that the new Netflix Resident Evil show and Halo were lacking. Either way, it won't be long until fans get to find out the truth for themselves.
The Last of Us will be streaming exclusively on HBO Max later next year. The show debuts on the streaming service on Jan. 15, 2023. But what do you think of the news? Do you like the new poster? Will this be the live-action adaptation of The Last of Us that fans have been waiting for? Will it be better than Paramount+'s live-action Halo TV series? Let us know exactly how you feel about it on The Illuminerdi's Twitter account.
SOURCE: HBO Max, Twitter
KEEP READING: THE LAST OF US TV SERIES FIRST LOOK & PS5 REMAKE ANNOUNCED!