New footage of Roman Reigns retaliating after Kevin Owens slapped him has surfaced.
This past weekend was the Survivor Series: WarGames premium live event. The main event of the night saw a heated match between The Bloodline and The Brawling Brutes with Owens.
RELATED: SAMI ZAYN COMPARES HIS LONG CAREER TO HUGE WRESTLING LEGEND
The match was primarily Owens trying to save his best friend, Sami Zayn, from the evil Bloodline. Owens took out his frustrations on the Head of the Table, Reigns.  In a moment which got a little too heated Owens slapped Reigns.
The issue came from the moment being a bit of improv by Owens without Roman Reigns knowing it was coming. According to Dave Meltzer of Wrestling Observer, Reigns most likely suffered  a ruptured eardrum, but definitely some kind of injury to his ear. He also developed a bruise under his left eye. Meltzer reported that Reigns was extremely upset following the slap, but the heat has blown over.
RELATED: SHAWN MICHAELS COMPARES BRET HART RIVALRY TO THE LEGENDARY BATMAN AND JOKER RIVALRY
Footage of Roman Reigns giving Owens a "receipt" or retaliation for the slap has just come to light and was found during the match. In the very beginning of the clip, Reigns appears to have just slapped Owens and Owens falls on Reigns and gets pushed off.
Didn't Kevin Owens Learn Anything From Will Smith?
It is hard to see if or how hard Roman Reigns slapped Owens. However, the way Owens fell looks very odd to me. He fell onto Reigns without trying to catch himself and landed on the ground without breaking his fall. It looks to me that he got knocked out by Reigns' slap or at least a bit "loopy" as he fell.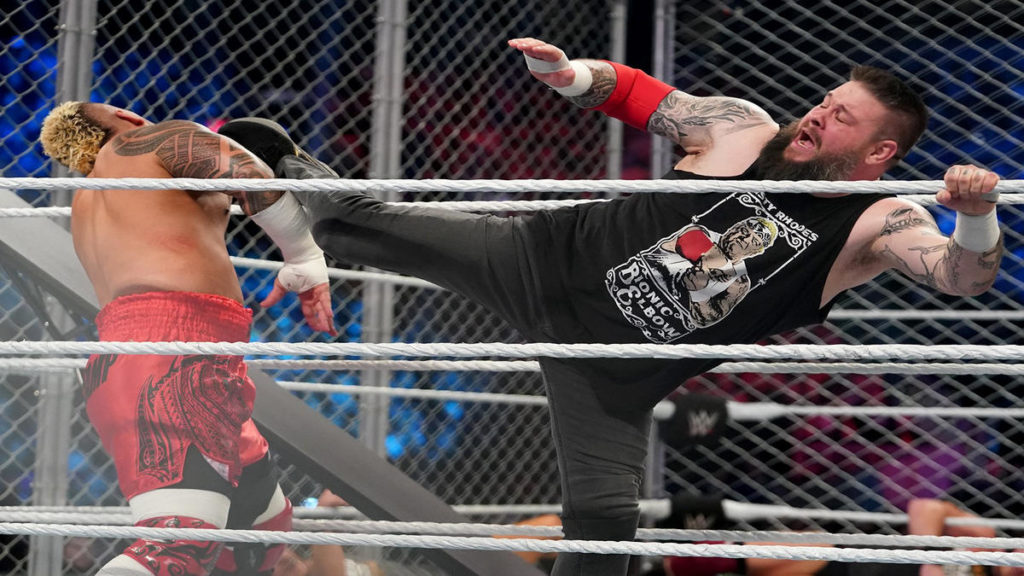 Owens is not known to be reckless or unprofessional. He seems to be well respected by his peers and have never heard of him causing any issues. I think he was trying to elevate the match. Next time he should probably run the slap by the opponent and definitely not slap their ear. Good thing it was Reigns and not Brock.
RELATED: TRIPLE H REVEALS PLANS FOR FUTURE WARGAMES MATCHES
Meltzer elaborated on the incident and why Reigns was so upset about it.
"During the match there was a slap that Kevin Owens gave Roman Reigns," Meltzer said.
"Roman Reigns had a bruise under his left eye, and he may have ruptured an eardrum. There was definitely an eardrum injury. It was thought that it was a ruptured eardrum, but I did not get that confirmed.

Roman Reigns after was very very upset, and was very vehement about it. And was yelling about it.

…it's more than just the fact that a slap got out of control and hit Roman Reigns and may have busted his eardrum…I think Roman Reigns felt that it was something that should not have happened in the match. Not that he was double-crossed, but it just was something that should not have happened." H/T To CagesideSeats
Reigns Handpicked Owens And Zayn
Again as heated as it was reported to get after the slap and Reigns' response, things are reported to be alright between he and Owens.
Wrestling Observer Newsletter also reported that Reigns has taken a liking to Zayn and Owens. He was reported to have handpicked Zayn and Owens to have a storyline with. Zayn has proven himself to be able to hold his own in the ring and on the mic with The Bloodline and has apparently earned Reigns' and WWE's respect. WWE decided to postpone Owens getting involved because of how well Zayn was doing.
"The idea was that after Zayn got over doing what was not supposed to be a long-term gimmick, that Reigns pretty much picked Owens and Zayn personally to work a long program with, and the idea is he could have picked any two people on the roster to elevate, and those were the ones he picked," Wrestling Observer said.

"But there was the idea he didn't have to pick him or either of them and did, and was mad because something happened that he felt with his character should not have happened, and he also got hurt."

H/T Sportskeeda
This Isn't Over Yet And KO And Reigns Will Meet At Royal Rumble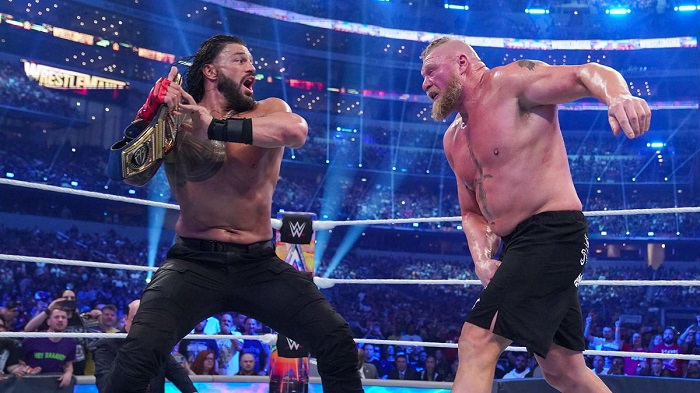 Getting Owens involved in the storyline is a no-brainer because of Owens' and Zayn's past and Owens has proven himself as one of the companies top talents.
The plan, despite the heat, seems to still see Owens and Reigns facing off at Royal Rumble and headlining the event. Zayn will undoubtedly get involved in the match.
What do you think of Owens' involvement in the Zayn and Bloodline storyline so far? Did Owens go too far not giving Reigns a heads up before the slap? Did Reigns overreact to the slap? Was Owens knocked out or just selling really well? Are you looking forward to how this storyline plays out?  Let us know if you think Owens should be the one to take one of or both championships off Reigns.
KEEP READING: AEW'S DAX HARWOOD TALKS ABOUT HIS LOVE FOR SASHA BANKS AND CM PUNK
Sources: Wrestling Observer, Sportskeeda, CagesideSeats, Sportskeeda, Wrestling Observer Newsletter