The witching hour is finally here and that means 2K, Firaxis, and Marvel Games' latest creative team-up, Marvel's Midnight Suns, is currently available on PC, PS5, and Xbox Series X/S. However, before gamers and fans can jump into the realm and world of our favorite heroes, Marvel unveiled a new Launch trailer, and also to say Midnight Suns looks incredible is an understatement. 
Marvel Meets Persona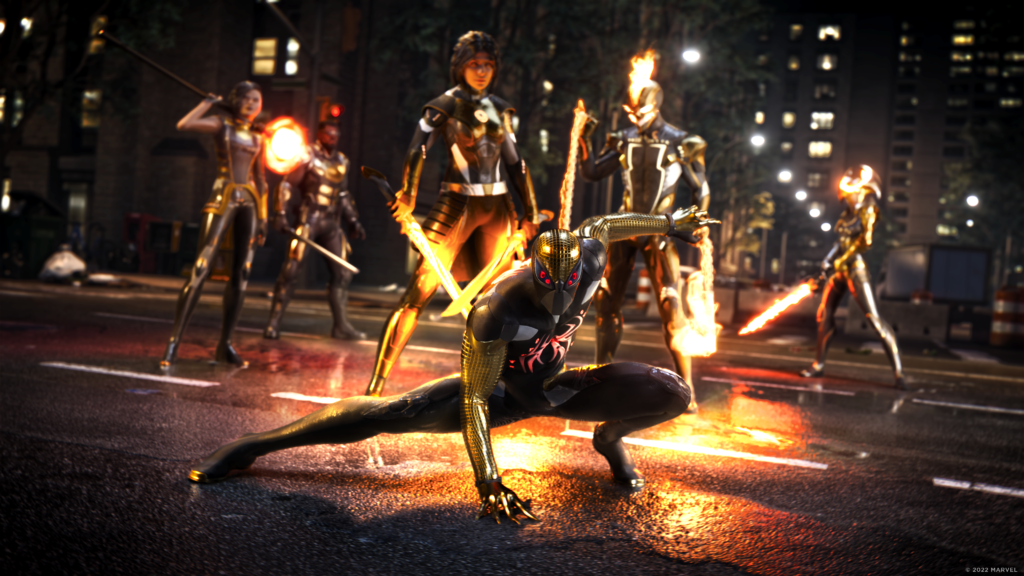 Due to this fact, the game is already receiving rave reviews and garnering high scores of 8's and 9's from critics who have praised the ingenuity and freedom. At the same time, many are praising the game for pushing mechanics and gameplay that feel unique and foundational to the upcoming gaming landscape.
RELATED: Watch Marvel's Midnight Suns' Exciting Prequel Short
While the trailer Marvel and Firaxis also revealed that "Debuting the latest Marvel's Midnight Suns Livestream, this action-packed trailer shows the devastating effects of Lilith's successful takeover of the Sanctum Santorum – unleashing the forces of the underworld on Earth. Only the full might of the Hunter and the Midnight Suns stand a fighting chance to save the world."
From the footage shown, it seems that Marvel is looking not only to explore the supernatural but also to play with the functions and consequences of a tactical RPG that feels like a blend of Persona, Marvel comics glory, and some Mass Effect inspiration. One element worthy of praise is the stellar voice acting, which includes Yuri Lowenthal again as the webhead of Spider-Man. Once again, Lowenthal sounds perfectly suited as the character, and his performance was one of the reasons that Insomniac Spider-Man games succeed on every level.
RELATED: Marvel's Midnight Suns Premieres 1st Haunting Prequel and Release Season Pass Details
The trailer footage allows some story context to unveil significant elements, such as Doctor Stranger, who looks to be battling Lilith, along with Spider-Man coming to assist. Then some exposition is revealed along with the title's roster, possible enemies, and battle locations. For example, Iron Man could be seen entering wearing his new gold suit, along with a corrupted Venom and Hulk, which could be boss battles. Also joining the roster and given a moment to shine were Magik, Ghost Rider, and Scarlet Witch.
One last thing to mention during the Livestream was that Hulk will be the 13th and final playable character in the base game for Marvel's Midnight Suns. Firaxis and Marvel commented on the green giant "This powerhouse will be available to unlock further into the game, bringing incredible strength and endurance to any squad."
Start Your Journey
Everyone looks terrific, and then the wildcard of having the ability to play as the Hunter, who will be fully customizable to the player, and Marvel's version of a Commander Sheperd from Mass Effect is fascinating. Now the decision feels cautious, but your choices will matter, and be careful of how you approach every battle. For example, each scenario retains the conscience of Firaxis Game's mainstay X-COM, and even resembles fragments of Fire Emblem. 
RELATED: PowerA MOGA XP7-X Plus Review – Incredible All-in-One Cloud Gaming Solution
In addition to the scope and scale of the gameplay, one essential fact many leave out is how the creative freedom from Firaxis not only retains the insanity and sheer darkness of the supernatural but builds upon the Marvel sandbox.
Midnight Suns Looks to Reinvent Marvel
Now, other than a few exposition drops, locations, and enemies being revealed, only a little is known regarding the story of Midnight Suns unless you watched the five-mini prequel shorts that started this past Halloween and are now available to watch. However, it's a tough confession or suggestion to make because, on the one hand, the shorts are pretty awesome to watch and do give much-needed context to the Midnight Suns experience. However, if you also jump in blind, you can still follow along quickly.
Marvel's Midnight Suns is currently available for purchase for Windows PC, PlayStation 5, PlayStation 4, Xbox Series X|S, and Xbox One. Launch timing for the Xbox One, PlayStation 4 and Nintendo Switch versions of the game will be shared at a later date.
*Editor's Note: Marvel's Midnight Suns will be available to play via cloud gaming through GeForce Now later this month.*
ABOUT MARVEL'S MIDNIGHT SUNS
Release Date: December 2, 2022
Publisher: 2K
Developer: Firaxis Games
Platforms: Windows PC, PlayStation 5, PlayStation 4, Xbox Series X|S, Xbox One
Genre: Tactical RPG
Rating: T

Description:
After centuries of sleep, Lilith, Mother of Demons, has been revived by Hydra through a twist of dark magic and science. Lilith stops at nothing to complete an ancient prophecy and bring back her evil Master, Chthon. Pushed to the brink, the Avengers desperately look to fight fire with Hellfire and enlist the help of the Midnight Suns – Nico Minoru, Blade, Magik and Ghost Rider – young heroes with powers deeply rooted in the supernatural, formed to prevent the very prophecy Lilith aims to fulfill.

Together, they resurrect an ancient warrior – the Hunter, Lilith's forsaken child and the only hero known to have ever defeated her. In the face of fallen allies and the fate of the world at stake, it will be up to you to rise up against the darkness!
Are you excited about Midnight Suns? Are you picking up the game? Could the MCU adapt this storyline? As always, post a comment, drop a like, share, and follow us on all social media.
Source: Marvel's Midnight Suns
KEEP READING: Logitech G Cloud Review – 2022's Ultimate Cloud Gaming System