Christmas Bloody Christmas star Riley Dandy discusses the brutal new Christmas slasher. 
Festive, metal as hell and violent as can be, Christmas Bloody Christmas is a special seasonal present for fans of horror. The new movie releases in theaters and on Shudder on Dec. 9th, 2022.
Joe Begos is the creative mastermind behind this macabre yuletide nightmare. Riley Dandy explains the premise of Begos' haunting new vision below.
CHRISTMAS BLOODY CHRISTMAS EXPLAINED BY THE STAR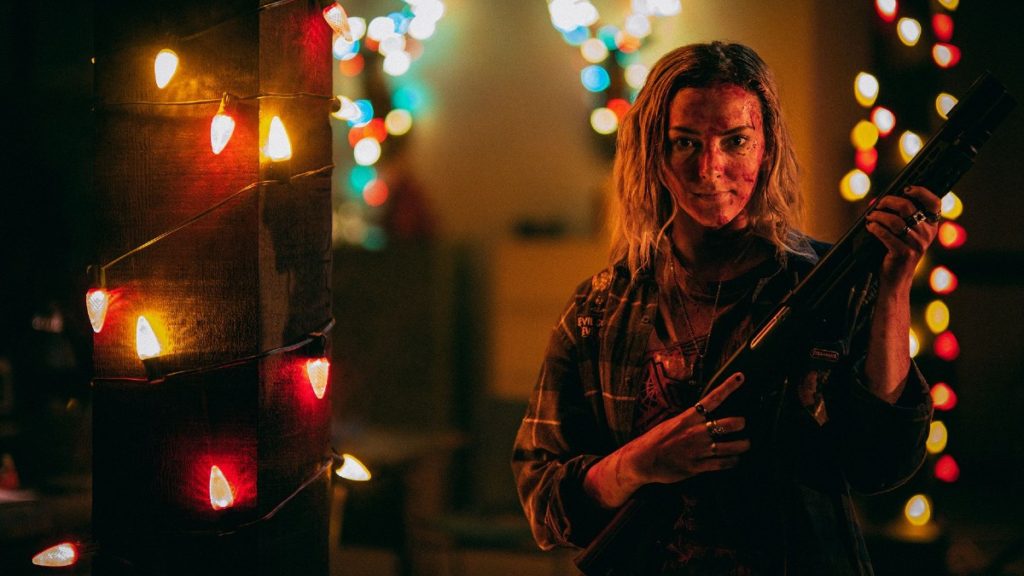 "I play Tori Tooms, she is this record store owner who on Christmas Eve wants to drink and party and hang out with her friends and possibly get laid. Then this huge animatronic robotic santa gets hacked and malfunctions and goes on a murdering spree and I try to stop him."

– Riley Dandy
The citizens of a small, sleepy Americana town are put through the most gruesome holiday celebration imaginable when the local Santa animatronic starts massacring everyone. Riley Dandy's character, Tori is the main character who fights for the life of her town throughout Christmas Bloody Christmas. 
But what sets Tori Tooms as a leading character? According to Riley Dandy, her rougher edges are rounded out by her resourcefulness and passion.
"She's got a little bit of a substance abuse issue, so I think maybe that's a weakness. She doesn't know when to turn it off. But she's got a lot of strengths. I think she's incredibly scrappy, she's very resourceful and can get shit done. Even if it doesn't look pretty, she'll get it done. And I think she's super passionate. Even if she's arguing with you, she's passionate about her view, she's passionate about her friends, she's passionate about her business, and that's something that I hope to emulate as well."

– Riley Dandy
Tori Tooms is a heroine in the vein of "final girls" like Kirsty Cotton and Laurie Strode. She suffers greatly at the hands of a (robot) madman, and her endurance and drive to survive is what keeps her in the fight. Even before the horrific events of Christmas Eve night, Tori exuded determination and hope through interactions with her friends.
CHRISTMAS BLOODY CHRISTMAS: THE CATHARSIS OF GORE
Christmas Bloody Christmas is different from your average slasher for many reasons, not the least of which is the holiday setting. What made Christmas the right time to tell this terrifying story? According to Riley Dandy, the juxtaposition of Christmas with blood and guts can be a form of catharsis.
"I just think that Christmas sets a really beautiful backdrop for gore. It's fun to flip things on their head a little bit and take a different approach to something that's normally pretty wholesome. I think that gore during Christmas may be a little cathartic for a viewer because we spend so much time with families, so we may want to watch Santa murder people."

– Riley Dandy
RELATED: CHRISTMAS BLOODY CHRISTMAS REVIEW: A HEAVY-METAL HOLIDAY MASSACRE 
Is the stress of the season best relieved by watching Santa tear through a town of innocents? Christmas Bloody Christmas wants you to find out by watching the film, which is a holiday movie like no other.
JOE BEGOS BROUGHT CHRISTMAS BLOODY CHRISTMAS TO LIFE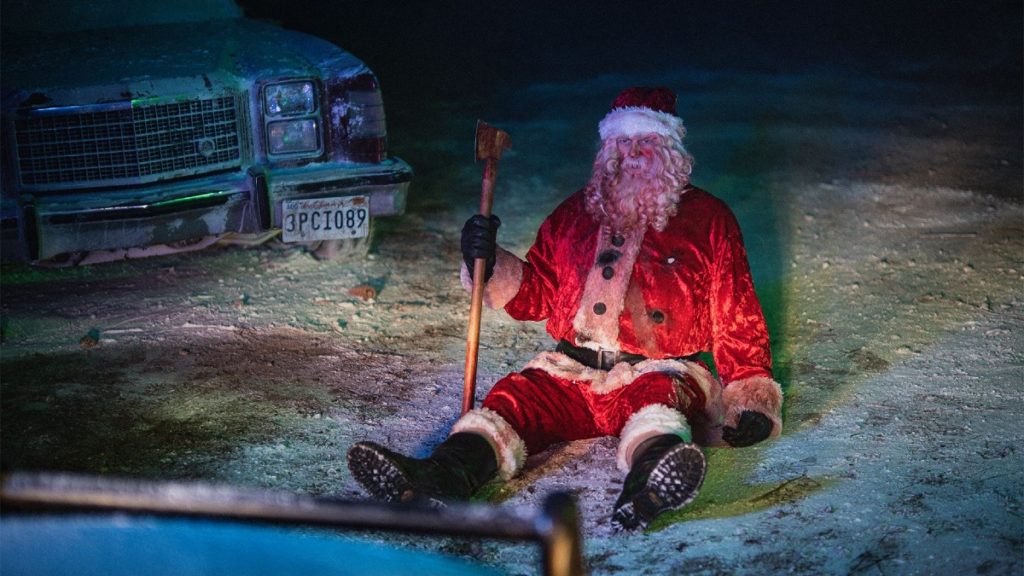 The story was brought to life through the efforts of a dedicated cast and crew. The dedication of the film's architect, Joe Begos is exemplified in this telling anecdote from Riley Dandy.
"Joe is something else, like I've never met anyone as passionate or as involved as him. He also operates the camera, which I don't know if many people know. The final fight scene, we had overhead sprinklers coming down and it was so freezing cold when we were filming that. I was under the water and so was he, and everyone was offering him something to keep warm, and he denied that because I was cold, so he wanted to be cold, and that is something I will remember forever because I don't think a lot of people would do that…He makes you remember why the hell we're doing this."

– Riley Dandy
The climax of Christmas Bloody Christmas is a spectacle that you have to see to believe. Apparently, the production behind the scenes was as astonishingly memorable as the film itself. The love for filmmaking displayed by Dandy and Begos is transcendent, and it elevates the film above other works of horror.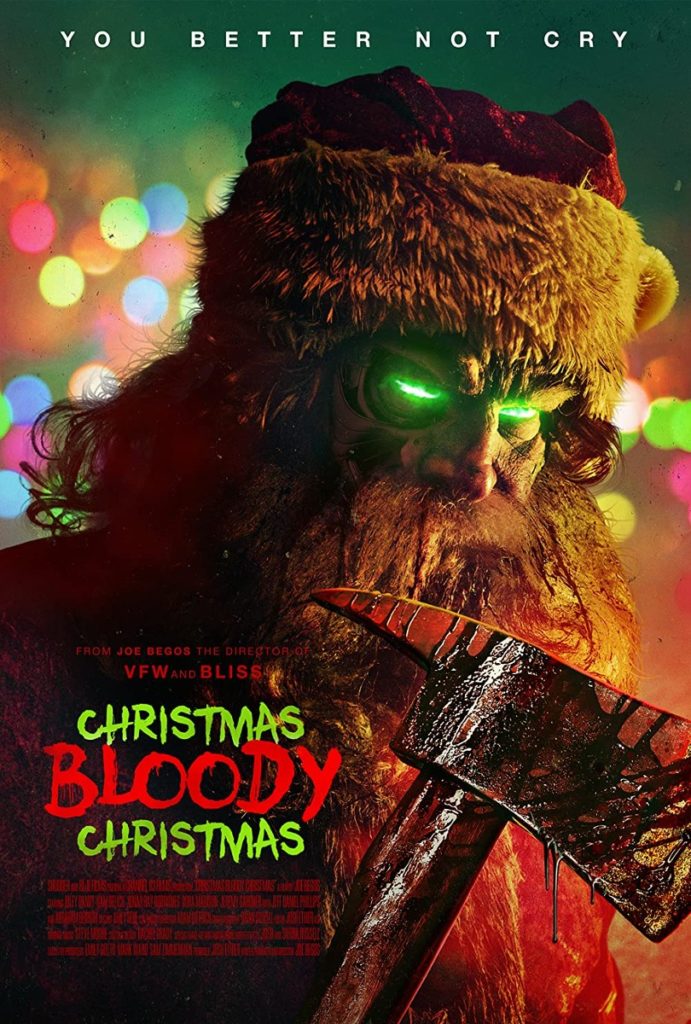 Are you excited for Christmas Bloody Christmas? Let us know your thoughts in the comments below or on our social media! 
KEEP READING: CHRISTMAS BLOODY CHRISTMAS: DIRECTOR JOE BEGOS IS PASSIONATE ABOUT THE SLASHER GENRE