A new series of Evil Dead Rise concept posters from Creepy Duck Designs and ChemicalMarcel take advantage of the new setting, creating a city of deadite terror. 
Evil Dead Rise is an upcoming horror film from writer-director Lee Cronin. It is the fifth film in the Evil Dead franchise, and the sixth project overall. The Evil Dead franchise was created by Sam Raimi, beginning with 1981's The Evil Dead.
EVIL DEAD RISE CONCEPT POSTERS TAKE ADVANTAGE OF NEW SETTING
Evil Dead Rise will follow "Beth" and her sister "Ellie", a single mother of three living in the city. Unfortunately, their visit is interrupted by the untimely return of the Necromonicon and the deadite scourge. Alyssa Sutherland will play Ellie and Lily Sullivan will play Beth. 
RELATED: MOON KNIGHT: ETHAN HAWKE TEASES HIS "TERRIFYING" VILLAIN
Three new concept posters from Creepy Duck Designs and ChemicalMarcel put the inner city setting on full display, making for some truly horrifying posters. Skylines and high-rise buildings are incorporated with skulls, demonic claws, and stellar graphic design, resulting in beautiful art that is sure to excite Evil Dead fans eager for the next installment.
EVIL DEAD RISE IS DIRECTED BY LEE CRONIN
Sam Raimi's original Evil Dead film shocked censors and conservative audiences across the nation. The Evil Dead starred Bruce Campbell as Ash Williams, a groovy young adult who goes to a cabin in the woods with his friends and love interest. Unfortunately for Ash and his crew, they discover a book called the Necronomicon in the Cabin and unleash a demonic evil.
The "deadite" scourge continued to plague Ash in Evil Dead II, the time-traveling swords and sorcery threequel, Army Of Darkness, and again decades later in the TV series Ash Vs. Evil Dead, which ran for three seasons. A fourth film, Evil Dead came in 2013 from director Fede Alvarez, serving as a soft reboot and continuation of the series. Franchise icon Ash Williams only appeared in a post-credits scene.
EVIL DEAD RISE IS THE 5TH FILM IN THE FRANCHISE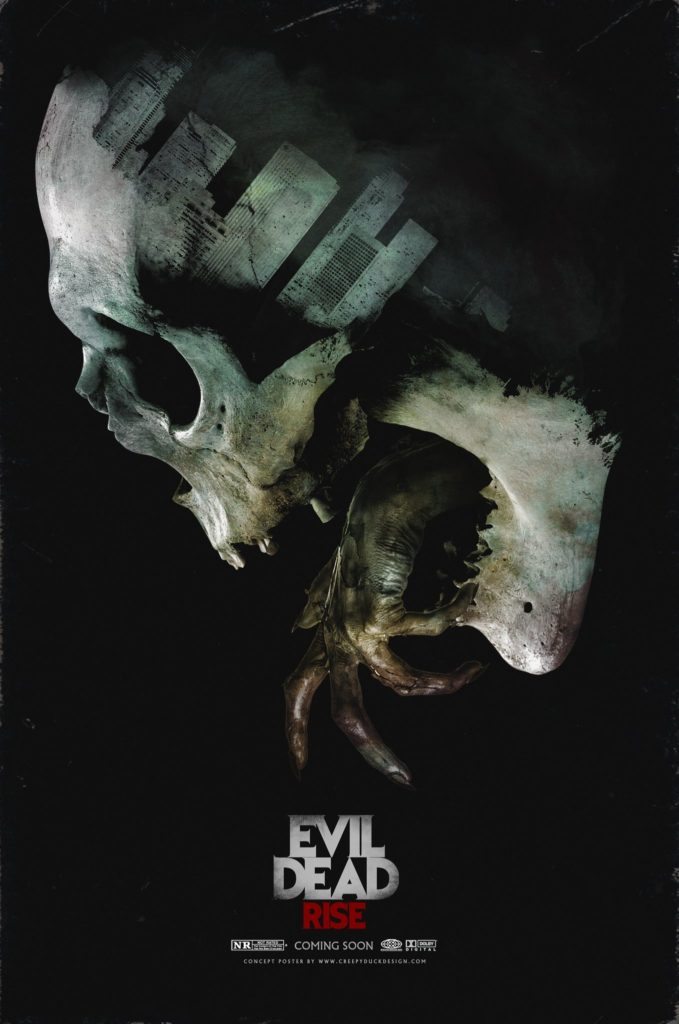 Bruce Campbell has allegedly retired the Ash Williams character, at least on the film side of things. Though he will voice Ash in the upcoming video game, Evil Dead: The Game, Bruce Campbell explained why he decided to hang up the chainsaw in a Collider interview from November 2021.
 "I'm done playing Ash, so that determines a lot of where we go with the franchise without that character, but there are more stories. We're doing it book-focused these days. That darn book gets around, and that's how we play it. That book wound up in an urban environment with a single mom, so let's see what happens. It's fun to fiddle with it.

There's not gonna be any traditional form of Evil Dead anymore. Ash is gone. I've retired the character because I physically just can't do him anymore, so why bother? Why do I do it? It's time to hang up the chainsaw. But we still are filmmakers, we're still producers, we're still creative-type dudes, so we were like, "How do we keep this going otherwise?" Sam [Raimi] handpicked Fede Alvarez to do the remake a few years ago. He handpicked Lee Cronin for this one. These are Sam Raimi proteges that we hope will do a good job."

–Bruce Campbell
While the exclusion of Ash may be disappointing to some fans, Evil Dead Rise is shaping up to be something special within the legendary horror franchise. If nothing else, Rise seeks to go where the franchise has yet to boldly go, and I have to respect that.
EVIL DEAD RISE OFFICIAL SYNOPSIS
"In Evil Dead Rise, a road-weary Beth pays an overdue visit to her older sister Ellie, who is raising three kids on her own in a cramped L.A apartment. The sisters' reunion is cut short by the discovery of a mysterious book deep in the bowels of Ellie's building, giving rise to flesh-possessing demons, and thrusting Beth into a primal battle for survival as she is faced with the most nightmarish version of motherhood imaginable."
Are you excited for Evil Dead Rise? Which Evil Dead project is your favorite? Let us know your thoughts in the comments below or on our social media!
KEEP READING: TOM HOLLAND REVEALS MOST CHALLENGING STUNT HE FILMED ON UNCHARTED