Bandai Namco Entertainment releases One Piece Odyssey today on n Xbox Series X|S, PlayStation 4, PlayStation 5, and PC.
The Straw Hat Crew have crashed on a deserted island and it is up to you to help them repair Thousand Sunny and get them off the mysterious island of Waford in the biggest One Piece game ever made, One Piece Odyssey. Players will take control of the entire Straw Hat Crew as they explore the island, finding material to repair Thousand Sunny, reliving past events, and embarking on a completely original adventure written by series creator, Eiichiro Oda. Be ready to set sail as the game is officially out now!
One Piece Odyssey Launch Day Trailer
RELATED: Original Stitch Announce Gorgeous One Piece T-Shirts, Sweatshirts, and Hoodies
Bandai Namco celebrated the release of One Piece Odyssey with a brand new launch trailer. The trailer showcases pieces of the opening sequence with the introduction of the Straw Hat Crew and the beginning of their adventure on the mysterious island of Waford. It then follows up with highlights from the history of the franchise, rendered in the glorious 3D models developed by ILCA. The epic adventure is beautifully scored by composer Motoi Sakuraba, and the trailer teases the amazing team mechanics players can utilize in the game.
Thinking About Getting The Game?
We have an in-depth spoiler-free review to help you make your decision. Personally, I am thoroughly enjoying the game. It is a gorgeous rendition and a captivating way to relive the story and explore the world of One Piece without feeling stuck in only what has happened so far. The original story really adds to the experience and lets you feel like an active part of the story rather than actively reliving reruns of it. Also, the new jokes and gags just increase my love of the franchise. I highly recommend it for fans of the series. It's more of what you love.
RELATED: ONE PIECE ODYSSEY: Follow the Straw Hat Crew On Their Perilous Journey in This Beautiful New Trailer
For fans of RPGs and pirates who want to get into One Piece, this is a great way to get into it without being overwhelmed by the over 1000 manga chapters and anime episodes. You'll get to know all the major characters immediately, and then get to experience major moments from the history of the series. Though some of the experiences are altered from how they happened, the game does call it out, and make it fun. It'll likely get you to go rewatch or read the adventures for yourself later. Basically, it's a fun game full of what makes the franchise so beloved, and it works as a great jumping point that organically catches you up on the story.
One Piece Odyssey is out now, on Xbox Series X|S, PlayStation 4, PlayStation 5, and PC.
ABOUT ONE PIECE ODYSSEY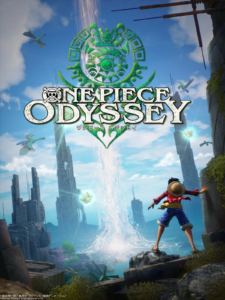 Initial release date: January 10, 2023
Platforms: Xbox Series X|S, PlayStation 4, PlayStation 5, Microsoft Windows
Genres: Role-playing video game, Action game, Adventure game, Casual game, Strategy video game, Adventure
Engine: Unreal Engine 4
Publishers: BNE Entertainment, Namco Bandai Games America Inc.
Developer: ILCA
Composer: Motoi Sakuraba

One Piece Odyssey is an upcoming role-playing video game developed by ILCA and published by Bandai Namco Entertainment. The game is a part of the One Piece franchise, and is scheduled to be released for Xbox Series X|S, PlayStation 4, PlayStation 5, and Windows PC on January 13, 2023.
Have you already ordered your copy of One Piece Odyssey? Who is your favorite character? Will you be playing in your custom One Piece Shirt? Let us know and share your favorite easter eggs or jokes from the game with us on social media.
KEEP READING: Animation Is Film Festival Review: One Piece Film Red Is A Musically Epic, Action-Packed, Emotional Thrill Ride